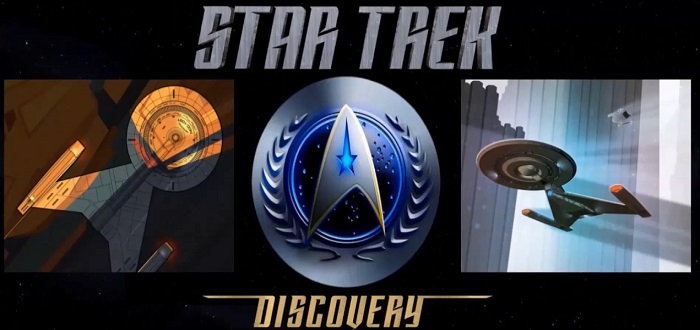 Star Trek: Discovery Plot Details Revealed
Earlier this year we got our first look at the new Star Trek: Discovery show with a short trailer. With the brief look we received, we still have little idea about what the show is actually about. This week we found out more information from the showrunners themselves. Aaron Harberts and Gretchen J. Berg both sat down with Entertainment Weekly to reveal more details.
The character of Michael Burnham (Sonequa Martin-Green) is the first human to ever attend the Vulcan Science Academy. Showrunner Aaron Harberts had this to say about our new lead character.
"Burnham [has] spent a lot of time on Vulcan, but she's human. Sarek [Spock's father, played by James Frain] plays an important role in her life, which has been completely planned until she makes a very difficult choice that sends her life on a very different path. When we meet her, she's the First Officer on the Starship Shenzhou [captained by Philippa Georgiou, played by Michelle Yeoh]. And Burnham's choice that we're alluding to is most difficult choice you can make — it affects her, affects Starfleet, affects the Federation, it affects the entire universe. That choice leads her to a different ship, the Discovery [helmed by Captain Lorca, played by Jason Isaacs] and there we begin what Gretchen and I call our 'second pilot.'"
With Sonequa playing the first lead we follow that is not a Captain, there are many new avenues a Star Trek show can take. Telling stories from the point of view of the First Officer will be new for all involved.  Gretchen J. Berg has said, "It's a fresh feeling because we're not on the bridge all the time. We get access to more past of the ship."
Another bit of detail we know about this new Star Trek series is that the Klingons will be heavily involved in the first season. Both Gretchen and Aaron have said that the writers room seems to be drawing their influence from both The Original Series and The Next Generation. Harberts added:
"CBS has allowed us to find a cinematic language that's wider in scope — our aspect ratio is 2:1 — and it just lends itself to a very lyrical way of telling the story. And just visually speaking, there's also a little hint in terms of what J.J. Abrams did, a little bit, in terms of some of the visuals."
Star Trek: Discovery will debut Sunday, September 24th on CBS before shifting to the CBS All Access steaming service. Internationally, the series will be distributed on Netflix; except in Canada where the series will be found on SPACE Channel.
Do the new details make you more or less excited for the new show? What are you most looking forward to about the new Trek series? Let us know your thoughts in the comments below.