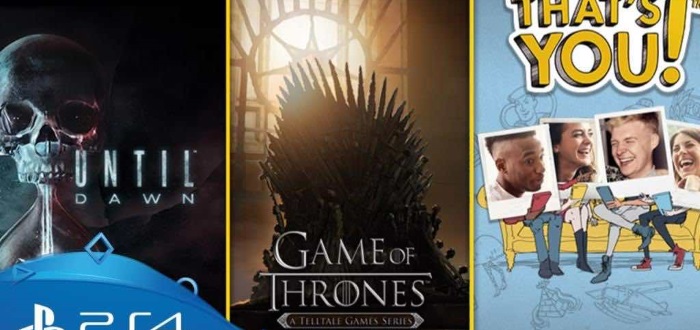 PlayStation users are in for a treat this month, as the PS Plus July 2017 games are announced. As an E3 treat, PS4 users will be getting three PS4 specific games, as opposed to two.
Until Dawn
The surprisingly excellent Until Dawn by Supermassive Games is available to download. Follow eight typical high-school teenagers out to an isolated mountain lodge to commemorate the tragic loss of two friends and watch as power outages, unexplained disappearances and a healthy dose of hormonal high-jinx transform the momentous gathering into a desperate fight for survival.
A good mix of horror movie tropes and genuine tension, Until Dawn is best played in the dark.
Game of Thrones – A Telltale Series
Get ready to travel to Westeros, as you'll take control of the Forrester family – a noble and long-standing house from the north of Westeros with deep loyalties to the Starks.
The game is part of the TV series timeline, and has the likenesses and voices of many of the cast.
That's You
As a special post-E3 treat, from 4th July PlayStation Plus members will also be able to download That's You as part of their membership.
In this irreverent party quiz – the first release from the new PlayLink range – you and up to five of your friends and family get to find out what you really think about each other. With your TV, PS4 and a tablet or smartphone in hand, answer over 1,000 funny questions, take part in daring doodle challenges, snap selfies for photo challenges and more.
The full line-up includes:
Until Dawn – PS4
Game of Thrones: A Telltale Series – PS4
That's You – PS4 (4th July onwards)
Tokyo Jungle – PS3
Darkstalkers Resurrection – PS3
Don't Die Mr Robot – PS Vita (cross-buy with PS4)
Element4l – PS Vita
The games leaving the line-up on July 4th are as follows:
Killing Floor 2 (PS4)
Life is Strange (PS4)
Abyss Odyssey (PS3)
WRC 5: World Rally Championship (PS3)
Neon Chrome (PS Vita – cross-buy with PS4)
Spy Chameleon (PS Vita)
What do you think of this month's array of games?