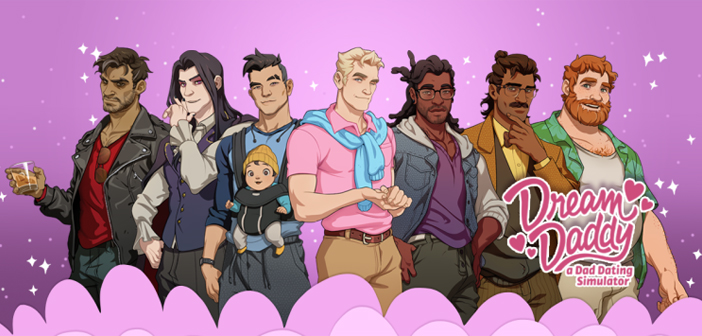 Are You Ready? Hi Ready, I'm Dad
Self proclaimed as the year's 'Most anticipated Dad-based game' Dream Daddy is brought to us by the team over at GameGrumps. A dating simulator where you're a hot Dad trying to flirt and romance other hot Dads.
Based on everything I've seen and read about the game so far the creators Vernon Shaw and Leighton Gray this is a dating sim with a difference. In an interview with Zam, Shaw explains that while the game is about being a hot Dad and swooning over hot Dads, it has heart:
"I don't think that being a 'Dad' is the kind of thing that is bound by genetic links or even gender. The idea of a Dad as we are using it is the idea of, basically, caring about other people. Investing in people and wanting the best for them."
Fans React
As an enthusiast of gay dating sims the typical game quickly falls down the rabbit hole of naked bodies, sex with the pretext of romance and love thrown out quickly. Dream Daddy looks set to bring more to the table and I'm not the only one who thinks so. Aside from the outpouring of tweets of support and excitement and the tidal wave of fan creations (art, cosplays and more) other fans of the genre have been quick to point out that this is the game we've all been waiting for:

The diverse range of characters both racially and body types has not gone unnoticed.
gg: here's our game. dream daddy
me: hahahaha nice
gg: you play as a dad, date other diverse dads of all backgrounds
me: pic.twitter.com/HxkXVKpb1h

— hank the spank tank (@avpdrey) June 18, 2017
After creating your own Dad, you'll have the chance to meet and romance/fall in love with Brian, Hugo, Mat, Damien, Craig or Joseph. The game will feature multiple endings, various paths to get there as well as a range of mini-games.
Dream Daddy releases July 12 on Steam. If you're picking it up then stay the hell away from Brian and Craig! Those hot Dads are mine! You hear me?! Mine! I love them already!
Editor-in-Chief, part-time super villain and hoarder of cats. If you can't find me writing, I'm probably in the kitchen!