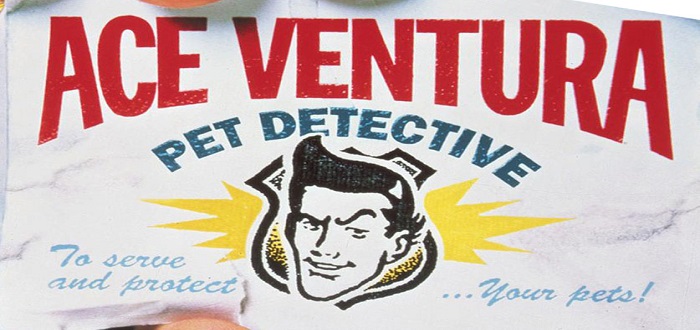 Ace Ventura: Pet Detective – Screen Savers
I originally had another film in mind this week, but in the end decided to take on Ace Ventura: Pet Detective. The movie was released in 1994 and was the directorial debut of Tom Shadyac. At the time of release, I thought many people enjoyed the film. It was the number one movie on it's opening weekend.
Ace Ventura: Pet Detective finished it's run in cinemas with a worldwide total of $107,217,396 on a $15 million dollar budget. To say that it was a financial success is true, however it was met with mediocre reviews and responses. Personally, I enjoyed the film very much and even would mimic and re-enact scenes from the movie frequently.
As time went on, I soon realized my friends were getting tired of hearing me say things like, 'Alrighty then'. They also did not want to re-watch the movie as much as I did. Perhaps they did not like the slapstick style of the film. So, let's take a further look at this film.
What's Ace Ventura: Pet Detective About?
The title gives away a big plot point to the film. Jim Carrey (In Living Color) stars as the titular character and is the only Pet Detective. Obviously, pet detecting is not a very lucrative business, but that hasn't stopped Ace from doing it. Ace is an animal lover and has several different animals living in his apartment with him.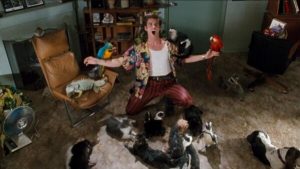 Not only does he have traditional pets, but he has everything from penguins to monkeys to raccoons and so on. He can barely pay his rent because of so many animals, in fact, we find out early on he is behind on his rent.
The Miami Dolphins are preparing for the biggest game in the NFL, the Super Bowl. Their mascot is a dolphin named Snowflake. In the week leading up to the game, Snowflake is kidnapped… or is that dolphin-napped? Due to many athletes being superstitious, the owner wants the dolphin back, and fast. This leads to the head of P.R. Melissa Robinson and Operations Director Roger Podacter to call Ace Ventura.
From the moment Ace is brought in on the case, the humour and scenes all belong to Jim Carrey. The case goes from a missing dolphin, to the murder of Roger Podacter, to the kidnapping of Miami Dolphins quarterback Dan Marino and to a missing hiker.
Who's In It?
As previously mentioned, the film stars Jim Carrey as Ace Ventura. Director Tom Shadyac only had one actor in mind when he was brought on board to direct the film. Jim had a steady run on television with the show In Living Color and Tom wanted that man to lead this project.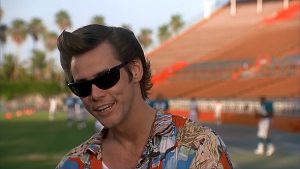 Once Jim was brought in, he felt that those people who knew him would want a certain style to the character. Between Tom, Jim and writer Jack Bernstein the character of Ace was made into what he was on screen. With his lead actor set, Tom then had to go on to surround him with a supporting cast.
Courtney Cox was brought in to play Melissa Robinson, the P.R. Director and love interest for Ace. Former Blade Runner star Sean Young, was added to play Lt. Lois Einhorn who runs the police precinct where the missing dolphin case is assigned. Troy Evans plays the Operations Director, Roger Podacter, who eventually gets murdered and changes the scope of the case in the film.
Rounding out the cast includes: rapper Tone Loc; actual Miami Dolphins quarterback Dan Marino; Raynor Scheine; Udo Kier; and cameos by other Miami Dolphins players and coaches. Included in those cameos are: Don Shula; Scott Mitchell; Peter Stoyanovich; and Jeff Dellenbach.
Is It Really Bad?
I still find it funny and entertaining, but the question is 'Is it really bad?' For me it is not. I enjoy the slapstick humour that is involved in the movie. The motive of the kidnapper/killer actually hits close to home for my NFL fandom. My favourite NFL team had a kicker who missed a very makeable kick that lost them the Super Bowl.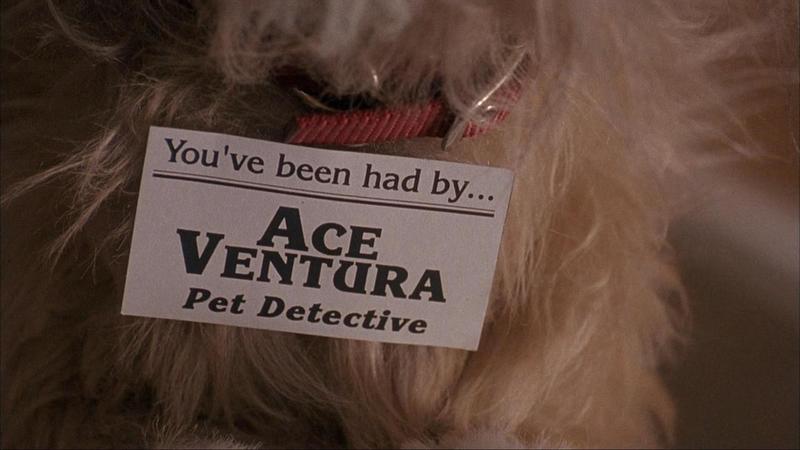 I think fans of slapstick will and have enjoyed this film. Those people who do not like that kind of humour are never going to like this movie. Jim Carrey had been working for about 10 years by the time he made Ace Ventura: Pet Detective, but I believe this was a breakout role for him. This led to many other films that people either love or hate.
I always judge movies on 'rewatchability'. I have seen this movie several times and still enjoy it today, 23 years after it was made. However, this all being said, I understand why some people don't like it. I also understand why some people would never want to see it again or say things like it doesn't hold up. Now, if we're talking the sequel, I would agree but this one is still 86 minutes of fun and puns.
What Should I Watch Instead?
This depends on what you are looking for. If you're not a fan of physical comedy or slapstick, then you know to avoid these movies. As far as Jim Carrey movies go, I would highly recommend Man on the Moon where he plays real life comedian Andy Kaufman. Also, Eternal Sunshine of the Spotless Mind or The Truman Show are really good films that aren't reliant on his physical style of humour.
With comedy and humour being really subjective it is hard to know what other people think are funny. Some people love the American Pie films, others do not. So as far as comedic recommendations, I am just going to highly recommend the Three Flavours Cornetto Trilogy.
Have you seen Ace Ventura: Pet Detective? Do you like physical comedy and/or slapstick style humour? What movies do you find funny? Let us know in the comments below.