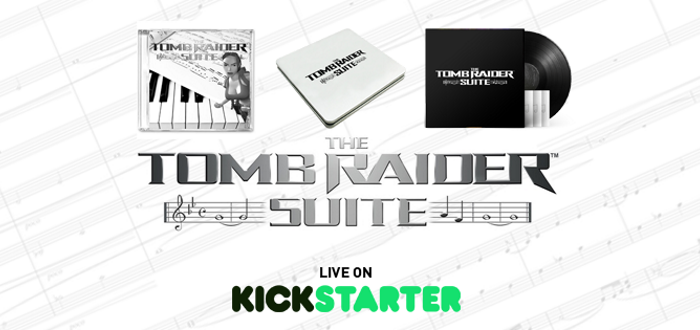 Tomb Raider Suite Kickstarter Goal And Rewards Announced
Nathan McCree has announced the Tomb Raider Suite Kickstarter goal and rewards available for backing the project. Nathan, who originally composed to Tomb Raider I, II & III and performed it via synthesizers, will be hiring a 76-piece orchestra, a 20-voice choir, one world-class conductor and studio engineer to rerecord his Tomb Raider I, II & III score live. It will be recorded at one of the top studios in the world – Abbey Road. The cost of this and to mix and master is £160,000.
Rewards Fit For a Tomb Raider
There are a number of reward tiers for backers of the project, which range from digital downloads of the album, a limited edition tin case album to signed memorabilia from Tomb Raider Live and even an opportunity to meet and have dinner with Nathan himself.
Thanks to the success of the Tomb Raider Live in Concert event on December 18th 2016, which saw 2000+ fans hear both original and newly composed music, Nathan fulfilled his dream of having his once synthesized score, performed by the Royal Philharmonic Concert Orchestra and choir. This was one of the many events celebrating the 20th Anniversary of Tomb Raider. (Read about how created the original Tomb Raider theme and music for the games here).
The Extras
As with most Kickstarter projects, a number of stretch goals were listed and if Nathan is able to surpass the £160,000, it will allow a possible:
Increase the size of the Choir for the recording at Abbey Road
Increasing the size of the Brass Section for the recording at Abbey Road
Increase the size of the Woodwind Section for the recording at Abbey Road
Record and release the synthesizer only version of The Tomb Raider Suite
Remaster and release the original, unchanged game soundtracks for Tomb Raider I, II and III
Film and release a TV / DVD documentary about the making of The Tomb Raider Suite
So far the project is well on it's way to it's goal, with over £40,000 pledged by the public. Check out the Kickstarter page to pledge yourself and for all the updates, or check out Nathan's Facebook and Twitter.
We want to wish Nathan the best of luck with the project. The Kickstarter will end on Sunday, June 25 2017 12:00 AM BST. I will be pledging to it for sure.