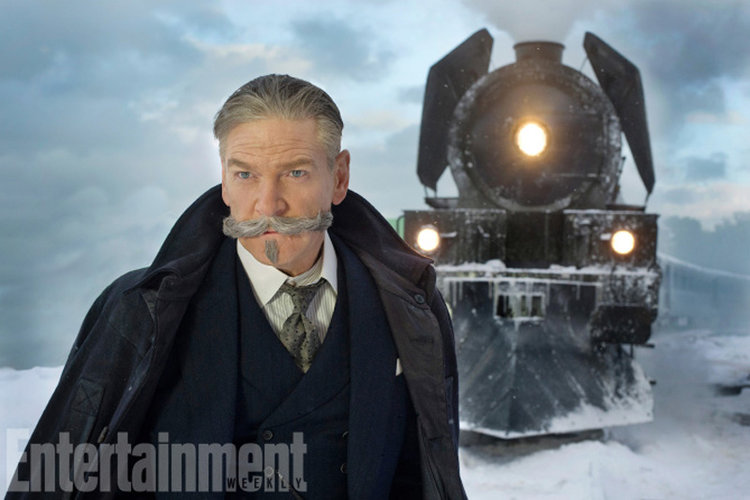 The first photos of Kenneth Branagh's adaptation of Murder on the Orient Express are showing a sharp cast. The film is an adaptation of Agatha Christie's famous novel featuring her detective protagonist Hercule Poirot. The plot of this famous whodunit runs thus. First published in 1934, and inspired by Christie's journeys on the real-life luxury locomotive which then ran between Istanbul and Paris, the book finds Poirot investigating a fatal stabbing. 
Consequently, our protagonist must determine which of the thirteen passengers committed the dastardly deed. With the train waiting in the snow for rescue the murderer is surely still aboard! The story is one of the greatest whodunits of all time and boasts over five film adaptations already. Thanks to Entertainment Weekly, we can finally see the film's cast in all their post-war glory. As well as directing, Branagh himself will be playing Poirot. Naturally, this means filling the formidable shoes of David Suchet, who played the Belgian sleuth for over twenty years. Hopefully this newbie's little grey cells will be up to the task! Branagh can be seen here sporting a moustache that one can only describe as audacious.
Other notable stars include Johnny Depp in the role of Rachett along with Daisy Ridley as Mary Debenham. Michelle Pfeiffer may be seen as Mrs. Caroline Hubbard alongside Josh Gad as Hector McQueen. The film will additionally feature seasoned actors Derek Jacobi and Judi Dench as Masterman and Princess Natalie Dragomiroff respectively. My personal favourite casting choice is Willem Dafoe in the often overlooked role of private detective Gerhard Hardman.
 To sum up, this well-dressed cast looks ideal for a whodunit! In addition, the casting brings a strong atmosphere of nostalgia to both Dench and Jacobi. Aside from their Shakesperean acting, both actors have roots in thriller films. Jacobi is known for his role in spy thriller film The Day of the Jackal. Furthermore, long before portraying M in the Bond films, Dench made her start in The Third Secret. This is fitting for Murder on the Orient Express, a feature likely to juxtapose old and new as a rule. In the wake of Sherlock's success, Branagh may well ensure another revival of Christie's world of whodunits. Detective fiction is unlikely to die down in the near future, but this film may just launch another wave of adaptations. The film will be available on 10th November this year.