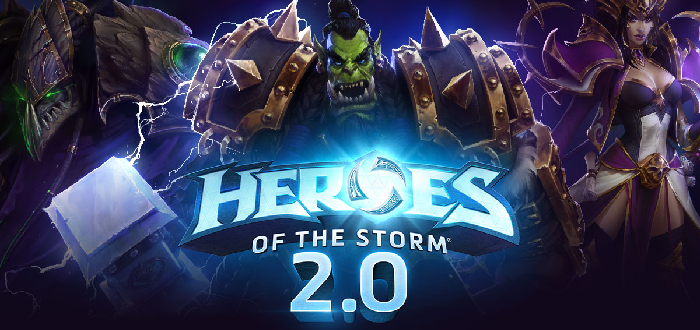 Heroes of the Storm's large update was released recently, Heroes of the Storm 2.0. What the patch essentially boils down to is the addition of loot boxes. Which I have no problem saying I'm wary of. It's been fine for now but I am also getting boosted experience due to a stimpack.
That'll be the one of the first things to hit you with the new update, a free 30 day stimpack (a boost to gold and experience earnings).
There is no longer a separate player level, which once capped at 40, it is now an aggregate of all hero levels. I hopped from level 40 under the old system to over 300 in the new.
What's In The Box?
As I was saying, it's there to add loot boxes. But what would a MOBA lootbox contain? Well things had to be added to make a wide selection of loot. New things added include: voice lines, sprays, banners, chat emoticons and announcers. You can also acquire portraits, characters, skins and mounts. The skins and mounts are all available in three colours which prior to the patch, would be unlocked via levelling. They are now unlocked as separate skins. Any mounts or skins you had prior to the update, you will still have, and in all colours. Any duplicates you receive will be converted to shards, the currency for buying things other than playable characters. (I'm personally wanting to get the Abathur announcer but it is expensive…)

You receive a loot box everytime a hero levels up. They come in different rarities and you normally get a standard box, with higher rarity boxes at certain intervals. I'll be getting a rare box at 325. If you are level 300 at the start of the patch though, you won't be getting 300 loot boxes. For me, I got 30 normal lootboxes, around five rares and three epics.
Each lootbox contains four items, except for epic boxes with five. The rarity of the loot has four tiers from least to most rare being: white, blue, purple and orange. I think I got two, maybe three oranges?
Oh, you can also choose to re-roll your lootboxes up to three times for an increasing gold cost (per box).
Personal Thoughts
I was skeptical of the update, and my skepticism won't be fully eased until after the stimpack expires. The loot boxes  really put me off of Overwatch in how the addition of content far outpaced your acquisition of said content. I'm hoping it won't be the case  here but at the same time, I didn't really care so much about the skins and the likes in this. It has been encouraging me to play more quick match and matches with character's I've played less of,  so as to level more.