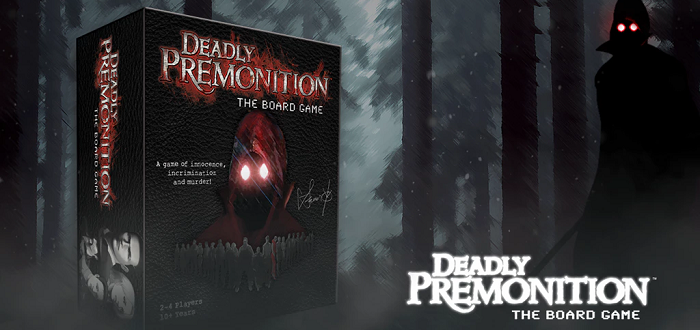 Deadly Premonition Gets A Board Game
Did you hear that, Zach? A Deadly Premonition game is on Kickstarter!
What's Deadly Premonition?
Cult hit video game, Deadly Premonition is getting it's own card based board game! For those unfamiliar, the game has you play as Special Agent Francis York Morgan. Just call him York. You are investigating the murder of a young woman in the rural town of Greenvale. And you meet a lot of… characters throughout your investigation. It's the tone of the game that makes the game and its characters so lovable. Be they the local law enforcement, your hosting hotelier, an eccentric rich old man or any of the many other Greenvale citizens. especially how they inetact with York, his 'matter of fact' demeanor often seeming to cause offense. The tone is also punctuated in game by it's soundtrack, one track in particular really stands out with it being a grand juxtaposition to the grim sequences, often the overlay to York's conversations with the townsfolk.
I actually love that song.
Kickstarter Details
And in talking about the music, I should probably talk about the Kickstarter campaign itself. Only tangentially related, a CD copy of the soundtrack comes with one of the tiers of backing. there are several reward tiers available to backers. All of which include a Steam key for the game and all but one has at least one copy of the board game.
As it stands, the project already has over $92'00 dollars backed (at the time of writing) with a goal of $50'000. And the project has only been put up about a day ago! Some of the stretch goals include new action and weather cards, out of what's been so far reached.
The highest tier special edition also comes with some physical merchandise, including a CD, mug, dice bag and a custom game die. This tier had already had it's limit increased from 500 total to (currently) 1250 total with 580 of those remaining. (And you'd best believe I went for that tier straight away)
For details on how the game itself will work, or if you want to back the campaign, check out its campaign page.
https://www.kickstarter.com/projects/615312068/deadly-premonition-the-board-game/description