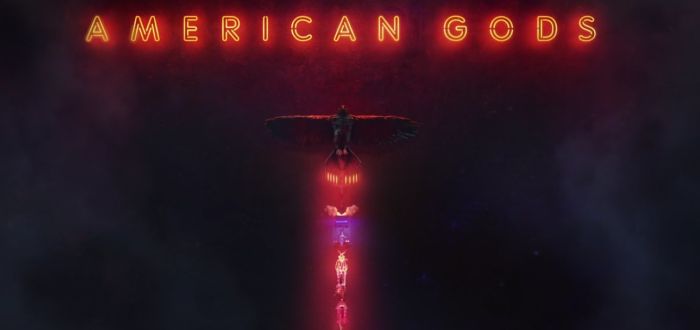 American Gods premiered on Monday on Prime Video. Since Amazon bought the worldwide streaming rights, the episodes will be seen only a day after they're originally shown in the US.
I will be reviewing the show for you fine people over the next few weeks. If anything it gives me the perfect excuse to keep my Prime Video account.
The day has come. The Gods are here
Still, when Starz first announced the show in 2014 I was happy. Especially since they announced Bryan Fuller and Michael Green would be the showrunners. This happened shortly after Hannibal's cancellation. A cancellation that I found personally insulting. In a way, this makes up for it. In many ways American Gods feels like a natural heir to Hannibal, and that's the best thing that could've happened to this show.
"I love you. Something feels weird."
For starters, David Slade directed this episode. Slade directed several episodes of Hannibal (and was also an executive producer for it) and this episode is as stunning as that previous show. And even bloodier, and yes that's possible.
The show opens with one of the intermission chapters from the book, the one where Mr. Ibis writes about the vikings getting stranded. It was a pretty gruesome chapter in the book but here it's even more brutal. The battle scene in that part is ridiculously awesome, just watch out for that dismembered arm. That scene also catches the eye because it's shown in a different aspect ration. And that's something that also happens in the couple of dream scenes that Shadow has in this episode.
And speaking of Shadow, Ricky Whittle is perfect for the role. I had my doubts in the beginning, mostly because I had never seen him in anything. But those doubts are gone now. He's definitely more talkative than Shadow in the book, and that's interesting. However, it looks like they're making Shadow his name rather than a nickname. I'm not sure how I feel about that, especially since his real name is quite significant in the book, but maybe they will address that in a future season.
All in all this season will cover a third of the novel, because they will expand on lots of things.
"-What day is it? -Wednesday. -Today's my day."
Some of the changes are interesting. The first time we see Mr. Wednesday we see him pulling a con, and that's definitely a more interesting introduction. Ian McShane is terrific, he's larger than life and he steals every scene he's in, but that's what Ian McShane does best.
We also get a first look at some of the other gods, old and new. Pornstache Pablo Schreiber is a decent enough Mad Sweeney, and it doesn't sound like he has a stereotypical Hollywood Irish accent. But the real star in this episode is Yetide Badaki as Bilquis, if you've read the book you might be thinking about that scene. Have no fears because that scene happens exactly as it is in the book. And it looks like she's going to have an even bigger role this season so even better.
So far the God that's changed the most is the Techical Boy. But that's natural, it would be jarring if he looked the way he looked in the books, that image is old now. Now he looks like a douchebag with stupid hair, weird clothes and a vape. But to be fair, that's exactly what one'd expect of a Silicon Valley millionaire nowadays.
"Believe"
HBO passed on this show years ago, now someone must be regretting it. American Gods is in the safest hands it could be when it comes to Fuller and Green.
This episode is an hour long, and it left me wanting more. Over the years I've read American Gods multiple times and this episode still surprised me plenty of times. Some of those surprises are more of an "I can't believe they've done that!" variety though.
Now for the next weeks Mondays are going to suck slightly less. All because the Gods, New and Old, will be there making the day slightly better.
I can't wait for next week's episode. Especially because it looks like we'll see some more of Laura, and also Gillian Anderson in action as Media. Gillian Anderson always makes things better.
What did you think of the show? Let us know in the comments.
Angry Spaniard, adoptive Irishman. Writer, reader, tea drinker and video game player/designer.