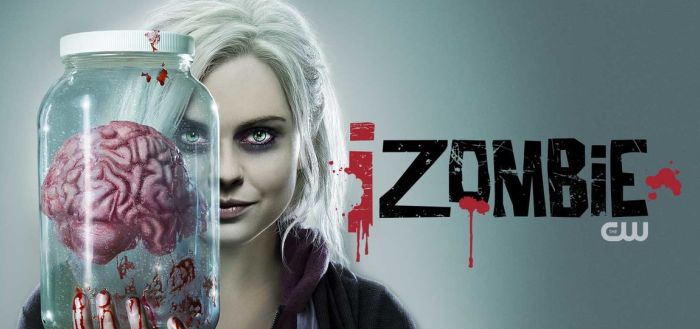 After returning from Dublin and birthday celebrations, I needed to face reality. I'm no longer a youngster; at the age of twenty-four, change was necessary. My first action? Binging on Netflix!
Television
This week I found out that one my favourite shows, IZombie, is releasing new episodes on UK Netflix. For those of you who haven't had a look, the show is a pretty fun take on both zombies and detective shows as a genre. It features a zombie working in a police morgue who consumes the brains of murder victims. This means she both  This winning format means Liv (Rose McIver) the zombie canspend one episode acting like a avant-garde artist in one episode, a psychopathic hitman in another.
The show also features Rahul Kohli, who readers may recognize as recently appearing in Supergirl as Jack Spheer. However, one actor who was a big surprise to see is Robert Knepper as a villainous CEO turned zombie. Knepper starred as the malevolent T-Bag in another series I am currently binging, Prison Break. I was bit young to watch the original series when it was on TV, but the magic of Netflix has allowed me to catch up. I mainly started watching due to Wentworth Miller, who I became interested in due to his portrayal of Captain Cold. In this series we can really see the origin of Miller's rapport with Dominic Purcell, who appears in both Prison Break and in later CW shows as Cold's partner Heatwave.
Books
I now spend most of my time working on my dissertation for college. The dissertation is mostly about political violence and its relationship with detective fiction. Since I'm especially interested in the Fenians, I'm currently reading Sherlock Holmes novel Valley of Fear. The book, written in 1915, sees Sherlock Holmes attempting to unravel a mystery involving a gang of Irish-American criminals. The first half of the book features a fairly typical Holmes plot: the detective asked to consult in an unsolvable crime and finds a solution. However, the next half contains a lengthy account of a man's time as an undercover agent.
Edinburgh
But enough of that! I've been spending a lot of time this week exploring the city. Edinburgh is a city with a high student population, meaning that a geek is rarely lacking for amusement around here. A fun example is this sign I found outside a café on Nicholson Street.
I spent most of Tuesday night at the Monkey Barrel Comedy Club. The club, besides the Stand, is possibly the best location for comedy in Edinburgh. I really can't recommend this place enough, even if you're not a big comedy fan.
Aside from its weekly stand up shows, the club features Spontaneous Sherlock. The show blends the Sherlock Holmes theater tradition with Improv Comedy to create a new mystery every week. Last time I attended, Holmes investigated the case of the missing Avengers. If you haven't seen Sherlock Holmes explain Tony Stark's arc reactor to Watson, you've missed out.
Overall, it was a pretty good week. Hopefully, I'll have some more thoughts on Sherlock Holmes next time I do this feature. On top of that, I'll probably have a lot of opinions on Prison Break and IZombie. Have you watched either of these? How was your week? Let me know in the comments!