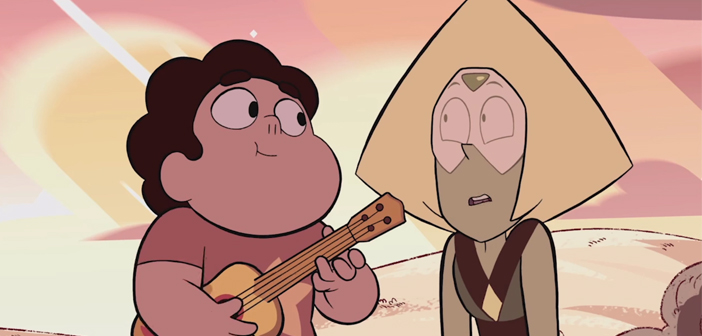 Steven Universe Soundtrack Album Incoming
In case you didn't know it' we're huge fans of Steven Universe. Like super huge fans! Between Eilis and her regular reviews of the episodes and Declan getting his Ruby and Sapphire tattoos; we're crazy for the Gems.
Fans like ourselves will rejoice to know that a soundtrack album has been confirmed. The official Steven Universe and Cartoon Network social media channels reposted the following a few hours ago:
Performers?
Hype? You bet your space faring buns we're on board the hype train! The show features some amazingly talented performers including Estelle and Tom Scharpling. However other performers including Nicki Minaj (Sugilite), Lisa Hannigan (Blue Diamond) and Mike Krol (himself; kind of!) have all been on the show. The album will feature music from across the four seasons but how and by who they'll be performed is still up in the air!
Personally I'm hoping from straight from the show lifts with a mix of artists own interpretations of key numbers! Also can Estelle please just do an acoustic version of 'Stronger Than You', I'd die and go to Gem heaven!
The Steven Universe soundtrack will release this summer, June 2.
Editor-in-Chief, part-time super villain and hoarder of cats. If you can't find me writing, I'm probably in the kitchen!