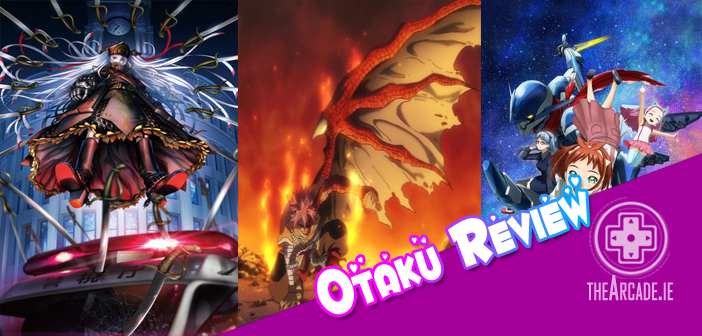 Spring Anime 2017 Titles To Watch Out For – Otaku Review
Rather than tackling something old this week I want to tackle the upcoming Spring Anime 2017. By no means is it going to be anything other than chock full of flashy new shows. These are just some of the titles that have caught my eye for various reasons.
Shingeki no Kyojin – Season 2
Oh come on this one was obvious right? Nearly four years since the first season aired we're finally getting the long awaiting second season! Attack On Titan burst onto the anime scene like a Colossal Titan smashing down a wall… too soon? The first season wrapped up with more questions than answers?! Just what the hell is going?!?!?! Well hopefully we'll find out!
Season 2 is scheduled to air April 1st.
ID-0
https://www.youtube.com/watch?v=cKa8NKQGD4c
I don't usually do mech based anime! It takes a lot for me to get into them! There have been plenty of amazing mech series, I'm not bashing the genre! ID-0 caught my eye for two reasons. The first being it's CGI look and the second being the design of the I-Machines notably the yellow humanoid.
The original anime series follows Academy student Maya Mikuri after she's involved in an incident with pirates and finds herself serving as a member on board an excavation company's ship.
I find it difficult to watch a totally CGI anime but then again I was surprised (pleasantly so) by Knights of Sidonia. Time will tell with ID-0 it's scheduled to air April 9.
Fairy Tail – Dragon Cry
Okay I love Fairy Tail! It's one of this ridiculously long, ridicously predictable anime shows! It belongs on the same pile that Bleach, Naruto, One Piece and Dragon Ball Z all share! I don't care! It might be trash but it's my trash and I love it! Natsu, Lucy and Happy are legends!
Fairy Tail Dragon Cry is the second anime movie from the popular series. The guild members take on a job to help recover a stolen relic only to wind up in the middle of a quest to save the world from utter destruction! Again!
The movie is scheduled to air May 6.
Re:Creators
Okay this one is the one to watch out for! Or at least this is the one that I think you should be watching out for! Re:Creators just sounds like it's going to be the stand out series for the Spring '17 schedule. That's before mentioning the series was created by Rei Hiroe, the mind behind Black Lagoon and it will be directed by Ei Aoki of Fate/Zero fame.

Re:Creators TV anime PV by pKjd
"Humans have created many stories. Joy, sadness, anger, deep emotion. Stories shake our emotions, and fascinate us. However, these are only the thoughts of bystanders. But what if the characters in the story have "intentions"? To them, are we god-like existences for bringing their story into the world? Our world is changed. Mete out punishment upon the realm of the gods. In Re:CREATORS, everyone becomes a Creator."
Based on promotional video and the description above essentially characters from popular anime/games/shows are coming to life and taking their frustrations out on their audiences! God I hope I don't have that wrong because it sounds amazing!
Re:Creators is scheduled to air April 2017.
Editor-in-Chief, part-time super villain and hoarder of cats. If you can't find me writing, I'm probably in the kitchen!