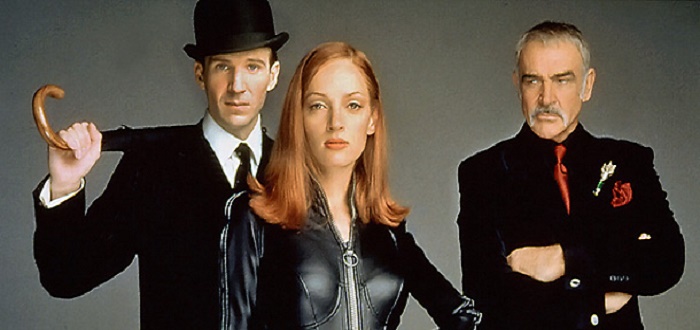 Screen Savers: The Avengers (1998)
This week's Screen Savers proved a lot tougher than I thought it would be. I chose to take a look back at the 1998 film, The Avengers. This film is not associated with the Marvel comic books or movies in any way, shape or form. In fact, this movie is the reason that in the UK and Ireland the Marvel movie is actually called Avengers Assemble.
The film was so poorly executed, that I had a very hard time sitting through it again. I actually sat there and flashbacked to another Sean Connery film, Indiana Jones and the Last Crusade, and the 'he chose poorly' scene. I struggled through the film and will tell you right up front, this movie is as bad as everyone says it is. Without further ado, let's take a look at this movie.
What's It About?
The Avengers is based on a 1960's television show of the same name. It focuses on two secret agents who are working together for the first time. John Steed (Ralph Fiennes) and Mrs. Emma Peel (Uma Thurman) team up to stop Sir August de Wynter (Connery) from taking over the world by controlling all the weather. You read that right, the main villain is a mad scientist named Wynter controlling the weather of the world.
John Steed is one of the The Ministry's top agents, and Mrs. Emma Peel is a scientist with her doctorate degree. Dr. Peel is framed for sabotaging a secret project called Prospero, but is given the freedom to join Steed to prove her innocence and find the real culprit.
August de Wynter leads a secret organization where all the members, except de Wynter, wear Teddy Bear suits. You did not mis-read that, they all wear colourful Teddy Bear suits. This is suppose to be to disguise their identities, but all it really does is take you out of any so called plot of the film. August de Wynter also runs a company called Wonderland Weather that has a machine that can control heat and rain.
We find out that one of the members of de Wynter's secret organization looks exactly like Dr. Peel and it becomes obvious she is the one who sabotaged project Prospero. From here the movie takes a few obvious twists with the real Dr. Peel being captured and the fake one going to The Ministry. Steed figures things out with the help of Invisible Jones (Patrick MacNee) and we eventually learn that the fake Dr. Peel is actually a clone.
The story is incoherent, weak and at times lazy. In my personal opinion, when you start a film with two secret agents, you expect a wonderful spy action thriller type movie. This film fell well short of that mark, and the story is a huge part of that problem.
Who's In It?
The main cast of Sean Connery, Ralph Fiennes and Uma Thurman in a film made in the late 1990's should have meant we would receive a great film. However, I have learned that a great cast doesn't always lead to a great movie. Joining these three main cast members are some great character actors and even a throw back to the original 1960's television show.
Invisible Jones is voiced (as he is invisible and therefore not seen) by Patrick MacNee who played John Steed from 1961 to 1969 on television. Besides Fiennes, there were other actors who went on to appear in the Harry Potter franchise. Jim Broadbent who plays Mother and Fiona Shaw who plays Father both went on to play Professor Slughorn and Aunt Petunia respectively. Finally, playing the lead henchman to Connery's August de Wynter was none other than Eddie Izzard.
Once again, with casting like this, you'd expect a really good to great film. Sadly, that is not the case here.
Is It Really Bad?
In a word, yes. This movie was a struggle from the start, and I even wondered if I was going to be able to finish watching it. There have been movies in the past where I never want to see them again, this movie will now join that list. I don't really remember how I felt when I first saw it back in 1998, but I can tell you that now, in 2017, I never want to see it again.
The writing of Don MacPherson and the directing of Jeremiah S. Chechik was absolutely atrocious. I know some people immediately blame the actors, and there is definitely fault there too. However, an actor can only work with what is written in the script and how the director views that script. In this film, I think the blame has to go to everyone involved. The acting was sub par when you consider the pedigree involved; the writing and directing was abysmal; and whomever was in charge at Warner Bros. that approved this made a major gaff.
The movie was a financial and critical disaster, and I can fully understand why.
What Movie Should I Watch Instead?
I could pretty much tell you to watch any other movie than this one. However, if you're looking for a movie that involves secret agents, I have a few suggestions for you. You could watch the Bourne franchise, Mr. & Mrs. Smith, True Lies, Argo, Ronin or one of my newest personal favourites Kingsman: The Secret Service. All of those movies, in my opinion, are better than The Avengers. Of course, you could always watch the REAL Avengers in Avengers Assemble.
Have you seen the 1998 The Avengers film? Did you like it? Hate it? What do you think about it? Let us know in the comments below.