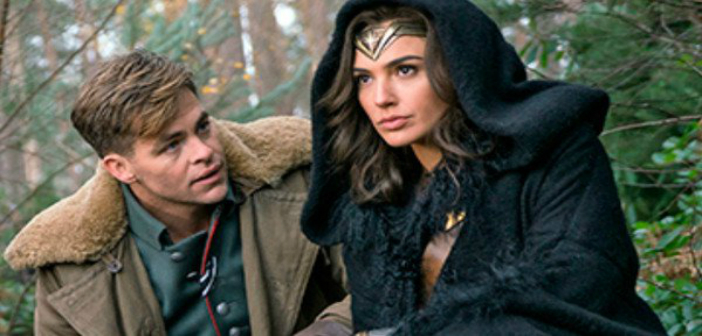 During CinemaCon, Warner Bros and DC Films released new footage for the upcoming Wonder Woman movie, keeping the hype steadily chugging along.
TheWrap describes two of the scenes revealed. The first, a lengthy conversation between Wonder Woman herself, Gal Gadot, with Chris Pine. The couple are on a boat ride to London, where Wonder Woman teases villain Ares, the God of War, who she believes is driving the Germans to war during World War I. She vows to find him and stop him. Meanwhile, Pine's character, Steve Trevor, is more interested in their relationship and brings up the possibility of marriage.
In a second scene, as they arrive in London, the iconic Lasso of Truth is spotted, too. Exciting for long-time Wonder Woman fans!
ScreenRant further describes a third scene. Here, General Ludendorff (Danny Huston) and Dr Maru (Ekena Anaya) are revealed. These are two more villains who plan to use a toxic gas of their creation to help drive the Germans towards a victory in the war. In the scene, Ludendorff takes some sort of serum, which certainly can't mean anything good.
DC and Warner Bros have been slowly building up the hype for there Amazonian warrior, probably trying to make up for the disappointments of Batman Vs Superman and Suicide Squad last year. We can only hope it will live up to all the hype!
Wonder Woman, directed by Patty Jenkins, stars Gal Gadot and Chris Pine. The film hits theatres June 2.
Wonder Woman is fast approaching, are you looking forward to seeing what's in store? Let us know in the comments below!
Doing a little of this, a little of that. If you see me holding a camera, run!