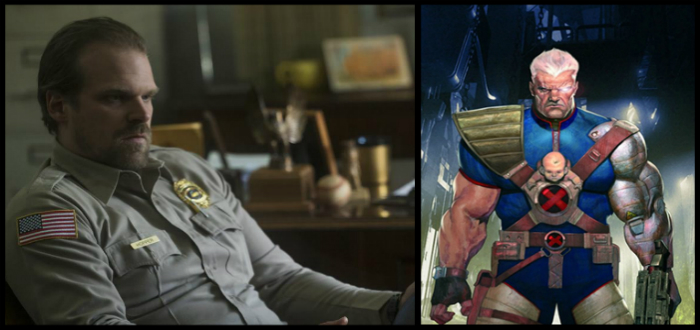 According to a report by TheWrap, Stranger Things star, David Harbour, has been placed in the running to play Cable in the upcoming Deadpool sequel. Harbour is known for his role as Sheriff Hopper in the Netflix original series and could be an interesting choice for Cable.
Cable is known in the comic as the son of Scott Summer (Cyclops) and Madelyne Pryor (Jean Grey's clone). He is heavily involved in time travel and has been associated with both the X-Men and X-Force. He also has a recurring relationship with our favourite merc with a mouth, Deadpool. The character has appeared alongside Deadpool in various incarnations in the comics, as well as in the PS3 video game.
According to the report, Harbour has already done a screen test alongside Ryan Reynolds. However, there has been no official word from Fox or the actors involved. Only time will tell!
Alongside Cable, Deadpool 2 will reportedly include popular comic book character, Domino.
No release date has been announced for the sequel, however David Leitch has been confirmed to take over from Tim Miller as director.
Do you think Harbour would be a good choice for Cable? Let us know in the comments!
Doing a little of this, a little of that. If you see me holding a camera, run!