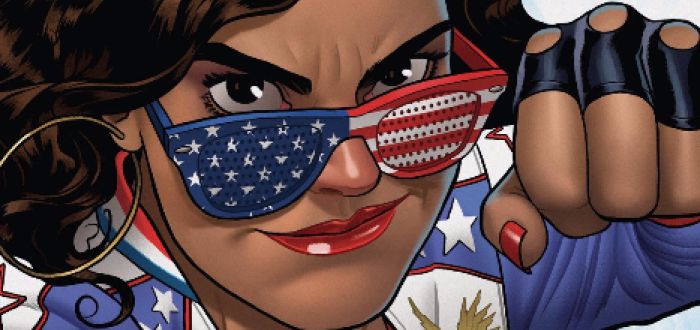 Marvel's sarcastic superstar has landed her very own solo series, and today we're taking a look at how America #1 stands up to the competition.
From the creative team of Gabby Rivera and Joe Quinones, comes a fresh new take on a character that has been gradually introduced over the past few years. With her debut in Young Avengers, to her role as leader of the Ultimates, America Chavez has become a big hit, gaining much applause for her portrayal as a strong Latina lesbian.
Hailing from the Utopian Parallel and having grown up alone, upon the death of her two mothers Chavez found herself on earth. It was there she gradually made new friends in Kate Bishop (Hawkkeye), Prodigy and the other Young Avengers.
America #1 opens with Chavez protecting the Utopian Parallel from a new galactic threat, alongside her Ultimates team mates Monica Rambeau (Spectrum) and Carol Danvers (Captain Marvel). Chavez manages to single fistedly put an end to the being.
But America #1 doesn't stay with the conflict for long, and We are soon treated to a completely different side to America, as she navigates college for the first time. From the sororities looking for her to pledge, to her less than conventional lecturer. We see America cross paths with ex – mutant and her Young Avenger teammate Prodigy.
America #1 offers a solid opening to a brand new side of Chavez' life, with a comic aesthetic closely resembling that of Squirrel Girl, another hugely popular female hit. If you find yourself enjoying stories with strong female leads, dimension hopping or time travel, this may just be the comic for you.
I for one am very excited to see what direction this series ends up going.