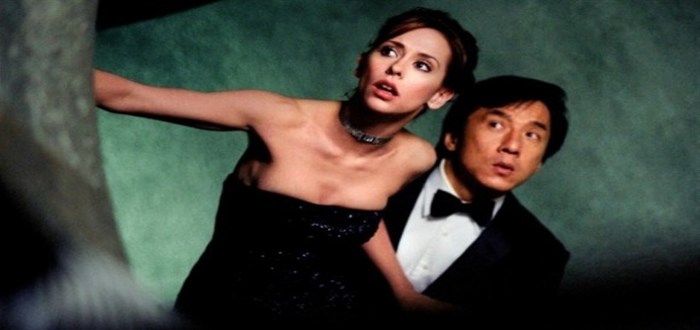 There are very few things that can make a Jackie Chan movie bad in my opinion. You could more or less just have 2 hours of him doing wacky stunts, and it'd still be an enjoyable experience. However, in the case of The Tuxedo, there is very little reason to deny. This is a pretty bad movie. This is the kind of movie you would find in Tesco for a fiver or less at the checkout.
The Tuxedo is the story of a young taxi driver in New York named Jimmy Tong. One day, whilst admiring/stalking the girl of his dreams, he is offered a job working for a man named Clark Devlin. Unknown to Jimmy, Mr. Devlin turns out to be a suave and charismatic spy. After being injured, Clark leaves Jimmy a special tuxedo and sets him on a quest to find the mysterious "Walter Strider". Jimmy assumes Devlin's identity and discovers the tuxedo has some impressive capabilities. Among other things, the suit enables Jimmy to fight, perform stunts and shake his booty… Don't look at me, I didn't write this script!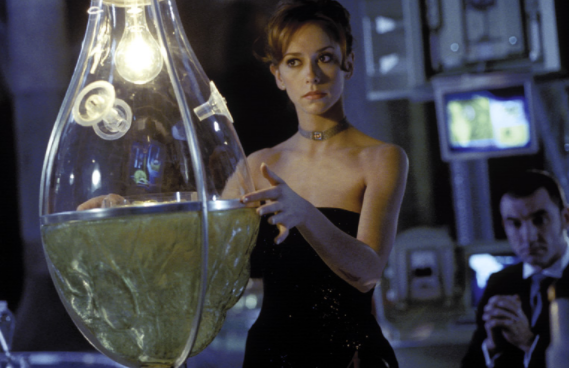 While assuming the identity of the great Clark Devlin, Jimmy is matched with 'rookie' agent Del Blaine, played by Jennifer Love Hewitt. I say rookie tentatively because it honestly seems like the movie can't decide. One minute, Del Blaine is making a feeble attempt at self-defence, quoting "Handbook, page 6!" as if she'd never been in a fight. Then the next, she's doing sweeping kicks and taking on 3 guys at once. It's like her powers appear and disappear whenever the screenplay decides "Okay, Jackie's done enough, let's see her do something!" And I understand, you don't want to put in a damsel in distress useless female character. But she's also m
And I understand, you don't want to put in a damsel in distress useless female character. But she's also meant to be a genius scientist, who knows everything about the bad guys operations in seconds. She doesn't have a magic suit that makes her badass! Can't she just be a smart woman without doing backflips on cue? Also worth noting is if they were trying to turn Del Blaine into a strong female character, they could have maybe tried making her less of a sex symbol. They take every single opportunity in this movie to make Love Hewitt look sexy for no reason. We get it, she's pretty, but what purpose did it serve to show a supposedly strong female secret agent in a bikini?
Now, usually in pieces like this, even if the heroes are bad, there's a chance the villains will still give a good show. As for this one, all I can say is… meh. To be honest, I can't even remember his name. He had the stereotypical villain qualities of being borderline psychopathic and British. But otherwise I can't recall anything interesting about him. The only time he ever shows any emotion other than apathy/constipation is when he's being seduced by Del Blaine. Cos as we've established, she's here for sex, and science, but also occasionally kung fu!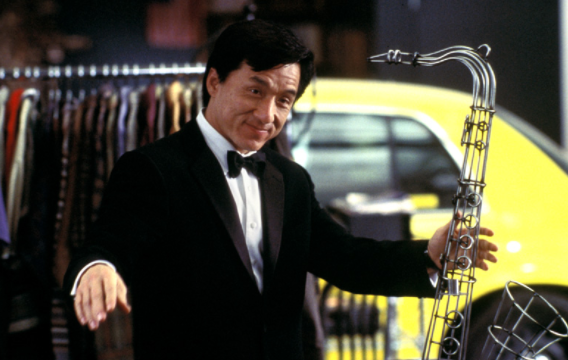 So, in the end, what makes this bad? Well, there are a lot of reasons. But I'm gonna cite the opening of the film where we're greeted by a shot of a deer pissing. Literally, that's the magical image they decided to lure you in with… Deer piss! It doesn't go much higher from there either. While there is some humour to be found it's somewhat buried in failed B-movie brand jokes. Really the only enjoyable parts came from Chan's antics and stunts, which remain top notch regardless of the context.
Perhaps I'm being harsh. I mean, if you're expecting a B-movie, you're gonna get a B-movie. There's no point expecting gold from a turd. But really, even with a bad film, if there's entertainment to be found it can be redeemed. But I really don't see it here. There are one, maybe two genuine laughs here, and the rest is pretty much mediocre. While it's not the worst film I've seen by any means, it's far from the best. So here's my advice: If you want to see this movie, watch Rush Hour instead. Seriously, you'll thank me later!