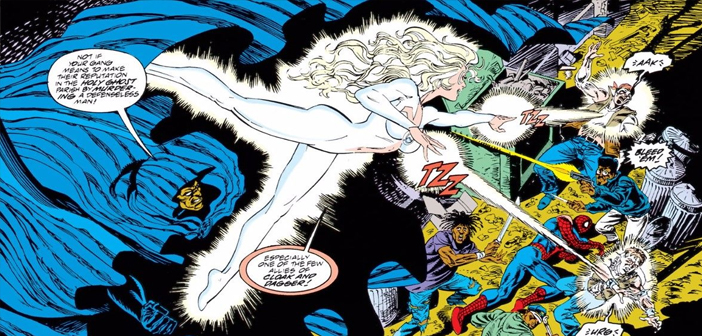 Say Hello To Marvel's Cloak And Dagger Leads
The list of Marvel television programmes knows no end apparently. We're getting a new X-Men series, Legion is almost here and then there is Netflix! Jones, Cage and Daredevil all powerhouses in their own right! Not to mention Agents of S.H.I.E.L.D. and the upcoming Inhumans show! It's a good time to be alive and a Marvel nut!
One project which has been silent for some time is gaining traction again. A Cloak and Dagger series was first announced back in 2011. Last year we learned that the series was going to be live-action in nature. Now Jeph Loeb of Marvel has confirmed just who will play the titular characters. Aubrey Joseph (The Night Of, Run All Night) has been cast in the role of Tyrone Johnson, Cloak, and Olivia Holt (I Didn't Do It) will play Tandy Bowen, Dagger.
Tyrone acquired D'Spayre's Dark Form, which gave him the ability to create an aperture into the dimension of darkness and to dispatch people into the darkness dimension. He also gained the abilities of intangibility, and the teleportation of himself and others through the dimension of darkness.

Tandy had the ability to create psionic "light daggers" which travel wherever she wills them, and which drain living beings of vitality when struck. Her "light daggers" also have the capacity to cure certain persons of drug addictions, and can alleviate Cloak's hunger for light
In a statement executive producer and showrunner Joe Pokaski said:
"The characters of Tandy and Tyrone have always stood out to me ever since I first met them in the pages of Marvel comics when I was a boy. When Olivia and Aubrey read for the roles, these characters leapt off the page. We're so excited to see what these talented young actors bring to the Marvel Universe."
I am keen to see just where this series will go in particular. It's being developed for Freeform formerly ABC Family so it's audience will be teens/young adults! So expect some decent and strong themes; how well those are played out though will be another thing! Either way, keep this one on your radar!
Editor-in-Chief, part-time super villain and hoarder of cats. If you can't find me writing, I'm probably in the kitchen!