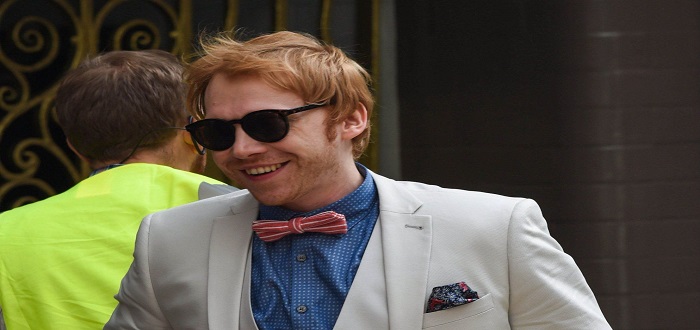 Rupert Grint's Post Potter Career; Sick Note, Snatch & Hitler
There is a misconception that Rupert Grint, better known as Ronald Weasley in the Harry Potter series, has been less successful or less active in the film industry since the series ended than his counterparts Emma Watson and Daniel Radcliffe. To some extent, of course, this is true as his projects have usually been less mainstream and few and far between, but this is due to the 'passion project' element of his work. The projects are in no way less interesting or newsworthy. This lull is hopefully about to end as  the redhead has three exciting new projects upcoming, even if they are all small screen. Two new trailers were released recently and there is another Grint project coming in 2017.
Sick Note
The first of the more recent projects for Rupert, Sick Note is comedy project alongside Cornetto Trilogy favourite Nick Frost. The Sky Atlantic show does not have much of an imdb page yet, but at the time of filming last year, Deadline revealed a great deal of information. The show, created and written by Nat Saunders (Trollied) and directed by Matt Lipsey (Little Britain), is a 6-part series that will centre on Daniel Glass (Grint) a compulsive liar who is misdiagnosed with cancer by the incompetent Dr Ian Glennis (Frost). When he discovers that it is indeed a misdiagnosis,  Glass decides to continue playing the victim. Add to the mix Glass' easily manipulated boss (played by Miami Vice veteran Don Johnson) and the lie begins to spiral out of control leaving Glass and Glennis scrambling to stop the truth getting out.
Limited details had been revealed since news broke when actress Camilla Beeput tweeted that she would soon be filming with Grint and Frost and then deleted the tweet. A brief video of the filming can be seen here. This is set to be a good quality series as it is being produced by the company Big Bert, founded by the mind behind Absolutely Fabulous and Miranda Hart. At present, the show is slated for a 2017 air-date. Oddly enough there was a trailer for this show, but it was later removed from video media sites. All that seems to remain is the screencap video below.
There is a Sky Vision page which displays that one episode is 1 hour long, while the five remaining are half an hour. When we contacted the PR behind the show for comment they said "It will be [aired] later this year. Nothing further to announce at this stage and no trailer available yet."
Adolf The Artist
Fans of the actor will have heard about this project some time ago, however the first real trailer has only been released. The film is to form part of a Sky Arts series called Urban Myths, which started on January 19th. The series got press primarily because of the offensive casting of Michael Jackson in one of the series of films, which later was pulled from the line-up. Rupert Grint appears alongside Misfits and Game of Thrones star Iwan Rheon in a film about Adolf Hitler. The story centers around Hitler's dreams of arts school and his life before he became the dictator the world knows about today. Grint plays a unnamed friend of Hitler's. The trailer released is for the entire series, but viewers can get a sneak preview of Adolf the Artist.
Snatch
The most publicised upcoming project for Grint so far this year is undoubtedly the new TV adaptation of the Guy Richie directed Snatch. Mainstream media is shocked at "Ron Weasley's very different role" but this is likely down to the fact that they have never seen him as a punk rocker in CBGB or as a casual drug taker in Moonwalkers. Imdb lists this series as airing beginning March 16th on US free streaming channel Crackle and although not dissimilar to the 00's film, it's synopsis is as follows:
Based on a real heist, the story will center on a group of twentysomething gents on the rise in the criminal underworld who luck out – or so they think – when they discover a truck filled with stolen gold bullion. This is their ticket into the world they were aiming for but might not like so much, populated with crooked cops, gypsy brawlers, international gangsters and other assorted n'er-do-wells.
Grint is to play a character described as the Gentleman Gangster, Charlie Cavendish. Very little is known at this time, but Charlie is a man who is unpredictable but charming and style-conscious. Check out the trailer below.
Go Watch Grint's Post Potter back-catalogue!
Rupert has done films such as Cross of Honour , bit parts in films such as CBGB and Charlie Countryman. Most recently he can be seen in Moonwalkers, that although has had mixed reviews is quirky and humourous. Grint has also got a few films outside of Potter that pre-date Deathly Hallows. Driving Lessons and Cherrybomb are both worth a look for some emotional depth, while Wild Target is an entertaining crime caper.
Adolf the Artist aired on Sky Arts Thursday 2nd of February at 10pm.