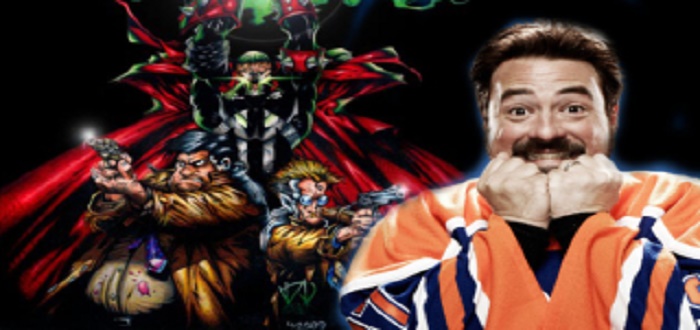 Kevin Smith Attached To New TV Series
Kevin Smith has been working a lot in recent months. From his podcasting empire, to working on the CW shows The Flash and Supergirl and even writing a script for a new Jay and Silent Bob movie. Now comes word from Deadline, that he will be involved in another television project.
BBC America president and GM, Sarah Bennett has revealed that Kevin Smith has been brought on board for Sam and Twitch. This is a television series based on the Todd McFarlane comic book series of the same name. Sam and Twitch originally appeared in Spawn comics before spinning off into their own series. Sarah said, "He is attached to write, direct and executive producer a series based on the Sam And Twitch comic book series for us."
This will be the second attempt for Smith to take on these roles for a television series. He recently tried to work with Amazon on a Buckaroo Bonzai series, but that fell through due to Amazon blocking out the original creators. This series is being described as a police procedural but set in that Spawn world. Sarah Bennett had this to say about the series:
They were originally introduced in Spawn, and it's Todd McFarlane's comic book series about these big-city homicide detectives who face a series of super grizzly crimes that are connected to the occult. I bumped into Kevin Smith at Sundance and he is beyond himself excited about this, about the show.
There is no word yet on when the show would come out as it is only in the developmental stages right now. In the last few years, Kevin Smith has been attached to many projects, movies and television. I am a huge fan of his, and I for one hope this is a series that gets made. So many projects have fallen through and not come to fruition, it is the nature of the business.
I think that the successes of his work on The Flash, Supergirl and an episode of The Goldbergs, has given Kevin a renewed passion for making art. I remember it was just a few short years ago his detractors were happy when he announced he would direct one more film before retiring. Since then he has gone on to direct a few movies and the aforementioned television episodes.
What do you think of this new potential series? Do you think Kevin Smith is the right man for the job? Let us know in the comments below.