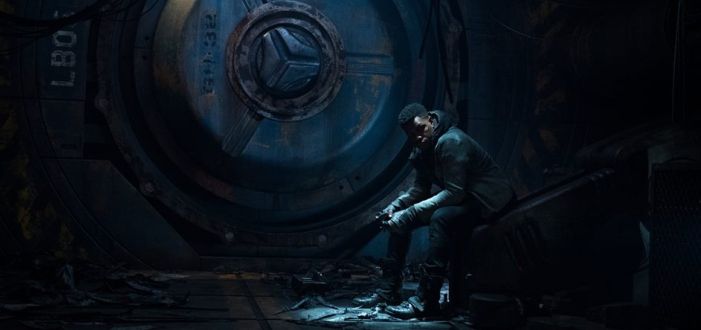 Since this article is about Pacific Rim Uprising there's something you have to do first. Play this as you read.
I mean, Ramin Djawadi's music is partly why the first Pacific Rim is so epic. I will admit that I actually watched it on the cinema three times because I loved it so much. And the wait for the sequel has been long and hard.
But it came out of development hell, and even though Guillermo del Toro has been forced to take a backseat I just don't care. I'm really excited about this film.
And that excitement skyrocketed earlier this week, when John Boyega posted the following image on Twitter.
I am Pentecost
2018#PacificRimUprising pic.twitter.com/36BEwIVRVD

— John Boyega (@JohnBoyega) February 7, 2017
To be fair, he has been posting a lot of stuff about the film, mostly him hanging out with his castmates in Australia. But this represents the first official image of the film where we finally see Jake Pentecost, son of Stacker (played by Idris Elba in the original film). And he looks like he's about to cancel the apocalypse, just like his father.
But that's not all. The Daily Telegraph also published some photos of  Scott Eastwood on set, wearing the drivesuit. I find it looks a bit strange, compared to the one in the previous film, but I guess I might see it differently once the film is out.
Pacific Rim 2: Scott Eastwood stars in sci-fi action blockbuster filming in Sydney https://t.co/fFkw36rkl7

— The Daily Telegraph (@dailytelegraph) February 6, 2017
But that's not all. A fansite just gave us a first look at the new Jaegers. Including what looks like Gipsy Danger 2.0.
Pacific Rim Uprising has a release date of February 23rd 2018. Steven S. DeKnight will make his debut as a director with it (and after season 1 of Daredevil my hopes are up). Among the cast members returning from the previous film we have both Charlie Day and Burn Gorman but most importantly Rinko Kikuchi.
Unfortunately, a scheduling conflict prevented Charlie Hunnam from reprising his role. Not that it matters much but I wanted to see Raleigh and Mako together on screen again. It's a minor disappointment but in the end I don't care, more Pacific Rim is a good thing.
Looking forward to this film? Let us know in the comments.
Angry Spaniard, adoptive Irishman. Writer, reader, tea drinker and video game player/designer.