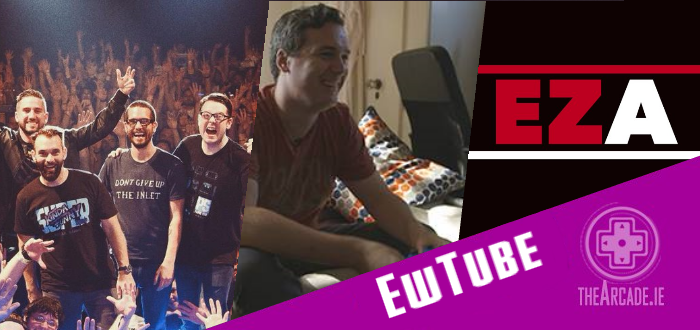 From Mainstream To Patreon – EwTube
Gaming media has been around for many years and has spread across forms, with dedicated print media gaining popularity in the late 80s to modern online and video-based media being the norm since the late 2000s thanks to advances in technology.
Mainstream video game media outlets such as IGN, Kotaku, Polygon and Destructoid are just some of the most visited gaming sites that exist today, giving daily and up to the minute news at your fingertips, but an ever growing trend in online gaming media is the personality of each site.

This increase in gaming personalities, retro focused gaming and even those who find and play rubbish games, has each garnered a dedicated fanbase. These fans are now getting a chance to back their favourite personalities through the means of crowdfunding sites, one of the more recent sites being Patreon.
Patreon allows creators to make content and be funded directly by people who want to access that content. Funders are rewarded through a tier system of prizes, exclusive content, meet and greets and the like. This can range from as little as $1 up to thousands of dollars. This combination of fan enthusiasm and an ability to make money directly from those fans has encouraged independent groups and sites to emerge. It's even inspired some to leave their secure paying jobs to risk going it on their own. Today we look at three Patreon funded groups, who have successful stepped from mainstream gaming sites to their own independently run sites.
Kinda Funny/Kinda Funny Games
Starting off as a side project for IGN's Greg Miller on his YouTube channel, Kinda Funny began life as a conversational show with subjects suggested by the public and was shot with fellow IGN colleagues and roommate, Colin Moriarty.
Both Greg and Colin were fairly popular on IGN as writers for the site, creating PlayStation themed content and helming Podcast BEYOND, which was one of the most popular PlayStation podcasts in the world. They had a good rapport with fans and when Kinda Funny started another weekly conversational show, they added Tim Gettys and Nick Scarpino to the mix. Each member brings their own unique view, knowledge, opinion and humour to each show. One thing they were oit initially allowed to talk about, however, was any gaming related news, as this conflicted with their work at IGN.
Eventually they made the tough decision to leave their stable jobs at IGN, one of the largest gaming sites, to go out on their own and create a second channel in Kinda Funny Games. Both Kinda Funny channels rank as some of the highest earning and most popular Patreons. Since starting Kinda Funny, they have collaborated with the likes of Sony, Square Enix, Rooster Teeth, Screwattack, GameSpot and even former employers, IGN. Some top name guests have appeared on their shows including PlayStation Worldwide Studio President Shuhei Yoshida, Rouge One co-writer Gary Whitta and voice actor Troy Baker, just to name a few.
Kinda Funny have a fun and informative set of shows on their channels. You can check them out on Kinda Funny and Kinda Funny Games or on kindafunny.com.
Easy Allies
Easy Allies have a slightly different reason for setting up their Patreon. Once members of the website GameTrailers, founded in 2002, the site was unceremoniously shut down on February 8 2016 by owner Defy Media. Although a shock to most gaming outlets and fans at the time, GameTrailers can be attributed in being one of the first sites at pioneering the use of daily video uploads in gaming media, which is now an industry standard. But from the ashes of the site came an idea to form a new gaming group with the help of other gaming enthusiasts. Easy Allies was launched on Patreon March 21 2016.
Nine former GameTrailers employees, Brandon Jones (co-founder of GameTrailers), Michael Damiani, Daniel Bloodworth, Ben Moore, Bradley Ellis, Ian Hinck, Michael Huber, Kyle Bosman and Don Casanova formed this new venture, which has seen great success, and reached their $40,000 goal by the end of December.
Hopefully they can exceed this goal in the New Year. EZA have a cool mix of gaming streams, weekly conversational pieces and unique 'Let's Play' videos with the likes of their Dungeons & Dragons weekly show – 'Tabletop Escapades' and 'Brandon Sun, Kyle Moon', which is a weekly recapping of Brandon Jones and Kyle Bosman's adventures in the new Pokémon Sun & Moon games.
You can find more information about Easy Allies on their website.
Danny O'Dwyer
Danny O'Dwyer, a Waterford native, worked with GameSpot for 5 years or so, moved to America for the job and was the host and producer of a number of shows including 'The Point', an in-depth look into the hottest gaming topics from industry controversy, rumours, speculation and fan reactions. Danny was also the host on Gamespot's weekly live show 'The Lobby'. Danny was instrumental in creating the direction of the site with informative pieces, in-depth discussion on the gaming industry and the great Irish wit and craic he brought to the American site. It was announced in early September that Danny would be leaving GameSpot and doing something independent from a media and advertising driven site.
Enter Noclip, a crowdfunded idea of Danny's – similar to what was seen in his show 'The Point' – whose ambition was to create a new gaming outlet that focuses on documentaries that aren't steered by advertising or click bait. It will instead look into the stories that matter to gamers! He states he wants us to "walk through gaming's walls and take a peak at the other side", hence the reason it's called Noclip – a cheat that allowed players to move the camera through gaming objects with no restrictions.
The 2016 Game Awards saw Danny nominated for Trending Gamer Of The Year and he has since released two documentaries, with the first following the story of multi-player sensation Rocket League and, more recently, he took us to Texas to check out id Software and their work on the new DOOM.
To see more of Danny and Noclip, check him out on Twitter or on his YouTube Channel.
Conclusion
As was said at the start of the article, it is even easier to follow gaming content with the likes of Twitch, YouTube and social media sites at your fingertips. All this technology gives anyone an opportunity to make content themselves and in turn find an audience.
Thanks to crowdfunding sites, such as Patreon, it's now even easier for this audience to support content that appeals to them. The above are just three examples I personally follow and enjoy.
Do you follow or support any Patreon pages? If so, how do you feel supporting these type of pages? Let us know in the comments below.