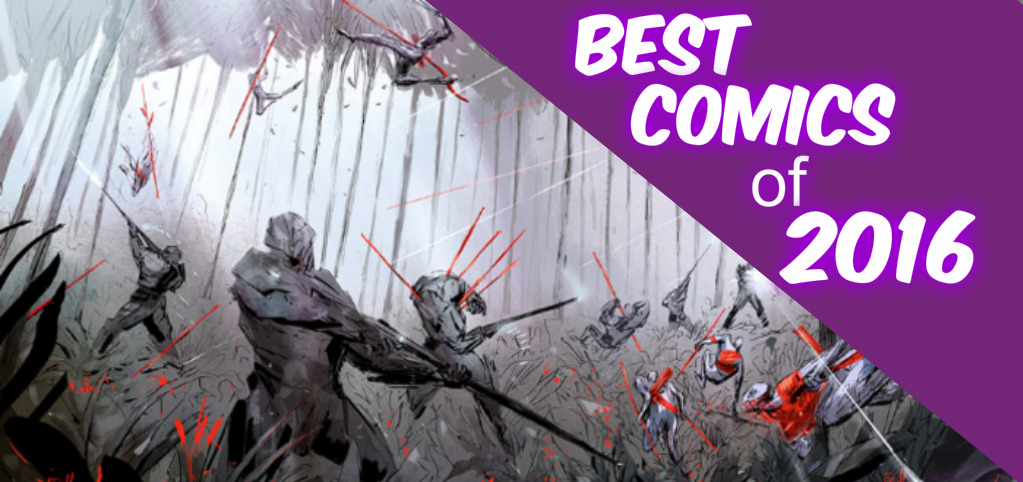 Best Comic Titles Of 2016 | Staff Picks
One fact about 2016 is pretty evident: It was a terrible year. Perhaps personally things went your way, you may have gotten a new job you loved, or met someone fantastic or finished that project you've been working on since forever, but in general, 2016 sucked.
Many of us got stuck into TV shows and movies and comics to try and get some reprieve from dealing with the real world, and thankfully it's been a good year for quality. Quality shows, quality films, quality books. Today we've asked some of our staff who love comics to give their recommendations on the best of the year.
Mary says…
Joyride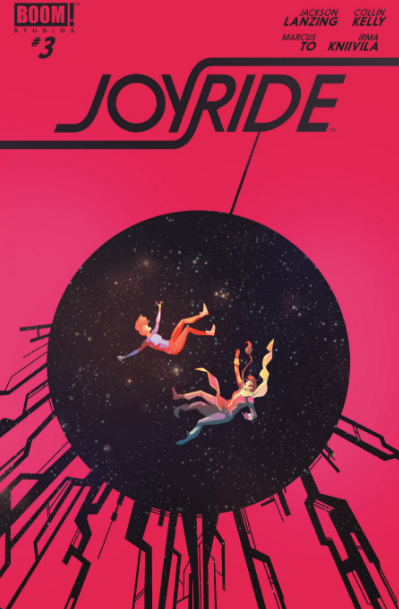 From writers Jackson Lanzing and Collin Kelly along with the artistic talents of Marcus To, Boom! Studios brings us Joyride. I've spoken briefly about it before, but after reading many comics this year, I've decided that this is my favourite. It's incredibly fun.
It's about a future Earth that has been blocked from seeing the stars by the World Government Alliance. Not only have they banned citizens travelling beyond Earth's borders, they have trained children to join the militarised Allied Youth and have developed a huge ray gun to destroy any rebellion. Uma Akkolyte is a girl who leaps before she looks, and with the help of her best buddy she steals a spaceship and blasts through Earth's shields with a crew of teens, an adorable robot and a grumpy alien.
The comic has major Star Wars/One Piece vibes, so if you enjoy either of them then this comic will be right up your street.
Empress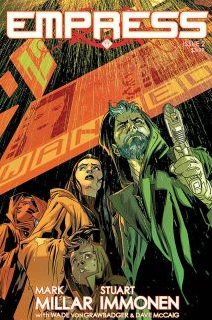 I haven't loved a comic as much since I first picked up Saga for a steal (€9.99) a few years ago. From the talents of Mark Millar and Stuart Immonen comes Empress, the story of a woman escaping with her children from her alien dictator husband. Putting it mildly, he's not the nicest dude. With the help of her guard, the family travel across planets to distance themselves from her husband's wrath with only their wits, their loyal bodyguard and the help of a veteran to keep them safe.
I've been completely disillusioned by Marvel lately, but Empress is a knock out if ever there was one. It has a great cast of characters, dynamic art and a story that flows so easily you don't notice how quickly you turn the pages. Do yourself a favour and give it a go!
The Fourth Planet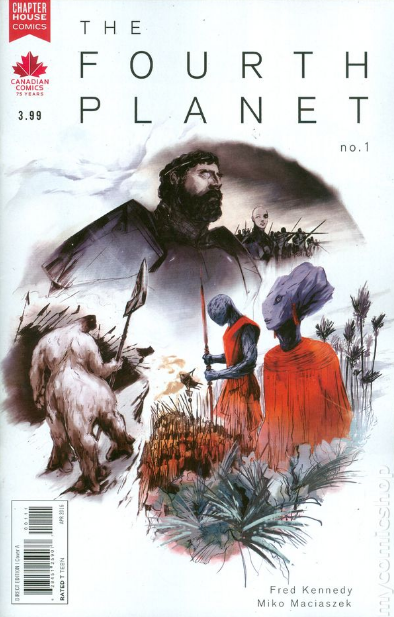 Full disclosure; I picked this up purely because of the cover and inside art. I had no clue what the story was or who had created it, but the gorgeous, unique art hooked me instantly. As it turns out, the story is very interesting. A warship called Lightstorm crash lands on an alien planet after fleeing from certain death. Its occupants seek only survival but they become unwillingly entangled with the constant warring of the planet's native species.
One of these species look like flower petals and the other like hairy yetis. That's the most simplistic explanation, but truly, the art is out of this world. Not since The Hound by Paul Bolger have I seen such stunning use of grey, black, white and red. Beautifully put together, this is a must-read quarterly from exciting new talents Miko Maciaszek and Fred Kennedy. 
Declan says…
Hillbilly Folk Tales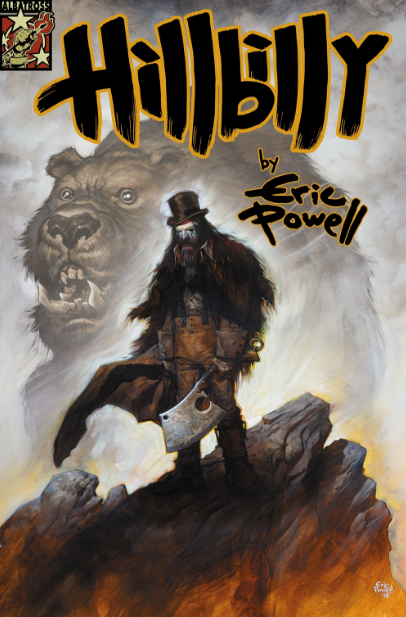 Hillbilly folk tales are some of the best stories ever told. Eric Powell stirs some powerful magic with his Apalachan fantasy Hillbilly. Issue one sets up a mysterious wanderer clutching a cleaver as our hero in a murky world splotched with rust reds, burnt greens and dark blues.
The story treks across the lines of fantasy and horror as our hero takes on the forces of witches and curses. Issue one grounds our hero's roots; a young blind boy who makes a pact that seals his fate and puts him on the path of vengeance. If you like your fantasy a little dark and a lot twisted, then check out Albatross Funnybooks' Hillbilly.
Glitterbomb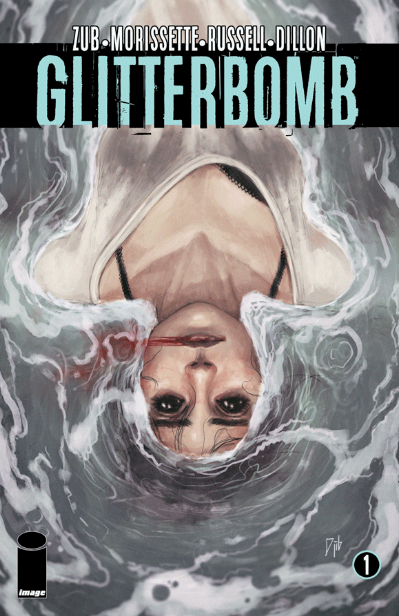 Speaking of twisted! Glitterbomb is all kinds of gory and terrifying! Oh, and glorious! Struggling middle-aged actress, Farrah Durante, finds herself at the mercy of a monstrous being that feeds on her deepest pains.
The best horror story is the one that doesn't fill in all the details and writer Jim Zub and artist Djibril Morissette-Phan really get that concept! Glitterbomb gives enough to pull you into the world. It shows you enough to fill in the rest of the scare, a fear that feeds off the imagination. A must-read for the horror obsessed.
Animosity
The cliché of animals gaining self-awareness like that of humans has been done. Hitchcock gave us The Birds,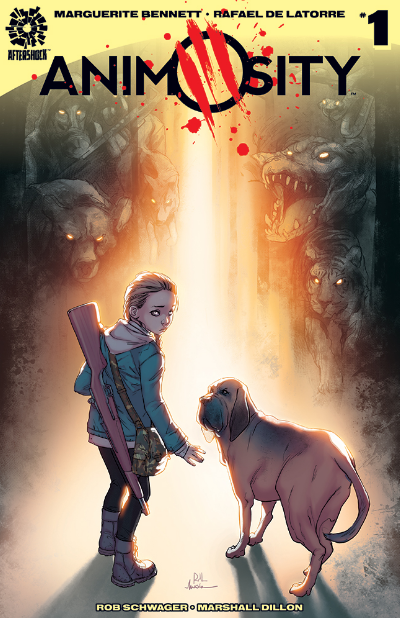 Charlton Heston came face to face with Planet of the Apes and, more recently, CBS unleashed Zoo on the world. Aftershock gave us Animosity, a story from Marguerite Bennett that takes this concept and juggles the human and animal side of the story.
Jesse and her bloodhound friend/guardian Sandor are thrust into a world falling apart when animals begin to fight back and rise up. The skies are filled with psychotic birds, livestock beg for their lives and treasured pets reveal life shattering secrets. Animosity is evidence of an old dog learning a new trick and Bennett is only getting started. A colourful and frightening read for pet owners who know their pets really are monsters and psychos in disguise!
Nioclas says…
Outcast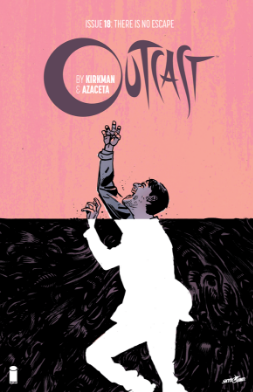 Outcast by Robert Kirkman and Paul Azaceta is the next comic on our list. Outcast crept up on me. I didn't think I was going to like it, but in the end it hooked me pretty hard. The comic is about possession and demons and small-town America. It's super-solid stuff.
Cinemax in the U.S.A are producing a T.V. show of the story, so I have a feeling that the scripts were written in a way that meant they could be adapted to television as easily as possible. This makes sense and explains why the comic itself moves a little slowly at times. Stick with it and enjoy the art. This one is only going to get better.
Bitch Planet
I'm a huge fan of grindhouse-style cinema, so Bitch Planet by Kelly Sue DeConnick and artist Valentine De Landro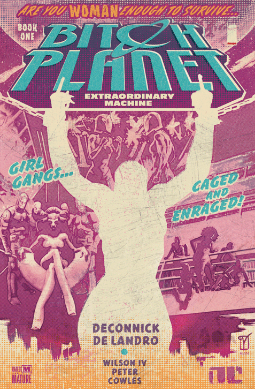 was right up my alley. Non-compliant women in a future society get sent off to a prison planet. Most of them are people of colour, most of them are repeat offenders and most of them aren't what we're used to seeing from female comic-book heroines.
The writing is solid and in terms of tone, the series is a critique on incarceration and race relations. It also digs into feminism and religion – for good measure. One reviewer called it "Black Mirror meets Orange Is The New Black" and I can't phrase it any better than that myself.
The Vision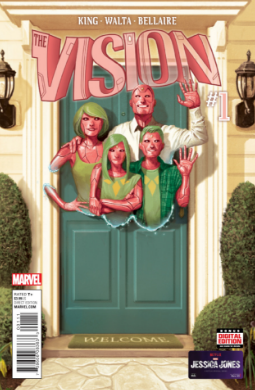 The Vision by Tom King, Gabriel Hernandez-Walta, Jordie Bellaire and Clayton Cowles actually started late last year but it doesn't matter because it's one of the best comics of 2016. Before the Avengers movies, I had no interest in The Vision, and even afterwards I didn't really believe that people could do something with him that would reel me in. Sometimes it's great to be wrong. Fundamentally, this is a story about family.
The first cover image tells you this. What it doesn't tell you is that the creative team are masters and produced a comic that sucked me in and gave me a new love for a character I always overlooked. Go pick it up.
What were your favourite comic titles of the year? Let us know in the comments!