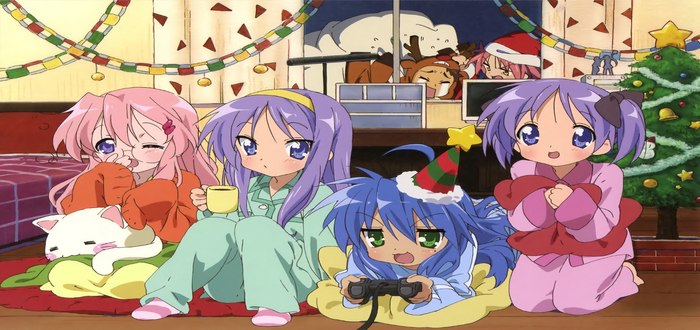 Otakumas Favourites – Otaku Digest
Merry Otakumas everyone! Yes, we are a week away from Christmas Day but today is the last Otaku Digest of 2016 which makes it Otakumas here at The Arcade! The week before Christmas can be stressful for most people since it is usually the week for work and school to finish up for the holidays. That last minute present buying panic sets in and grabs us by the Christmas balls!
And lastly, of course, our bodies pre-empt the copious amounts of food that it is about to consume. No, we aren't going to be talking about food and treats this week, but the most underrated aspect of Christmas, and that is the Christmas favourites that we watch every year!
We all have those traditional Christmas favourites that we watch every single year without fail. There is an abundance of traditional favourites out there from Miracle on 34th Street to Home Alone. What we like is the more untraditional ones, like Die Hard and Nightmare Before Christmas, but with an otaku twist. It will come as no shock that there are some anime films that I bust out every year to watch.
The traditional film is always feel-good with a warm message and happy ending, but what I love about these films is that they are warm and feel good with a message, but do not always have the traditional happy ending. They leave you thinking about what could have happened or why it ended the way it did. So if you are looking for something different this festive season, why not check out one of these titles:
#3 Wolf Children
This really is a film I have not talked about enough and you can expect an Otaku Review for it in the New Year! It is probably the newest addition to my anime festive favourites category, but it has earned its place. Where Hayao Miyazaki has been praised for his anime genius, Mamoru Hosoda is a very talented and acclaimed anime director making him the perfect person to take the mantle when Miyazaki (eventually) retires. From Hosoda we got Wolf Children, a simple film about a mother's love and trials in life.
It's not the most action packed film, but it ticks all the right boxes for a festive favourite. Here we have Hana as she lives her life as a single parent of two wolf children. If you want the how and why, however, then you will have to watch the film or wait for the review. Everything she does is for her children and to ensure their safety, like picking up their lives and moving to the country side so the world does not discover what they are. This film has the heart-warming story element, the inspirational message and characters but it also comes with sad, dark moments that truly round out the story and makes you think about what this girl has done and sacrificed.
#2 The Boy & the Beast
So although this film is newer then Wolf Children, I actually saw this one first and the moment I finished watching it, I knew it would be not only a film I would watch again but definitely a festive favourite. Everyone who knows me is well aware that I am quite outspoken about this film and have covered it as much as possible, but I cannot stress enough how good it is. If the work of Mamoru Hosoda has not tickled your fancy before, this film will change that.
Where Wolf Children is slower paced with a more slice of life fantasy feel, this film is action packed, suspenseful, comedic while still holding a very personal feel to it. This film's charm is all down to the characters; it is set in modern Tokyo with fantasy elements and a Beast-like world, which is really nothing new, but it feels new because of the characters. The film flows through the individual relationships between all the characters, through each argument, comedy moment and triumphs they have. It's another film that checks all the criteria for a festive favourite; heart-warming story, inspirational characters and message with a happy ending that leaves you with a 'No! Why did it have to end that way?' feeling.
#1 Any Ghibli film anywhere
So you may have noticed a trend here since every year around this time Otaku Digest always involves Ghibli films and, more specifically, Miyazaki films. For me, not a festive season can go by without popping on one of these films. Usually these viewing sessions involve Spirited Away, Princess Mononoke, Howl's Moving Castle, Kiki's Delivery Service and My Neighbour Totoro. However, this year I may swap out Totoro and Howls for Whisper of the Heart, The Cat Returns and Porco Rosso. Or perhaps I'll keep them all in and make a true marathon of it, who knows!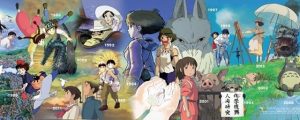 Looking at all these films, they all have things in common, apart from most of them being somehow involved with Miyazaki. They all leave you feeling the same way; you feel joy for the characters and what they have accomplished, in some circumstances they leave you uplifted in what you could possibly achieve and, most importantly, there is that moment at the end where they leave you wanting more. They not do closed endings, there is always a possibility for more to happen but, at the same time, the ending is too perfect for words.
Sure, there are times where it leaves you shouting about the ending, but with some thought you realise it was perfect and you can imagine what went on to happen. For me, the Ghibli series of films are the epitome of the perfect festive favourite for any otaku to enjoy during the holidays.
I wish you all a Merry Christmas and a Happy New Year! See you all in 2017 with more otaku ramblings and a whole new Otaku Digest!