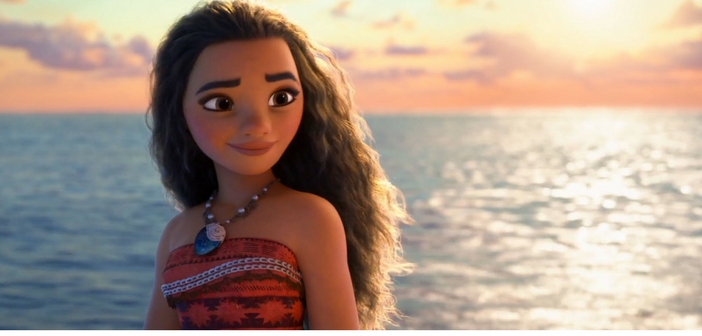 Moana Review – A Voyage Of Rediscovery
Aside from the initial stories surrounding Disney's return to polynesian culture and people for the movie I'd never really given Moana time. I had, I believed, gone too far, too grown up, to appreciate today's Disney. Sure I've watched Frozen and even gave Toy Story 3 a play recently but they all felt too far removed from the Disney of my childhood. It's an unwillingness to let go and move on but more than that; a fondness for the stories and characters that have never quite been matched since.
Until now.
Moana tells the story a teenager struggling to find her place in the world around her. A duty to her family and the people of her tribe quarrels with her ambition to set out on a path of her own and explore the world for herself. Her destiny pushes her into an encounter with a demigod and a quest to save her home and restore harmony to the world. It is a story about tradition and responsibility. It is a story about love but it's not a love story.
Characters
Moana is a boisterous, progressive and spirited young woman. She is voiced by Auli'i Cravalho, Moana is a relatable character for us all. Torn between her responsibilities as the future leader of her people and her heart that yearns to discover the world and be a part of something bigger. Moana, thanks in part to Cravalho's passionate performance, feels like the embodiment of all the Disney heroines that have gone before her. She is a fully-realised character to be admired and celebrated.
However Moana isn't alone in her journey to save her homeland. She is tasked with finding Dwayne Johnson's Muai, demigod and hero to all. Johnson excels in bringing Muai to life, making a larger than life figure larger still. It feels like Muai is a character that Johnson genuinely enjoyed being.
Together, Moana and Muai must restore the Heart of Te Fiti, a powerful relic stolen and lost by Muai. The journey is fraught with danger and enemies looking to settle scores with the demigod.
The film is packed with excellent supporting characters including animal sidekicks. Adorable pig Pua is sidelined by helpless rooster Heihei who brings the laughs after the heavy drama. Moana's parents struggle to keep their daughter focused, hindered by a free-spirited grandmother.  Tala encourages her granddaughter's dream to explore the ocean and travel her own path. The ocean itself takes on a supporting role not only as it guides Moana but ensuring the film flows properly.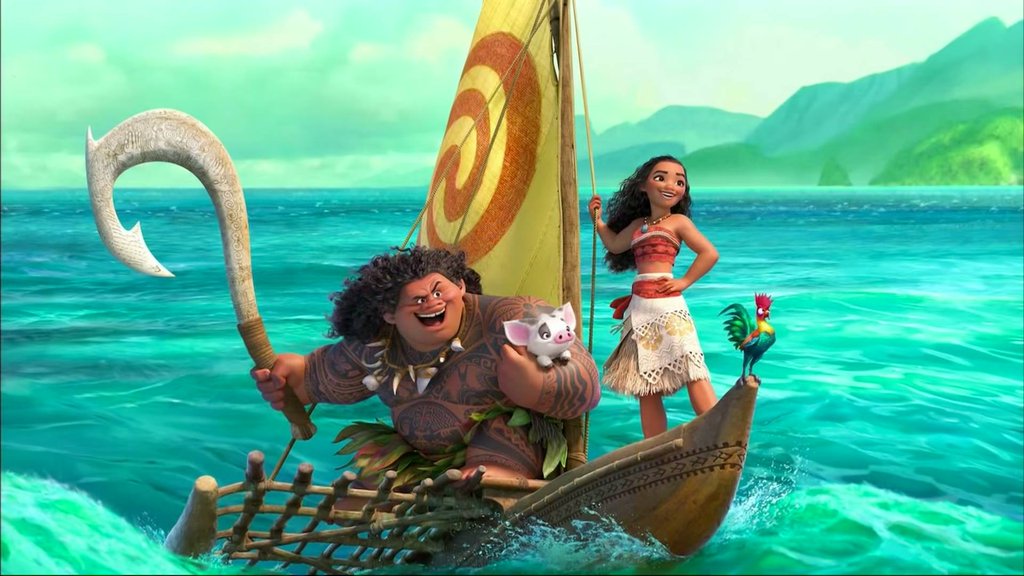 Polished Presentation
The movie comes with some pretty big and powerful scenes matched by an unforgettable soundtrack. Forget Frozen's 'Let It Go', Moana offers us 'How Far I'll Go' and with it a film score that moves, focuses and draws us further into Moana and Muai's world. We're treated to 'Shiny', a track that conjures up memories of Pat Carroll's 'Poor Unfortunate Souls' and oozes Tim Curry's 'Toxic Love'. Johnson even strings a few notes out in his own piece 'You're Welcome', a song that screams Hercules both in sound and visuals.
Every frame, every sound, every second of Moana feels like it's pulled from the classic Disney pile. There are nods to The Little Mermaid, Hercules, Beauty and the Beast, Aladdin and more. Moana succeeds on drawing from each of these while offering their younger audiences the same beautifully crafted visuals of Frozen, Zootopia and Brave. 3-Dimensional worlds with characters that act and feel as fleshed out as the glossy worlds they inhabit. The film does what Disney has always done best; tell unforgettable stories.
Memories Made
Like it's titular character, both Moana and the film overcome their uncertainties by drawing on their pasts and experiences to find their way in the present and into the future. Moana gives me hope that Disney have found a balance in how they write and present their stories. It takes risks and plays on emotion. The film stirs up memories sat in front of the TV on a lazy Saturday morning. Plopped in front of the TV surrounded by mountains of VHS tapes. You'll laugh, you'll cry and you'll wish that the world of Moana was real and you lived there. Just like you did when you were a kid.
Editor-in-Chief, part-time super villain and hoarder of cats. If you can't find me writing, I'm probably in the kitchen!