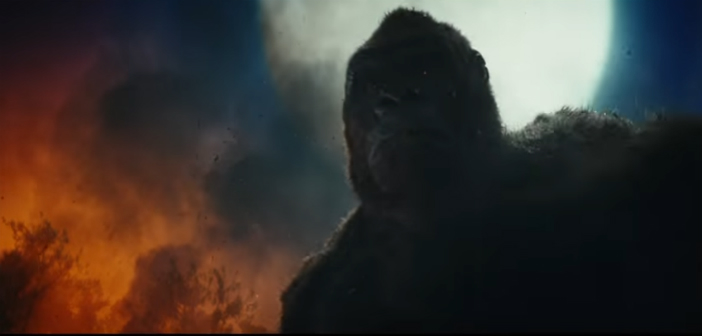 New Kong: Skull Island Trailer Gives First Look At The New King Kong
The second official trailer for the new King Kong movie, Kong: Skull Island debuted across on the pond on Jimmy Kimmel.
This trailer gives a great look at the biggest Kong  yet seen on film. It takes us back to the 1970s, following a group of explorers who unwittingly stumbles upon the huge gorilla.
As we see Kong easily tear down helicopters from the sky, it's not clear how the humans are going to take him down. Having said that, a new threat seems to be on the horizon, even greater than Kong himself. Aptly named "Skull Crawlers" appear to be their biggest threat, which may even see the explorers allied with the gorilla himself.
Check out the trailer below!
The trailer certainly didn't hold back, as we catch a glimpse at several of the island's monsters, from a giant spider to a dinosaur-looking beast which tears through the island, all keeping with the King Kong history.
Speaking about the controversial flop that was Godzilla, director Jordan Vogt-Roberts said: "We're also fundamentally not playing the same game that Gareth Edwards' Godzilla did and most monster movies do, which I'm sort of sick of the notion that a monster movie needs to wait an hour or 40 minutes until the creature shows up. Kong traditionally does not show up in these movies until very, very late, and the monster traditionally does not show up until very, very late in a monster movie, so a lot of these movies tend to have this structure that's a bit of a slow burn. Something about this movie made me want to reject that and play a very, very different game."
Skull Island stars Brie Larson and Tom Hiddleston further released great-looking posters on their official twitter pages in light of the trailer's release.
Hello world. Kong is back. #kongskullisland pic.twitter.com/nVOC4m2h0R

— Brie Larson (@brielarson) November 16, 2016
Allow me to introduce you…. #kongskullisland pic.twitter.com/kLGFBdPKFQ

— Tom Hiddleston (@twhiddleston) November 16, 2016
Joining Larson and Hiddleston, Samuel L. Jackson, John Goodman, Jing Tian, Toby Kebbell, John Ortiz and many more star in the ensemble cast. Kong: Skull Island will release in March 2017.
Excited for the next installment in the Kong franchise? Let us know in the comments!
Doing a little of this, a little of that. If you see me holding a camera, run!