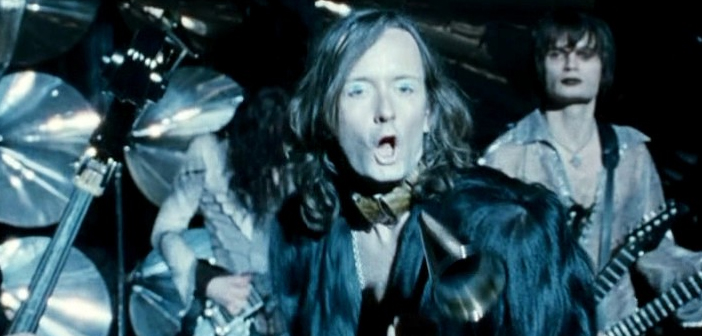 This weekend's theme is around Fantastic Beasts and the Harry Potter spin-off of sorts comes to cinemas in two weeks. What better way to celebrate that than with a track of the day both from the film series but also all about fantastic beasts?
'Do The Hippogriff' was featured in Harry Potter and the Goblet of Fire and was intended to show the audience what type of music wizards listen to. Far from the obvious muggle music that's featured in the films, from 'Boys will Be Boys' by the The Ordinary Boys to Nick Cave's 'O'Children', this song is by wizard rock group The Weird Sisters and is all about fantastic beasts dancing. During this scene, The Weird Sisters perform at the Yule Ball and are portrayed by real life rockstars Jarvis Cocker, Johnny Greenwood on guitar and more.
Magical Lyrics:
Move your body like a hairy troll

Learning to rock and roll

Spin around like a crazy 'elf

A' Dancin' by himself

I boogie down like a unicorn

No stoppin' till the break of dawn

Put your hands up in the air

Like an over just don't care

 (Chorus)

Can you dance the hipogriff?

Ma ma ma, ma ma ma, ma ma ma

Flyin' off from a cliff

Ma ma ma, ma ma ma, ma ma ma

Swooping down, to the ground

Ma ma ma, ma ma ma, ma ma ma

Wheel around and around and around and around

Ma ma ma, ma ma ma, ma ma ma

Move around like a scary ghost

Spooking himself the most

Shake your booty like a boggart in pain

Again and again and again

Get it on like an angry specter

Who's definitely out to get ya'

Stamp your feet like a leprechaun

Gettin' it on, gettin' it on

( Chorus)

 Yeah, yeah, yeah

Ooh, come on

Mmm, you gotta move it

Like a groovy creature,

Creature of the night

Yeah, that's right

Ah, a creature of the night

Well, do ya' feel alright?

Do ya' feel alright?

Ow!

Yeah!

 Can you dance like a hippogriff?

Ma ma ma, ma ma ma, ma ma ma
Rock isn't the only type of music in the wizarding world however as Mrs Weasley is often seen listening to the more classical Celestina Warbeck. That said, Wizard Wrock as it's called by muggles, is a big sensation among the fandom, with many forming Potter related bands such as Harry and The Potters and Draco and the Malfoys who sing about book themes. One song from the latter declares '"my dad is rich and your dad is dead".
Let us know if you have any favourite wizarding music and answer us the important question: can you dance like a hippogriff?