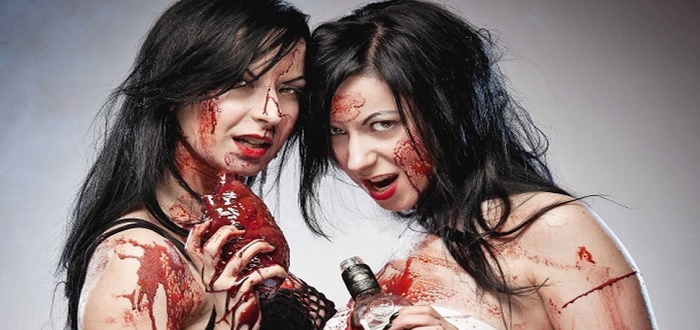 The Soska Sisters – Hollywood's Horror Heroines
This week, I felt it was the perfect time to tell you all about my favourite Scream Queen directors, The Soska Sisters. The term 'Scream Queen' has been used to describe an actress who has become associated with horror films. This is usually through acting in a notable entry in a horror franchise, or starring in many horror genre films. A few actresses have earned this moniker, including: Jamie Lee Curtis, Heather Langenkamp, Linnea Quigley, P.J. Roles, Kathrine Isabelle, Chloë Grace Moretz and Danielle Harris.
The Soska Sisters are twin sisters, Jen Soska and Sylvia Soska, who were born in Vancouver, British Columbia, Canada. They are writers, producers, actresses and most importantly they are directors. The have loved the horror genre since they were kids when their mother finally allowed them to watch the movie Poltergeist (original, not the remake).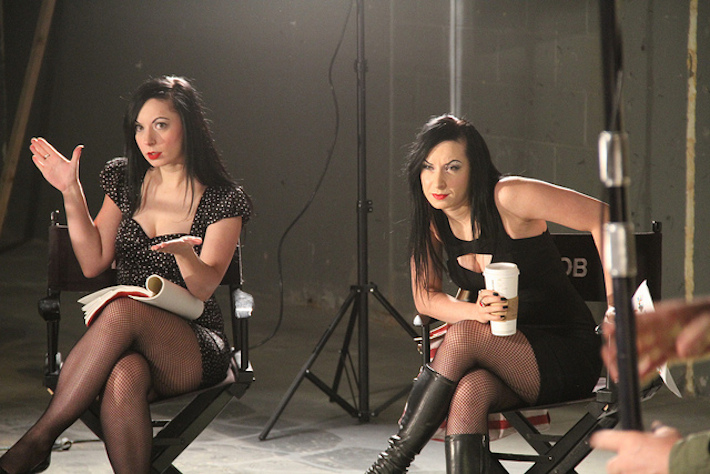 After reading the book Rebel Without a Crew by Robert Rodriguez, they felt that they could actually make a career for themselves. The Soska Sisters attended film school for a brief amount of time where they completed their first movie. They wrote, starred and directed the feature Dead Hooker in a Trunk that earned them an 80% on Rotten Tomatoes and critical acclaim among their peers.
Twisted Twins Productions
With the release of Dead Hooker in a Trunk the Soska Sisters started their own production company. Naturally they played off the fact they are twins, and perhaps a bit quirky, by naming their company Twisted Twins Productions. This company was just the beginning for the Soska Sisters, who are trying to compete in a genre that has been largely dominated by male counterparts.
The horror and thriller genre has been largely dominated by male directors, with the females so frequently being the victims. While there are still female victims in many horror and thriller movies today, the times are changing enough where we are beginning to see more and more female heroines in these films. The second film by the Soska Sisters was a show of force for women in horror: American Mary.
With American Mary, the Soska Sisters cast one of the aforementioned Scream Queens, Katherine Isabelle. In fact, in writing the script, Katherine Isabelle was the first and only choice to play the lead protagonist of Mary Mason. This film was also the first film that I personally had the opportunity to see. I was immediately a fan of their work and from there I went back to watch Dead Hooker in a Trunk.
Here is the synopsis of the film, according to Fandango
A disillusioned medical student becomes an underground surgeon specializing in body modification in this disturbing horror yarn from "Twisted Twins" Jen and Sylvia Soska. Mary (Katharine Isabelle) always dreamed of going to medical school, but now that she's there, rising tuition costs have become too much to bear. Desperate to make some extra cash, she enters a world where her credentials aren't quite as important as her natural talent and willingness to work outside of the mainstream. Mary's new patients are eager to pay big money to change their appearances, but no amount of cash in the world can repair the psychological scars inflicted on this amateur surgeon as she begins altering human bodies in ways that nature never intended.
This movie put the Soska Sisters on the radar for many independent directors and studios. I personally was so proud to see this kind of work coming out of my home country of Canada. I had the opportunity to meet the Soska Sisters in Toronto back in 2013 where they held a Q & A session talking about their first two films, and giving as many details on upcoming projects as they could at the time. Joining them in the session was one of the stars of the movie, Tristan Risk. Together they showed that it didn't matter who you are, if there is something you want to do, the only thing holding you back is you. The entire Q & A session can be heard here: A Twisted Hour With The Twisted Twins.
With the critical acclaim and success of American Mary, the Twisted Twins were immediately brought on board to direct one of the letters in the very successful horror anthology, ABC's of Death 2. Naturally, the letter they took on was the letter T, with their segment called 'Torture Porn'.
They were then hired by WWE Studios to direct the sequel to their 2006 film, See No Evil. Being long time WWE fans themselves, the sisters viewed this as an opportunity they couldn't pass up. They felt there were missed opportunities with the first film. See No Evil 2 once again starred Glenn 'Kane' Jacobs as Jacob Goodnight and two wonderful actresses, Danielle Harris and Katherine Isabelle. I personally enjoyed the sequel more than the first one, and thought the Soska Sisters brought their own wonderful vision to an already established character.
The WWE enjoyed what the sisters did with See No Evil 2 so much, they brought them back to direct their first non-horror film, Vendetta. This film was much more of an action revenge movie than pure horror, but there was still plenty of blood involved. The movie starred Dean Cain and Paul 'Big Show' Wight as the two men who were going toe to toe
Kill-Crazy Nymphos Attack
These talented women not only are staking their place in the world of writing and directing successful horror films, but they have also ventured into the world of comic books. Their comic book writing tenure began with a short story featuring Night Nurse in Marvel's Secret Wars Journal #5 in September of 2015. Their second foray into comic books was another stand alone story in Guardians of Infinity #8 in July 2016. This story was called Ripley, and paid homage to the Alien franchise.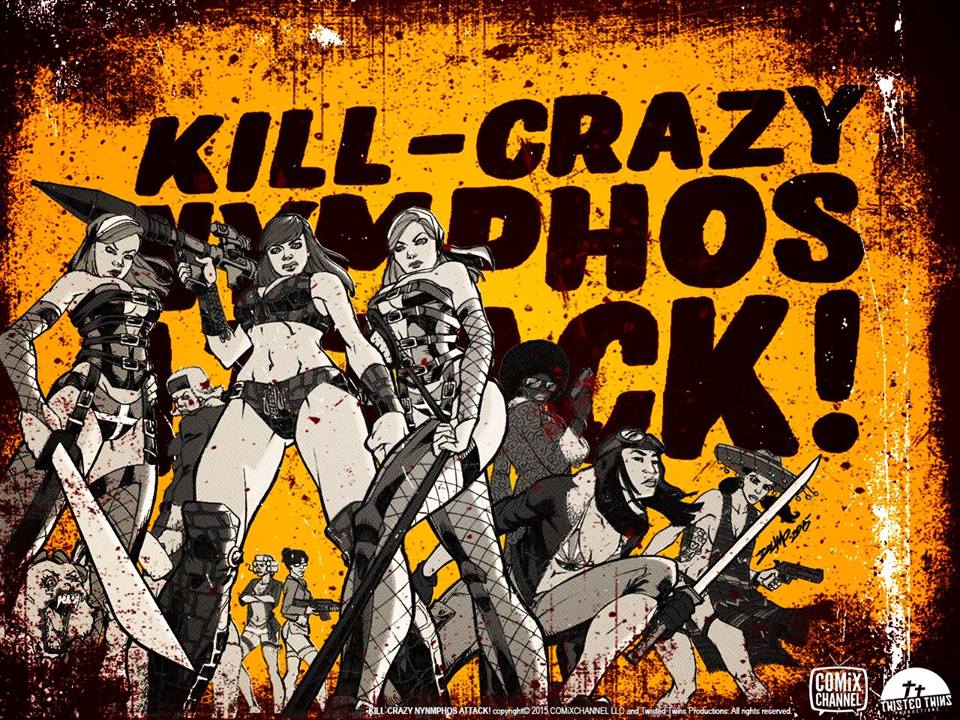 The two stories written for Marvel is just a taste of things to come for the very busy sisters. They launched a Kickstarter campaign back in early 2015 for a graphic novel entitled Kill-Crazy Nympho's Attack. This is a collaboration effort with Daniel Way and artists Rob Dumo, Dee Cunniffe and Dave Johnson. This project has been a passion project for all involved and though the release has been delayed, they have informed all their backers that the project is still progressing very well.
Hellevator
Jason Blum of Blumhouse Productions developed a horror themed television game show. Then he brought in the Soska Sisters to be the hosts/presenters of the show. Hellevator is a 2015 American horror game show in which a team of three contestants rides a haunted elevator through an abandoned slaughterhouse. The show premiered on October 21, 2015 on Game Show Network. The second season returned on October 7, 2016 and will have four episodes, as opposed to the first season which had eight episodes.
In February of 2016 it was announced that the Soska Sisters would be directing a remake of David Cronenberg's 1977 zombie film, Rabid. According to Variety, "John Vidette's Somerville House Releasing has entered into a joint venture with Paul Lalonde and Michael Walker to produce a feature film and original TV series based on the 1977 Canadian horror film.
"The work of David Cronenberg is legendary, and 'Rabid' is much more than just a horror movie," the Soskas said. "The real message of his film is powerful, and even more pivotal as we look at the world around us today. It's an honor to be involved in this love letter to his original, which we handle with the same respect as Paul Schrader's 'Cat People,' Alexandre Aja's 'The Hills Have Eyes' and John Carpenter's 'The Thing.'"
As a Canadian myself, I am very pleased that it will be the Soska Sisters to tackle this remake. The future is very bright for both this project and their career in general. Whatever the future brings for Jen and Sylvia Soska, one thing is definitely clear… there will be blood, oh yes, there will be blood.
The horror genre has been dominated by men for a long time, but the Soska Sisters and many other female directors are aiming to change that. Women like Annie Clark, Karyn Kusama, Jennifer Lynch, Jovanka Vuckovic and Mary Lambert are just a few of the names that come to mind when thinking of female horror directors. The Soska Sisters will always be the top of my list, but it is wonderful to see the changes that are happening with the genre. Women are no longer just the victims or the psychotic killers, they can also be our heroines.
Who are your favourite horror heroines?