All The Nintendo Switch Info Revealed So Far
Nintendo's next console has been revealed and it is called the Nintendo Switch. Formally known as the Nintendo NX, this new console is a hybrid style console where it can be played as a home console, through a home docking system, as well as being a portable console with snapable, add-on controllers. It was reveled through a short trailer, which was released by Nintendo.
The new design of the Nintendo Switch allows players to not only play their games at home, but "the Nintendo Switch system also enables gamers to play the same title wherever, whenever and with whomever they choose."
According to the official press release "At home, Nintendo Switch rests in the Nintendo Switch dock that connects the console to the TV and lets you play with family and friends in the comfort of your living room. By simply lifting the Nintendo Switch console from the dock, it will instantly transition to handheld mode, and the same great gaming experience that was being enjoyed at home now travels with you. The portability of Nintendo Switch is enhanced by its bright high-definition display. It brings the full home gaming system experience with you to the park, on a train, in a car, or to a friend's apartment."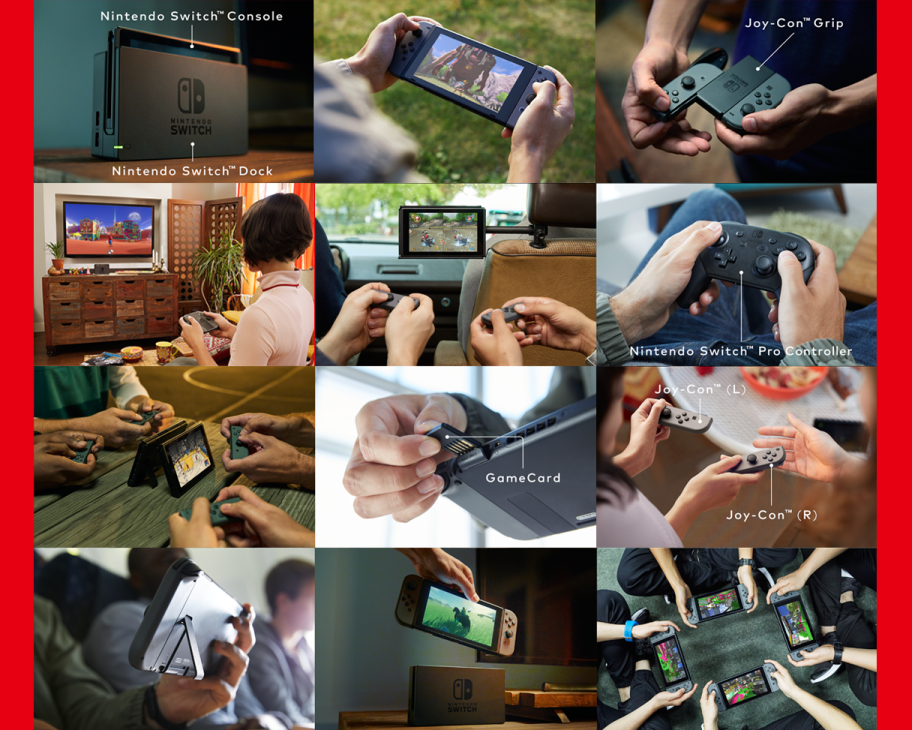 In regards to the controller scheme for the Nintendo Switch, "gaming springs into action by removing detachable Joy-Con controllers from either side of the Nintendo Switch console. One player can use a Joy-Con controller in each hand; two players can each take one; or multiple Joy-Con controllers can be employed by numerous people for a variety of gameplay options. They can easily click back into place or be slipped into a Joy-Con grip accessory, mirroring a more traditional controller. Or, if preferred, the gamer can select an optional Nintendo Switch Pro Controller to use instead of the Joy-Con controllers. Furthermore, it is possible for numerous people to bring their Nintendo Switch consoles together to enjoy local multiplayer face-to-face competition."
Several Nintendo brand games are shown throughout the trailer such as Zelda: Breath of the Wild, Splatoon and a new 3D Mario game. Currently, there is also a long list of 3rd party support planned for the console with the likes of Activison, Electronic Arts and Square Enix all partnering with Nintendo to create content for the Nintendo Switch. A full list of publishers and developers can be found below.
505 Games
Activision Publishing, Inc.
ARC SYSTEM WORKS Co.,Ltd.
ATLUS CO.,LTD.
Audiokinetic Inc.
Autodesk, Inc
BANDAI NAMCO Entertainment Inc.
Bethesda
CAPCOM CO., LTD.
Codemasters®
CRI Middleware Co., Ltd.
DeNA Co., Ltd
Electronic Arts
Epic Games Inc.
Firelight Technologies
FromSoftware, Inc.
Frozenbyte
GameTrust
GRASSHOPPER MANUFACTURE INC.
Gungho Online Entertainment, Inc.
HAMSTER Corporation
Havok
INTI CREATES CO., LTD.
KOEI TECMO GAMES CO., LTD.
Konami Digital Entertainment Co., Ltd.
LEVEL-5 Inc.
Marvelous Inc.
Maximum Games, LLC
Nippon Ichi Software, Inc.
Parity Bit Inc.
PlatinumGames Inc.
RAD Game Tools, Inc.
RecoChoku Co.,Ltd.
SEGA Games Co., Ltd.
Silicon Studio Corporation
Spike Chunsoft Co., Ltd.
SQUARE ENIX CO., LTD.
Starbreeze Studios
Take-Two Interactive Software, Inc.
Telltale Games
THQ Nordic
Tokyo RPG Factory Co., Ltd.
TT Games
UBISOFT
Ubitus Inc.
Unity Technologies, Inc.
Warner Bros. Interactive Entertainment
Web Technology Corp.
Nintendo Switch is slated for release in March 2017. It looks like a very interesting concept and is sure to excite people with its ease of home and on the go gameplay. It is unknown yet of the specs of the console itself or information on the likes of battery life, price or full list of launch games.
Be sure to keep it here on The Arcade for the upcoming news and features as it gets announced.