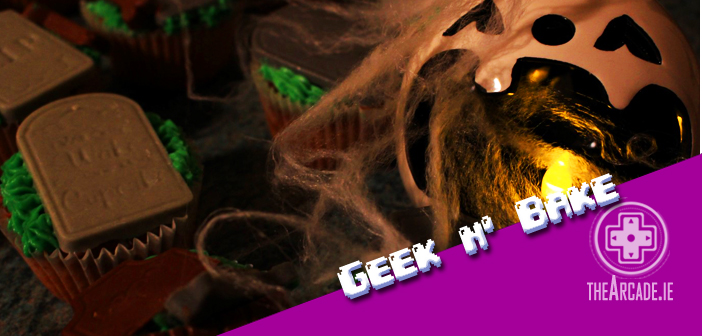 Goosebumps Ooze Cakes – Geek N' Bake
Slime doesn't get more memorable for me than the Goosebumps kind! I devoured the horror/supernatural books as a kid and the stories still stick in my mind. The cover of each book elaborately decked out and the series title spelled out in dripping ooze-y letters.
One of the best things about the Goosebumps series was the twist at the end. The mystery wrapped in an enigma tricked out in a puzzle all unraveled but now how you expected it! It was a surprise, the good kind. So that's my inspiration for these Goosebumps Ooze Cakes! Cupcakes tat are bursting with a surprise ending all of their own!
DIFFICULTY
Easy but grave robbing is time-consuming and tricky!
TIME
90mins
INGREDIENTS
Cupcakes – 375g butter, 375g caster sugar, 375g self-raising flour, 4 large eggs, 4 tbsp whole milk
Frosting – 200g butter, 325g icing sugar, green food colouring
Ooze filling – 125g white chocolate, 200ml double cream, green food colouring, 1/2 tsp cornflour optional
Blood filling – 100g caster sugar, 120ml water, 180g frozen raspberries, 1 tsp cornflour
PROCESS
Okay this is going to be a bit tricky, simple but tricky! Start by preheating the oven to 180C. Line two cupcake trays with liners and set them aside. That's not the tricky part!
You're going to be juggling here and you'll need to get it all done at the same time! If you want cover complicate things you can do what I did and also make chocolate gravestones for decoration! Don't have a mould? Make chocolate slabs my melting then spreading the chocolate, cutting it into shapes for use later.
Let's start by making our fillings! Blood before ooze!
Bloody Berry
In a small pot over a high heat, combine all of the ingredients for blood as above. Stir making sure to break up and dissolve the corn flour! No one likes blood clots in their cupcakes! When the mix starts to bubble and has thickened to the point where it clings to the back of a spoon, you know it's good!
To keep the blood pip/seed/lump free, pass it through a fine sieve, pressing the concoction to get as much filling as possible. If it looks like a total mess, you've done the right job!
Ooze So Good
I never thought green gunk would actually look and taste so good! While the berries bubble away, in a seperate pot add your chocolate, cream and a little green food colouring. It really is a case of 'less is more', so don't overdo the green and only add as needed.
Allow the chocolate to melt with the cream and stir occasionally to prevent it from burning. I wanted a slightly thicker filling, I was afraid as it currently stood, it would soak into my cakes. I added about half a teaspoon of cornflour and whisked it into the mix. Remove from the heat and allow to cool.
Your fillings are done!
Cupcake Graveyard
It has felt like an eternity since I've baked and I was a little out of practice! Usually I can bash out a dozen of these ghoulish treats in a matter of minutes with no issues! There must be a Halloween curse or something this year though because my first batch were a sunken disaster!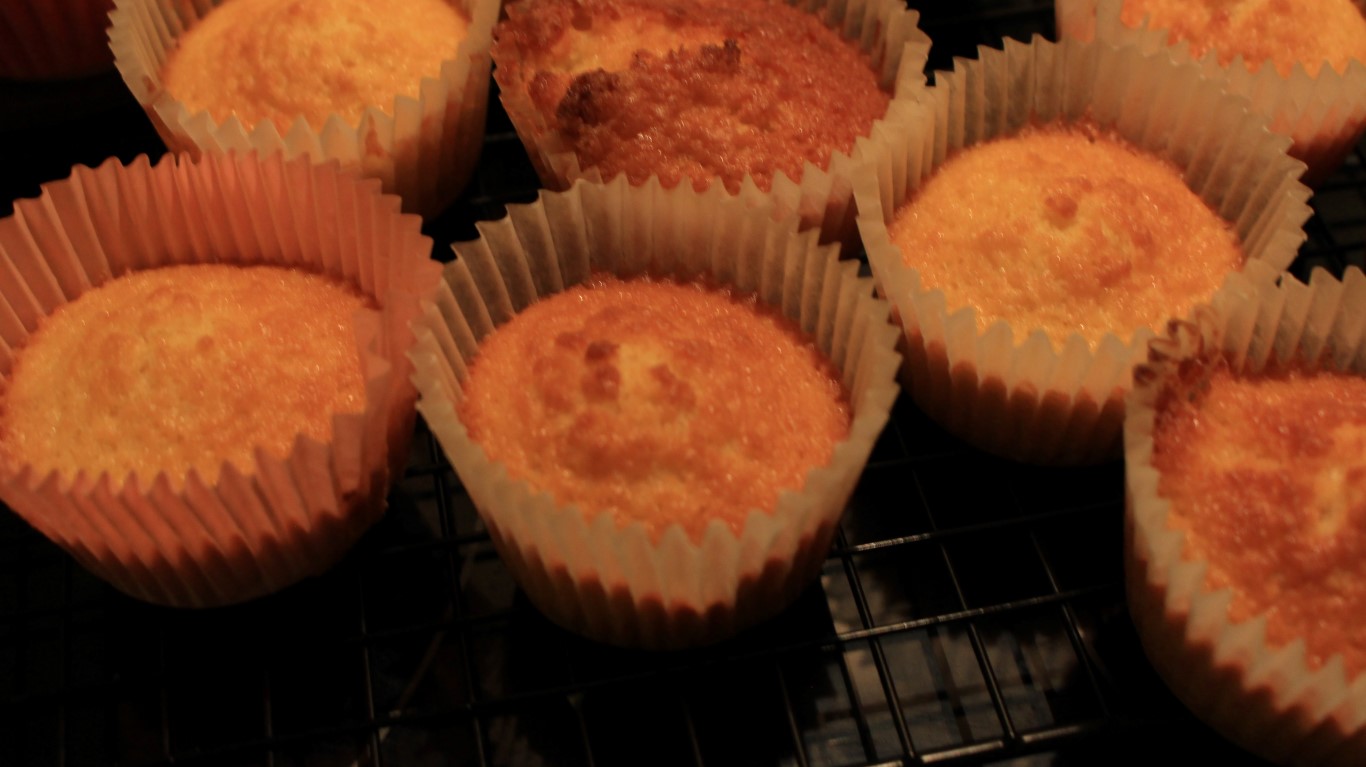 Fret not, the ingredients listed above and the following guidelines will see you safely through. Cream the sugar and butter together until fluffy and light. I've found myself better able to judge the perfect consistency when I beat the mix by hand as opposed electric beaters.
Into the butter and sugar add your eggs, sieved flour and milk. Beat all the ingredients together until fully combined. Carefully not to over-mix though or you'll find your cupcakes won't get the right height. Use an icecream scoop (I use the flour scoop I got in a box of Odlums flour) to measure out the batter and then place into the oven for about 15 – 18 minutes. Allow to cool completely once cooked!
You'll notice these are plain cupcakes, you can flavour if you wish but given the fact they're being filled I decided to keep the cakes simple.
Bursting With Goo
Decorating these couldn't be simpler. I can proudly say I own a cupcake corer, it's a nifty little device that speeds this whole process up. If you haven't got one then a small spoon also does the job. Just dig a little out of the cupcake making a grave to pour your filling in. Make sure to keep the scooped out cupcake guts, we'll need it later.
To prevent my blood being soaked up by the cupcake, I used a little leftover chocolate to coat the inside of the grave and let it set completely. If you're going down this dark road then I suggest you use either white or dark chocolate, they'll compliment the raspberry filling best.
Once your cupcakes are filled pop the tops back over them! It doesn't have to be perfect and you'll need to trim excess cake to prevent the ooze being pushed out.
In a deep bowl, beat the butter, icing sugar and food colouring together. Place your buttercream into a piping bag (you can spoon and spread it too if you'd prefer) and icing little grassy patterns ensuring you cover the cuts to keep the ooze a secret.
If you've made chocolate slabs, then pop those on top! Alternatively you can dust your ooze with some cocoa powder or chocolate shavings! Serve!
Tip: I didn't want to dish up just plain white chocolate sauce! I added some caramel syrup to sweeten the deal.
Editor-in-Chief, part-time super villain and hoarder of cats. If you can't find me writing, I'm probably in the kitchen!