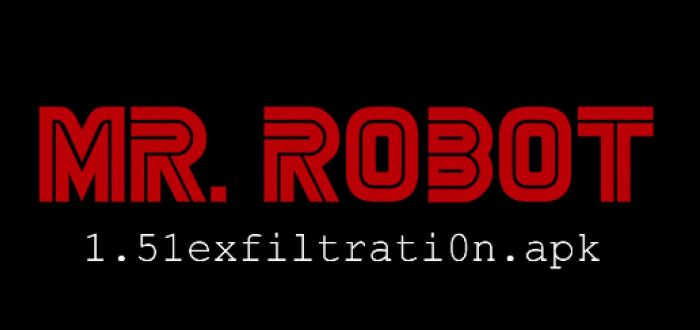 "Hello Friend."
Mr.Robot:1.51exfiltrati0n.apk (.ipa if you're playing on iOS) came out this August and its release was a bit of a surprise. There was a lot of speculation about whether Telltale Games was developing a Mr. Robot game over the past few months, and that speculation skyrocketed recently. It seemed quite obvious this was happening, especially because of the stuff they kept tweeting or retweeting (mostly articles from people asking if this was hapenning or from an account about Evil Corp's new messenger app) so all we had to do was wait.
However, Telltale is only the publisher of this game, the developers are Night School Studio (developers of Oxenfree, and former Telltale members) but I still wondered how they were going to approach this game. Mr. Robot seems to have a very concrete story plan and I wondered how and where this game would fit.
The game takes place during season 1 (immediately after episode five). It's not a game changer, but it didn't need that to begin with. This game plays with something even better, because it shows a bit accurately what would happen if a regular person stumbled by accident into the whole fsociety v. Evil Corp scenario. And that's quite cool.
What's it about?
The game begins when we find an abandoned phone on the street. We pick it up, register into Evil Corp's new messaging app and we start receiving messages for the owner of the phone. Well that and a couple messages saying the SD card has been formatted. After a while, the app shuts down and the owner of the phone contacts us, and they're pissed.
Turns out they need the phone because it has a file of the utmost importance in its SD card. You know, the one that's been formatted. So after being blamed for it we're forced to help this person out until we're off the hook. And that's how one of the most interesting games I've played this year begins.
The game takes place solely in this messenger app. And it happens more or less in real time, the game takes place in more or less a week and that's how long you'll spend playing it. You can't just go and power through the story, it unlocks little by little.
But the cool thing is that we only do it through the messages we get in the app. The game is quite effective at that, especially in establishing the personalities of the people we interact with. When the phone owner got in touch with me I was particularly excited because of how much they had nailed down the personality of the character in question.
Paranoid Smartphone
But that's not just it. This game plays us as much as we play it. I know those statements always sound a bit pretentious but it's true. This game feeds on that constant need we have of "Oh, I'm going to check my phone to see if it's something interesting" because even with push notifications on I kept checking the game. Most times I had nothing, sometimes I had good stuff and other times I just had the most pointless group chat in the world, much like in real life.
Or just plain paranoia. The game will put us in morally gray situations. We'll end up texting other people, pretending to be different people in order to get stuff (like getting someone else's login details, upgrading that account and so on) and we can approach those situations in different ways.
It's been weeks and I'm still thinking about many moments in this game. Mostly this one. At some point we have to talk to someone about upgrading an account's security clearance. We try his work phone, but his son tells us he forgot it. So we try his other line and shit goes down.
The guy thinks we're the prostitute he booked for that night. After clearing that out, I ask him about upgrading that account but he refuses. So that only left blackmail as the only possibility. And after getting him to do what I need and promising that I wouldn't tell, the guy goes on a rant about how he hates his family and likes prostitutes more.
So I went and told his kid. I was feeling so immersed into this that I forgot none of these are real people. There are many more situations like this one!
So, is it worth it?
If you are a fan of the show, you should play the game. If you are not a fan of the show then you should watch it and then play the game. It's worth it
I've always had some fascination with interactive fiction and this game proved to be a quite interesting experience. Although I was sad by the time it ended, mostly because the ending is abrupt and I was questioning all the shady shit I had to do. I will be replaying this in a while, just to see if different solutions will lead to slightly different outcomes.
The game cost me €3.29 in Google Play and while there were annoying things (bugs on release, waiting time, music not working properly) I quite enjoyed playing this game. I kept talking about it to a lot of people while I was playing it.
I just hope this isn't the only instance of a Mr. Robot game. I'd like to see another game following this style, or taking it even further.
Angry Spaniard, adoptive Irishman. Writer, reader, tea drinker and video game player/designer.