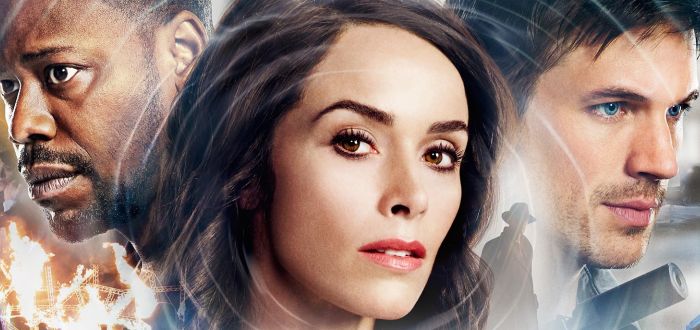 There's a new time travel show coming to NBC in October, and it might just be important.
Timeless at first appears to have a traditional wibbly wobbly timey wimey trope structure, but becomes so much more given the thought that both the writers and performers are putting into their roles. We at The-Arcade were lucky enough to see the pilot at San Diego Comic Con, and below is a non-spoiler preview of our takeaway.
Timeless is fun. For fans of Eric Kripke this should be no surprise. He can make two brothers reading books seems like a Broadway musical (but with subtext, and horrific monsters). But it's not just a good time. Whether due to Shawn Ryan's producing input or just the changing nature of what can be done on television, this show gets political and dark at unexpected times, and yes, it is about an eclectic group of talented people chasing a ne-er do well across the expanse of American history. And no, you haven't seen it all before.
The trailers, teasers, and tv spots paint the show as an action packed romp, and yes, it is. Abigail Spencer, Matt Lanter, and Malcolm Barrett have chemistry and clearly defined characters. Respectively, they run, punch, and banter as a history professor, a soldier, and a scientific genius who are all out of their element. The intricacies come from how possible and malevolent things may be. While we've only seen the pilot, let's just say that none of these characters are classic "good guys". The overarching mythos is teased, and it is teased mighty well. More importantly, they tease it often. In Timeless, things happen constantly, at a breakneck pace that makes watching it truly enjoyable. But it's not flippant. The stakes are high.
Our heroes are trying to stop the villainous Garcia Flynn, played with handsome malice by Goran Visnjic, from remaking present day America by changing events in the past. In this show, American history is a point of conflict for the characters themselves, and they have to try and save America's future. But that begs the question: what are we really trying to save? The lens of science fiction was invented to answer questions exactly like that. While people shoot guns at zeppelins and/or each other.
The stand out scene in the show is teased in the trailer, and features Malcolm Barret, a black man on a network tv show, confronting a cop about racism. It's funny, it's exciting, and it's important. I told him, and he agrees.
So here's hoping that the show can continue to aim high and hit higher. For now, all we can do is wait as time ticks by.
Are you excited for the show to air on October 3, or are you just excited for Goran Visnjic? Let us know in the comments…