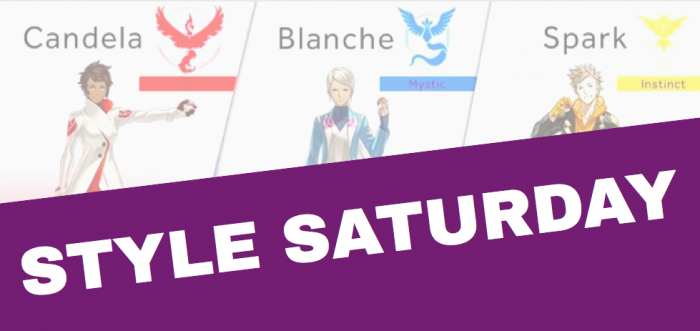 Style Saturday: Pokémon Passion
Without a doubt Pokémon Go has been a topic that has been on peoples minds since it's release. From its abundance of Pidgey, Rattata and Weedle, to the servers that seemed to run on potatoes,  or even the team rivalries.
I really enjoy the game faults and all but my favourite thing about it are the teams and their respective team leaders, Blanche, Candela and Spark. Each leader has a different vibe about them. Blanche is cool, calm, calculating (in a good way), collected and lives for the evolutions of Pokémon. Candela is energetic, spunky, ruthless in her pursuit to be the very best and believes that training your Pokémon enhances their natural strength. Spark likes eggs, I kid, Spark is all about trusting his Pokémon and putting faith in their innate abilities. Since they are very different people their style reflects their personas. Blanche is sleek and stylish, Candela is edgy and cool and Spark is vibrant and fun.
Blanche – Team Mystic
For Blanche I wanted something that was super fashionable, elegant and pretty gender neutral. I wanted to include the long blue coat as an optional statement piece. However for the rest of the look I compiled both men's and women's items in the same colours and roughly the same price range. The base colours of Blanche's outfit are a royal blue so I went for trousers and a button down shirt in that colour and tried to colour match them. I added a plain white waist coat next and for a pop of colour a hot pink tie. To finish it off I chose practical canvas shoes in a lighter shade of blue.
Womens: Trousers € 35, Shirt €12, Shoes €40, Waistcoat €12, Tie €8,92
Mens: Trousers € 18, Shirt €17, Shoes €43, Waistcoat €12, Tie €8,92
Candela – Team Valor
Candela has a fiery attitude so I wanted to create a outfit that was true to her spirit. Her look is simple but strong. I started off with black high waisted leggings. Leggings in my opinion are a lot easier to train in, which I think Candela would appreciate. For the red part of her out I chose a bright red handkerchief hem tunic. For her jacket I chose a white blazer with some zips for an edgier look than your typical blazer. Her shoes had to be a practical choice. Black Chucks seems like the best option in this case. They are comfortable and timeless.
Leggings €14, Jacket €21, Top €13, Shoes €45,
Spark – Team Instinct
Spark seems to have the most jovial personality of all the team leaders so it's fitting that yellow is his accent colour. Overall I wanted this look to resemble his official look as closely as possible. For his trousers I went for solid black jeans. Next I moved onto the yellow hoodie. finding the right colour was the more difficult part. I chose to go for a more gold shade of yellow. I included a tank top because who wheres a hoodie without a top of some sort underneath? For his jacket I went for a solid black leather looking jacket. To compensate for the lack of yellow on the jacket I chose to go for yellow canvas shoes.
Jeans €45, Jacket €32, Hoodie €8,10, Tank Top €5,04, Shoes €27