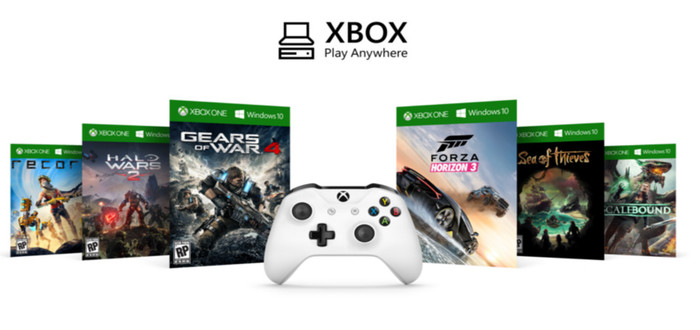 You Are Now Ready For Xbox Play Anywhere
That is assuming you have Windows 10, of course.
The anniversary update of Windows 10 that released recently added support for the Xbox Play Anywhere program. The first game to support this is ReCore, and it's releasing here on September 16. Which could be a worrying start to the program given the game is developed by Comcept and produced by Keiji Inafune, the same pairing as was behind Mighty No. 9. Let's hope ReCore manages to do better though, as it looks quite promising.
Speaking to The Guardian, Phil Spencer of Microsoft said, "Things like Xbox Play Anywhere are really about choice and where people want to play. So if you're at school and want to play a couple of rounds of a game and then you go back home and want to continue on your couch, that seems normal. Every other kind of media – your music, your movies – everything else works that way."
He went on to talk about how many Xbox owners also play games on PC and how this program was about both systems reinforcing each other.
Another game that is included in the Play Anywhere program is We Happy Few, which recently launched on PC in Early Access. Sam Abbot, COO of We Happy Few developer Compulsion Games, said that "while in theory we may lose a few sales from people who would have bought multiple copies… I think it's more important to support things that are good for gamers generally and support our community in how they want to play the game."
The two main points of the Play Anywhere program are cross buying games with saves carrying over and cross-play. In single player games like ReCore or We Happy Few, you can play a game on a PC and then resume the same save file on your Xbox One. For multiplayer games that support the program, it means PC players and Xbox One players can play together.
My Thoughts
I must admit, I still don't really know who Xbox Play Anywhere is for. I understand the appeal of cross-play in online games but beyond that, I just don't get it. Do people play a game on their PC for a while and then feel like they want to go and play the same game on the Xbox in a different room or on a different TV?
I also wonder what kind of school Phil Spencer went to that he'd be able to crank out a few races in Forza, must have been way easier going than mine.
[via GamesRadar.com]