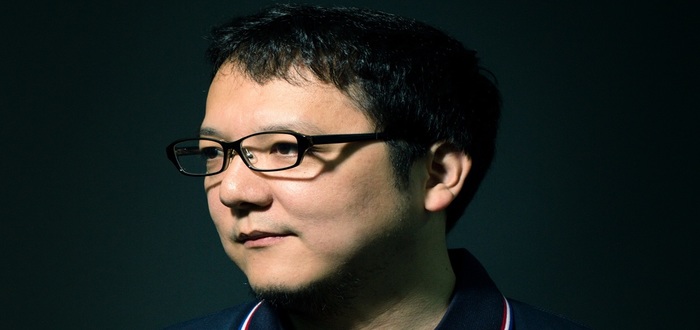 So I really admire Hidetaka Miyazaki, the current president of From Software and creator of the Souls franchise. I don't admire him for creating these games, though I do love them, but I admire him for his history, and how he got to where he is today. This is going to be the story of Hidetaka Miyazakis rise to power in From Software.
Miyazaki graduated from university with a degree in Social Science, and started working as an account manager for Oracle Corporation in 2001. He didn't play video games, though he did love fantasy and read a lot since he was a child. It wasn't until a friend recommended to him that he should play Ico, due to his love of fantasy novels, that he got his first taste of video gaming.
He loved the game, so much so that it inspired him to pursue a career change to try and develop his own games. Most companies however would never take the plunge of hiring a 29 year old man who had no history of game development, the only one that did was From Software.
Miyazaki was hired there 12 years ago in 2004 as a planner and coder for Armored Core: Last Raven, taking an 80% pay cut from his previous job. Following this he was made lead planner for Armored Core 4, but part way through the prototype phase of the game he was made the director. A position which he kept for the sequel Armored Core: For Answer.
This is when things fell into place for Miyazaki because From Software had been developing another title. Back in 2006 The Elder Scrolls IV: Oblivion launched, and took the world by storm and even did incredibly well in Japan which many saw as unexpected. The RPG was selling like mad, and Sony wanted in on the action. So they approached From Software to make a competitor to Oblivion, with Sony helping on the production.
During the development of Armored Core: For Answer this Oblivion competitor was entering it's prototype stage. By all the accounts from the time, the game was a total mess. Many in From Software had started to see the project as dead in the water, already a failure. Miyazaki however, remembering his love for fantasy novels, wanted in on the action. To him a fantasy action RPG was a dream project, and the fact it was a failure was even better.
As Miyazaki has said in an interview if the project was already a failure, he could take it over and do whatever he wanted with it. If his ideas didn't work, people wouldn't care because it was a failed project anyway. He took over as director and threw away most of the Oblivion-like parts, the ability to switch between first and third person for example.
He also championed the idea of the unforgiving gameplay, the online mechanics, and a lot of the design for areas and bosses. He worked closely with Takeshi Kaji, the Sony employee who was in charge of the project on the Sony side. This manifested itself partly in an agreement between the two to lie to the Sony marketing team about the difficulty of the game. They knew the marketing team would say this concept could never sell, so they covered it up.
So here we are with an employee of the company for only three to four years, and not having done game development for longer than that, who is the director of two projects at once. The Demon's Souls project was not easy going either, debugging the game apparently took twice as long as any previous From Software title. Not to mention terrible frame rate issues that were present right up to the release of the game.
In fact Sony employee Shuhei Yoshida (President of Sony's Worldwide Studios, if the name seemed familiar) played the game shortly before its Japanese release and thought it was "unbelievably bad". An impression that in part stopped Sony from publishing the game outside of Japan, and stopped them from securing any exclusive rights to continue the franchise. A mistake that Shuhei himself agreed was one of Sonys biggest missteps of the last generation.
We all know where the story goes from here, Demon's Souls comes out in 2009 and becomes a big cult hit. Imports start flying, and eventually the game was published in North America by Atlus USA and in Europe by Namco Bandai. This leads Namco Bandai to sign a three game contract with From Software to develop Dark Souls.
This partly came from the financial crisis hitting Namco Bandai very hard, making them very desperate to secure the contract. Interestingly Namco registered three domains for the game, which was mostly known as Project Dark. The two that never came to be were Dark Rings, and Crowns of the Dark.
It's now 2011 and Dark Souls releases, sells over a million copies and increases Namco Bandais profit by over 1000%. After this, things get quite busy for Miyazaki again. Dark Souls 2 was in development, which released in March 2014. In August 2012 however, work started on Bloodborne. Meaning Miyazaki was involved in two projects again, though only director of one. Things then get more busy with Dark Souls 3 entering development in the middle of 2013. So for over half a year Miyazaki was juggling three projects at once, the man has some serious work ethic.
That wasn't the only change that would have increased Miyazakis workload. After the release of Dark Souls 2 From Software was bought over by Kadokawa, and Hidetaka Miyazaki was made the president of the company. To take us up to the present day, Dark Souls 3 released earlier this year and became the best-selling Namco Bandai title ever with total franchise sales passing eight million copies.
That was the story of the meteoric rise of Hidetaka Miyazaki, and a story I find so inspiring. Not just for the incredible work ethic and drive the man must have, but also for the knowledge that with the right person in the right place great things can happen. From account manager at Oracle, to From Software president and creator/director of a series of AAA action RPGs in only ten years. It's a Cinderella story if ever there was one.