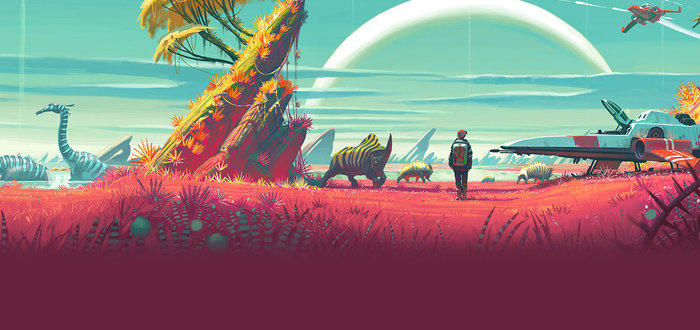 No Man's Sky releases this Wednesday, but ever since the game went gold weeks ago the team over at Hello Games have been busy.
The fruits of their labour are in this day one patch, which stands to add a considerable amount to the game. Update 1.03 will change the opening of the game, adding three 'paths' you can decide to follow, as well as a deeper trading system, new combat mechanics (both on the ground and in space), and perhaps most notably making it easier to run into other players.
The post stresses that this update is the first of many, and that Hello Games have big plans for the future of their space exploration game. They mention future updates will let you build bases and own giant space freighters, as well as various graphical enhancements as well. You can see the post, and read the full patch notes yourself, right here.
My Thoughts
I'm excited to see this much new content and this many changes to current content coming at launch. There's often a bit of time between a game going gold and coming out and it seems to be fairly standard practice for game companies to launch straight into developing the DLC packs. It's refreshing to see a game company commit to supporting and developing their game for all players in that time.
It's something that impressed me last year when The Witcher 3 came out. CD Projekt Red released a bunch of small DLC items for free around the games release. They did this because they had time to make them before the game came out, but after it went gold. This is in a similar vein to me, this isn't a day one patch that exists just to correct issues, it's a sign that Hello Games really care about the experience people are going to have with this game, and that has me more excited than any marketing could.
As a final side note anyone interested in the process of a game going gold, or how much time can pass between going gold and release, indie developer Rami Ismail wrote this very interesting blog piece, enjoy.
via engadget.com