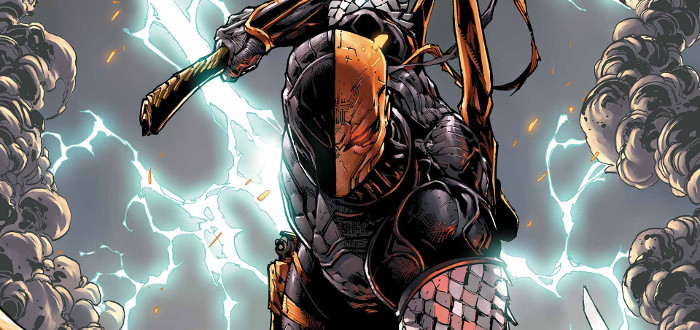 Deathstroke Is The Villain For Ben Affleck's Batman Movie
Ben Affleck decided to screw with the internet this afternoon by releasing footage of a live action Deathstroke clearly being filmed for some part of the DCCU. The clip, viewable below, shows DC villain Deathstroke plain as day standing onscreen, being Deathstroke.
— Ben Affleck (@BenAffleck) August 29, 2016
The big question, though, is what this clip is actually for: is it Justice League or the Batman solo movie or what? The best scoopers in the business got to work and The Wrap have unearthed something very interesting; while Deathstroke's involvement in Justice League is in the air, the assassin is definitely the main antagonist for Ben Affleck's Batman film.
This news is interesting. Affleck's Batman has been one of the few films set in stone among fans of the DCCU as a must-see, and there's been a lot of speculation of the direction he'd go in with the dark knight. Would Jared Leto's Joker be involved? Margot Robbie's Harley Quinn? What was known was that Affleck and his team definitely wanted to hit a homerun with their movie – something DC and Warner Bros. desperately need – and were looking into as many avenues as possible.
Deathstroke is absolutely an intriguing option. He's been around the block with DC, appearing in various comics and animated series – like Teen Titans – through-out the years. Not only that, but being an assassin opens up for plenty of physical action, a fresher onscreen adversary for Batman and easy meat for the sequel in which Batman has to find the person who hired Deathstroke.
Arkham fans will recognize Deathstroke from Arkham Origins, in which the Bat had to deal with him and a range of other assassins across Gotham. One of the overlying themes of the news trickling out from this new dark knight movie is that they're looking into using Arkham Asylum in some big way, so those games may play a big role in the visual language of the film.
This is big news – what do you think? Looking forward to the Batman picture? Favourite Deathstroke story? Let us know in the comments!