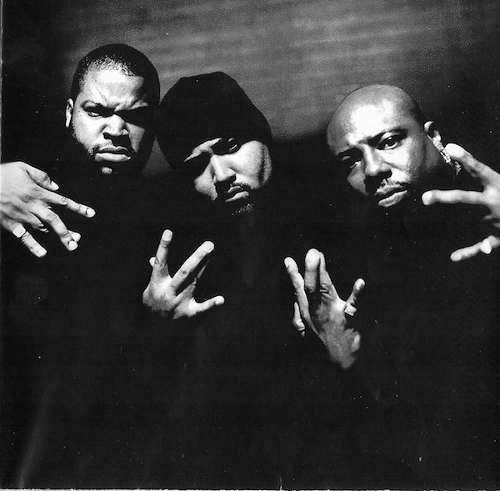 This year marks the 20th Anniversary of Bow Down, the debut album from hip hop supergroup Westside Connection. Released at a time when the media was going crazy of the so-called rivalry between East Coast and West Coast hip hop, Bow Down is not an appeal for a respect but a defiant middle finger to everyone who was critical of LA hip hop. With its tales of violence, brutal but honest language and thumping hardcore funk it's unashamed "gangsta rap" and one of the last great albums of the genre
Collaborations in hip hop are frequent and can make for interesting songs but sometimes they can lead to excellent albums. In the mid 90's Ice Cube was a huge star and had produced the self titled debut album from Inglewood newcomer Mack 10. On that album the two were joined by veteran underground rapper WC for a song called Westside Slaughterhouse. Their distinct lyrical flows meshed amazingly well and they clearly knew they were on to something as evident in this rarely seen first performance. An album was soon to follow.
Westside Slaughterhouse- Live 1995 (NSFW)
Bow Down (Clean Version)
The lead single from the album stomped its way to the top of the Billboard Hot Rap Singles chart. An outright bragging rights track, it boasts about the West Coast success and is directly aimed at those who still think it has nothing to offer. Also, fun fact; it's the first ever single to use the word "hater".
All The Critics in NY (NSFW)
At a time when East Coast journalists were notoriously biased against West Coast hip hop, Ice Cube points out the innovations of West Coast rap, Mack 10 states how successful it is and WC highlights the refusal of New York journalists, DJs and critics to acknowledge their work.
King of the Hill (NSFW)
Not content with going after music critics, Westside Connection were also caught in Ice Cube's beef with stoner rap group Cypress Hill. While not as popular these days, the dis track was a huge part of the culture when it was still vibrant. Five years earlier Cube destroyed N.W.A. with No Vaseline, proving him to be a master of the lost art. King of the Hill is not as strong a track but certainly a powerful response to Cypress Hill's initial dis No Rest for the Wicked. Notably absent is WC, who decided to remain neutral.
The Gangsta, The Killa and the Dope Dealer (NSFW)
With a haunting beat sampling Hurt by Nine Inch Nails, we are treated to three different perspectives of the gang banging lifestyle. The song ends on a down note with Cube making a commentary on the government surveillance of South Central Los Angeles. "I can't go here, I can't go there. I feel institutionalised and I'm on the street."