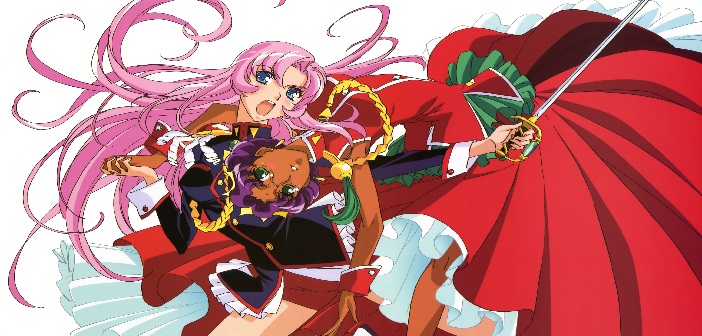 Utena Tenjou – Style Saturday
'Revolutionary Girl Utena' is a classic nineties anime that began airing before I was even born. Yet the design and stylistic elements remain as intriguing and engaging to viewers as they ever were. I've always found the outfit designs in the show interesting. While retaining an element of the general magical girl genre, the designs are still unique enough to be recognisable.  However, choosing only two outfits from the entire 39 episode series was an impossible feat.  Therefore, I just chose two of the most obvious outfits worn by our protagonist, Utena Tenjou.
Utena in the Duelling Arena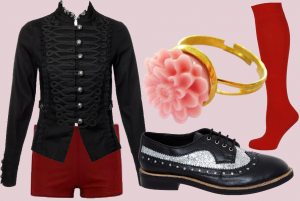 I based this outfit around Utena's signature outfit. It's the one she wears to school most days, despite being against dress code. The outfit changes to a slightly altered version with adornments and ruffles when she enters the duelling arena.
Her jacket is so unique that it's hard to find anything that matches it perfectly. The jacket I have chosen, however, is one I personally own. Therefore I can reliably say that it is not only comfortable, but impressive looking too. It buttons with relative ease and fits in a way that suits most body types. It's a versatile jacket anyway and now you can use it to subtly steal Utena's style.
The shoes are considerably more sparkly than the ones in the show but arguably they are better for it. They add a bit of glitter to the outfit which can make it even snazzier. The shoes are available from size 4 to size 7.
An Utena outfit could not be complete, of course, without a rose ring. The pink floral ring shown here captures the pink aesthetic often centred around the protagonist. Although the rose she fights under is white, it is undeniable that her pink hair is more striking. The ring is the perfect accessory to complete the aesthetic look.
Jacket €46.88 | Shorts €8.00 | Socks €5.86 | Shoes €46.88 | Ring €6.20 
Utena's (Actual) Uniform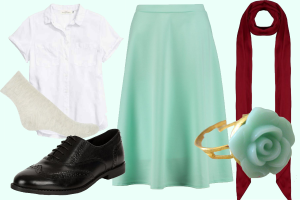 I based this outfit on the Ohtori Academy uniform. Utena only ever wears it in episode twelve but it is memorable despite this. "For Friendship, Perhaps" is an iconic episode but also the majority of other female students wear the uniform throughout the series.
Emulating such a unique uniform blouse without replicating it exactly was not an easy feat. Therefore, I chose a simple white, cap sleeved blouse. It's cotton and would be comfortable for even casual wear. I chose the light, red scarf as a placeholder for the tie. The scarf is versatile enough that you can wear it in a variety of different ways. If you so chose, you could even wear it as a tie!
The mint skirt is longer than the one worn in the anime. This just makes it more suitable for a variety of different weather conditions. Living in Ireland, you must be prepared for any sudden change in the weather. It's a simple enough design in a simple cut that suits many different body types. The rose ring I chose matches it perfectly in colour, making it the perfect accessory.
Blouse €15.22 | Skirt €19.00 | Scarf €7.02 | Socks €1.76 | Shoes €32.80 | Ring €6.30
Do these outfits inspire you to be the sword girl you aspire to be in your heart? Let us know in the comments below!
Writer, artist, perpetual holder of notions.