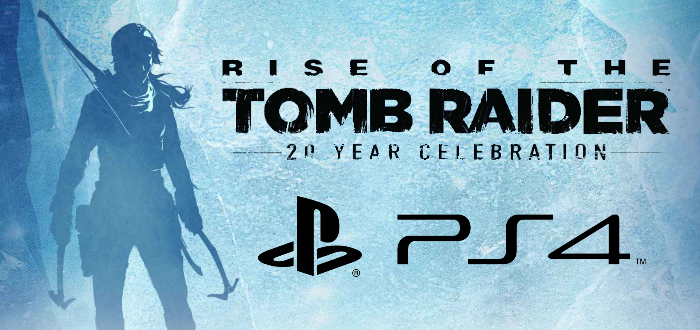 Rise Of The Tomb Raider Is Coming To PlayStation 4
Rise of the Tomb Raider: 20 Year Celebration edition will arrive on PlayStation 4 October 11 2016. In celebration of Tomb Raider's 20th Anniversary, this edition includes all the DLC and new 'Blood Ties' chapter and will also have a PS VR mission.
Executive Producer at Crystal Dynamics, Scot Amos states via the PlayStation blog – "When we were planning the PS4 version of Rise of the Tomb Raider, our very first imperative was to out-do anything we'd done before; such as our definitive editions. A mere "Game of the Year" wouldn't satisfy us or our fans. We knew that the PlayStation community both deserved and demanded more than that. So we're working with our long-time partner Nixxes Software to make this release truly special."
Croft Manor will return as Scot goes on to say – "While shown previously only in cut-scenes in the campaign of Rise of the Tomb Raider, the Manor represents more than just a place. It is Lara's legacy, and in our new telling her birthright as well as a connection to her past. It's an incredibly important part of her story and the franchise, and like many of you we have fond memories of it from the classic games. So we're excited to introduce the all-new 'Blood Ties' chapter, which will let you explore Croft Manor and unlock its mysteries in a new story mode; then defend it against an undead invasion in 'Lara's Nightmare'".
The Manor also offered a great opportunity for us to investigate the possibilities with cutting edge VR technology. So for the first time in franchise history, you'll be able to play "Blood Ties" in first-person through Lara's eyes!"
Other additions include a new online co-op expansion to Endurance mode (where you can raid tombs with a friend), a re-envisioned version of the cold-weather outfit and the Hailstorm pistol that was featured in Tomb Raider III, a special card pack will allow you to replay the main story with five classic Lara models and for hardcore fans, they added a brutal new "Extreme Survivor" setting, which increases the difficulty and strips out all of the checkpoints. The only way to save your game is to forage enough resources to light campfires and survive from one to the next!
All previously released DLC will also be included.
Rise of the Tomb Raider: 20 Year Celebration launches on October 11.