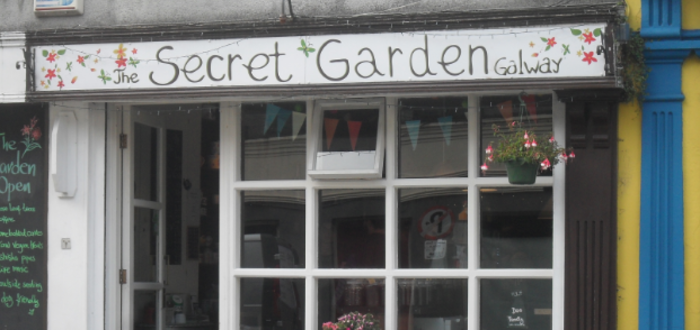 Geeks on Tour – Gallivanting in Galway
Galway… Where do I even start?
I wasn't born here, but in a way the city has adopted me. This year it'll be 6 years since I first came here and 4 years since I came back for (presumably) good. In these years I've wandered around the city quite a while and I know several places that are part of why I love this city so much. So as a Galway transplant, I felt excited about writing this 'Geeks on Tour' article.
Anyway, these are some of my favourite places in Galway.
The Secret Garden
If I had to choose one place in particular as my 'favourite place of all time' it'd be this one. There are many tea rooms in Galway but The Secret Garden is my favourite. After all, I've spent a lot of time there.
You can find it on William Street, in the heart of Galway's West End. They have a lot of teas you can choose from, as well as many different types of cakes and pastries, a lot of them vegan friendly. And shisha too, of many different flavours (with no nicotine or tobacco). The people working there are nice and friendly but the best thing is the atmosphere. Even when the place is full and bristling with activity there's something relaxing about it.
The Secret Garden also doubles up as an art gallery. There's always art on the walls showcasing different artists and the art is on sale, and they sell prints and postcards too. And if that wasn't enough, every now and then there are gigs, readings and similar stuff happening.
But all in all, this place is important to me because every Friday I go there, order a large teapot and read for an hour or two. It's one of the little things that helps me cope with life.
Charlie Byrne's Bookshop
In a way, this bookshop is the most dangerous place in Galway. You might go inside just to browse and then find yourself leaving with yet a smaller pile of books to add to your big pile of books at home, or your shelves, if you still use those…
Charlie Byrne's is a Galway institution. It's been open for more than two decades and The Irish Times named it the best bookstore in Ireland in 2013 and 2014. Its many rooms are stacked with shelves and tables full of books, both new and second-hand.
They also host a monthly book club and do story telling sessions for kids. And it's always a nice place to go for a book launch. You can find it on Middle Street and you can't really miss it.
The Chili Shack
While The Chili Shack has only been open for less than a year, it's definitely a place to consider in Galway.
Their food is amazing, you can get either beef chili or a three bean vegan one. But the important thing is how you get it because you can have it with chips, rice, nachos or a burrito, and you can customize it even more with their free extras like sour cream or chipotle mayo. They also have chicken wings and what might be the best burger in town.
They also have an eating challenge. It costs €10 to take part; if you eat a dozen of their hottest chicken wings and beat the record then you get to eat there for free until you're beaten. The current record is at one minute and three seconds so good luck if you want to try it. I know I wouldn't dare.
There are also acoustic gigs in there every Sunday afternoon. It's a joint venture with Galway record label Citóg Records (they call it Chillóg) and they showcase local artists. It's free admission and they offer chili and beer for just €6.50 during those gigs. You can find it on Abbeygate Street.
Special Mention: Sub City Comics
It would be unfair of me to not mention Sub City in a post about Galway.
When I first moved in here, one of my main impulses was finding this store. It took a while but eventually I found it in the Eyre Square shopping centre. This is under a special mention just because of the amount of time and money I've spent in here. Thanks to Sub City, I've read entire series such as Preacher, Locke & Key, Y: The Last Man and Scott Pilgrim.
They carry the usual stuff here (Marvel, DC, Image, IDW and so on) but they also have a considerable amount of merchandising so I highly recommend it if you're in the area.
Where do you love to go in Galway? Let us know in the comments!
Angry Spaniard, adoptive Irishman. Writer, reader, tea drinker and video game player/designer.