Geek N' Bake: Terrific Teriyaki
I love teriyaki! I do! It's one of those dishes that you can really do no wrong with! It's forgiving even if you don't have the time to marinade your meats/veggies! It's quick, simple and can carry any flavour depending on your own tastes too! I typically serve chicken teriyaki on skewers as a quick barbecue snack but it can be a delicious main too!
Enough prattling and on with the cooking!
DIFFICULTY
Easy
TIME
30 minutes to prep
1 hour minimum to marinade
20 minutes to cook
INGREDIENTS
400g chicken fillet / 400g firm tofu, 120 ml cup orange juice, 120ml dark soy sauce, 3tbsp honey, 1 tbsp sesame oil, 1 tbsp fresh ginger, vegetables as desired, I'm using snap peas, green peppers and bok choy, 3 spring onions and a handful of sesame seeds for garnish, 120g of long grain rice
PROCESS
Before you do anything here make sure you've plenty of surface space to work with and they're clean and clear. I'm making the same dish but using poultry and tofu so I want to prevent cross contamination/food poisoning. Can you tell I rarely cook meat? I'd wear a hazmat suit if I could!
All clean? Perfect!
Marinade from Heaven!
Start with your marinade, the measures above will give you enough if you're making a meat and vegetarian dish at the same time! I don't recommend doing it because it's a nightmare trying to get everything cooked at the same time. Let's assume you're doing chicken teriyaki for the purpose of this guide – so if you're vegan or vegetarian just replace chicken in the guide with tofu!
Peel your ginger! Don't use a knife a small spoon is faster and will only pull the skin away and not the ginger itself.
Using the fine side on a box grater, shred the ginger and add the pulp to the bowl. For your orange juice you can use freshly squeezed or carton, it really doesn't make a difference here! Combine the juice, soy sauce and sesame oil in a bowl with the ginger (it looks weird right?) and mix it together. Set all that aside!
Meat and Veg
Next up, you're going to want to prep your vegetables. I went with all greens but generally any stir fry veg works for the dish. If you haven't tried bok choy (Chinese cabbage) you can pick it up in most large super markets and it's great for these kinds of dishes!
Next you're going to want to prep your chicken fillets by cutting it into small pieces. If you're cooking for vegetarians and carnivores, prepare the tofu first. Place in a container or use a food bag (like I did for the tofu) and pour your marinade over it. Cover and allow it to sit for at least an hour in the fridge.
Clean your work space and make sure to salt the chopping board, I do this even if I'm using a plastic board. Wash under hot water and if you're using a wooden board, grab half a lemon to scour and clean with instead of detergent.
More Prep!
If you've time to kill then while your dish marinades, soak your white rice. This will help when trying to get perfectly sticky rice and helps reduce overall cooking time! Grab your wok and a big pot for your rice! Get the wok nice and hot and bring the pot of water to the boil.
Now on to the fun part! Take the marinated chicken out of the fridge, drain the marinade and set aside. In your wok add about a teaspoon of sesame oil and when it starts to smoke add the chicken. At this stage you should add the rice to the water. Stir fry the chicken for about five minutes, ensuring it's full cooked throughout and there is no pink flesh. Remove the chicken and set aside to cool slightly so you can skewer it later. You shouldn't need to add any extra oil to the wok for your vegetables. Stir fry until it's soft but still has a little crunch to it! Remove the wok from the heat.
Almost Done!
Check the rice, it should be done or close to being done by now. If it's cooked through, drain the rice, return it to the pot and drizzle two tablespoons of rice wine vinegar, stirring it into the rice. Crack some black pepper over it, then cover the pot again and set aside. I like savory rice and not just because I had run out of mirin but if you like your rice a little sweeter, then add a tablespoon of rice wine too.
If you're going to skewer your chicken do that while the rice cools. Pop the wok back on to the heat and let it get hot again. You'll need to be quick here too. Add the marinade to the wok and it will start to sizzle and boil, add a teaspoon of brown sugar to get it thicker and a little sticky. Place the skewers into the wok, coating the chicken thoroughly.
Plate up your vegetables, then place the skewers over them. Serve the rice up, you can pop into a small bowl to mold it into a shape if you want to be 'fancy' about it. Pour the left over marinade from the wok over the chicken skewers then garnish with sesame seeds and finely chopped spring onions.
Serve and enjoy! Itadakimasu!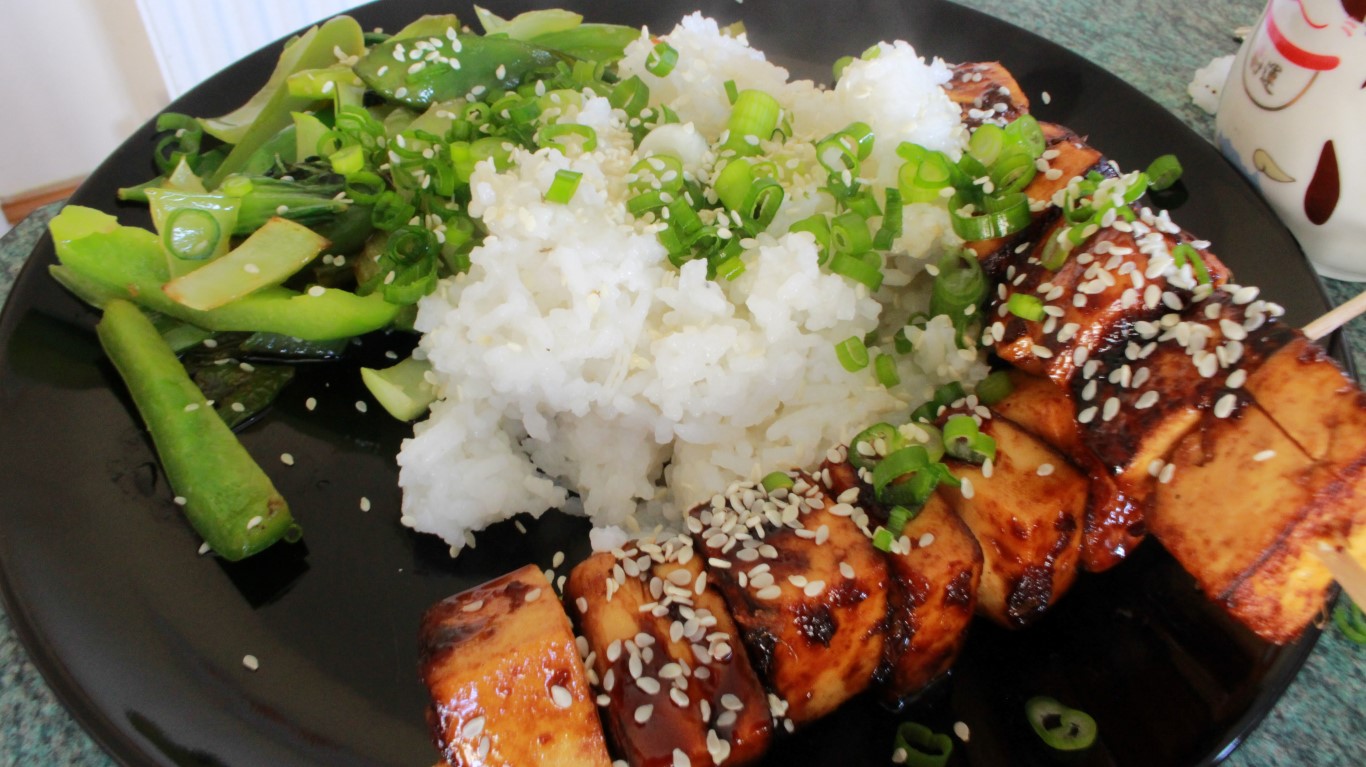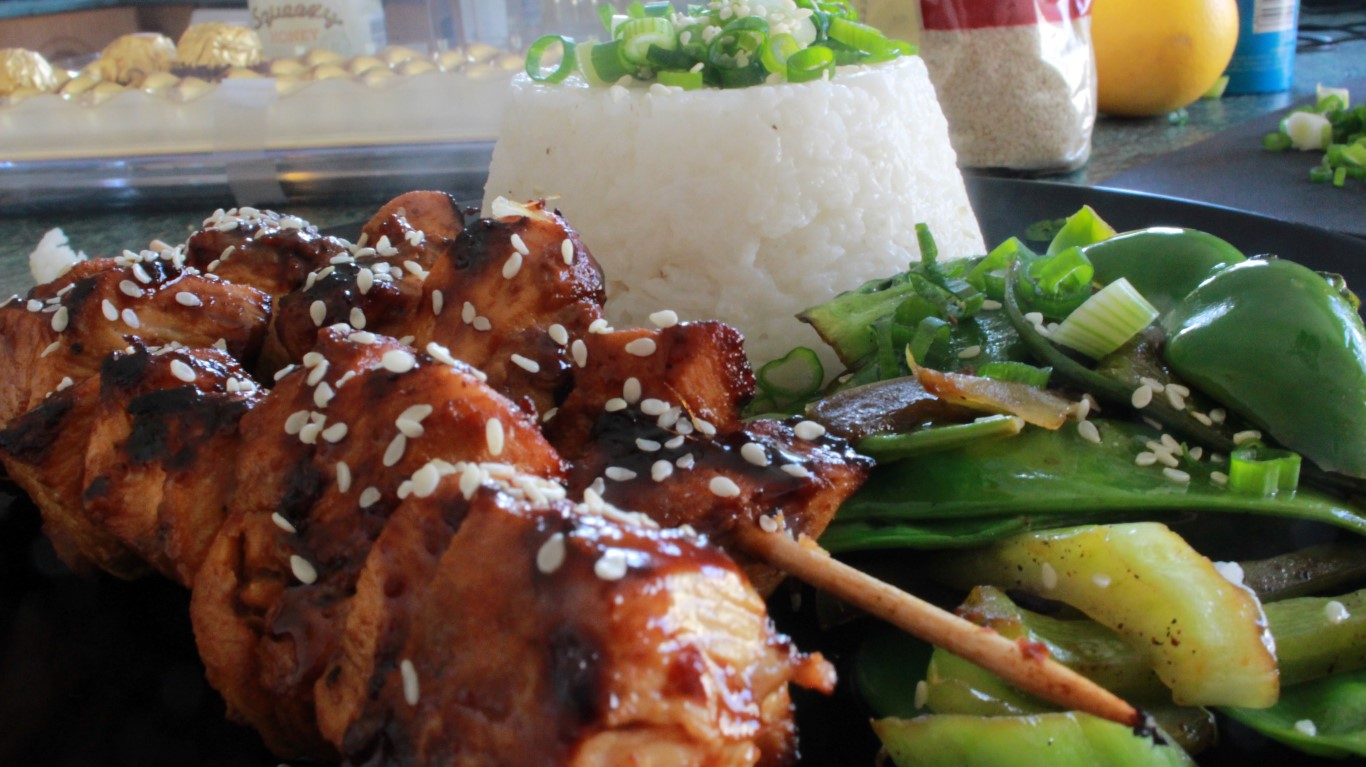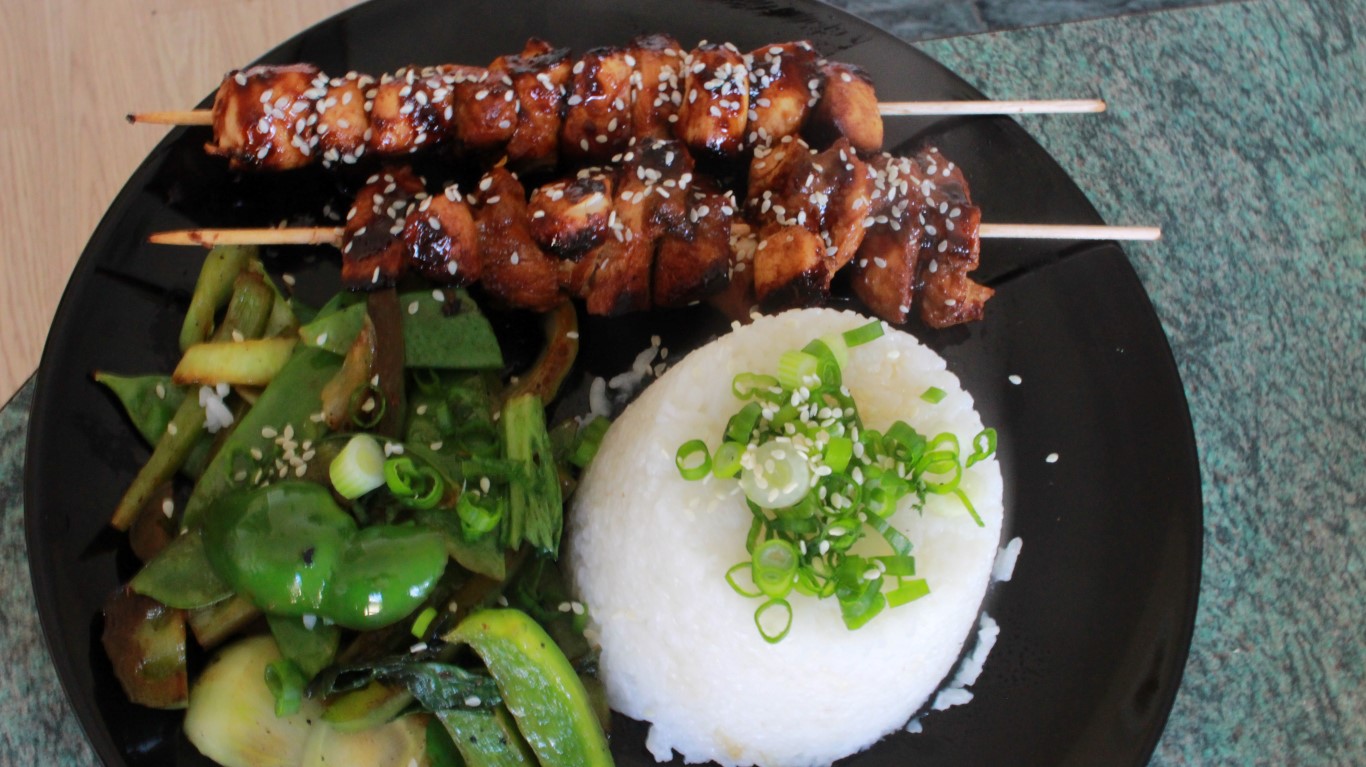 Editor-in-Chief, part-time super villain and hoarder of cats. If you can't find me writing, I'm probably in the kitchen!