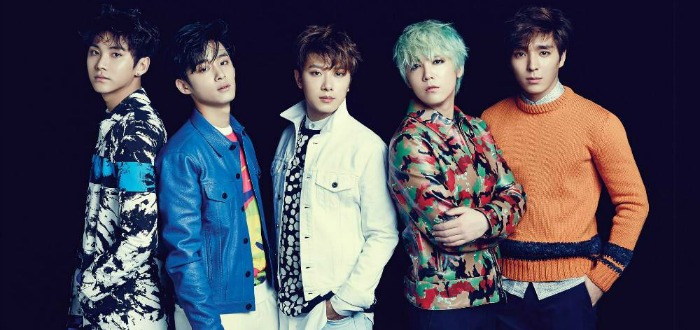 F.T. Island Special – Kpop Weekly Recommendations
Good evening Kpoppers! This week we've decided to focus on one group for our weekly recommendations. They have fifteen full-length albums, eight mini-albums, many singles in different languages and soundtrack productions for different drama theme songs and anime openings.
Have you heard these guys?
F.T. Island are a 5 member rock band. They debuted in Korea in 2007 with the song 'Love Sick', from their first studio album Cheerful Sensibility. F.T. Island are considered to be Kpop's first instrumental idol band. 'Love Sick' topped the charts for 8 consecutive weeks, check it out!
Up next we're going to check out one of their Japanese releases 'Treasure'. F.T. Island have a lot of different musical styles, as well as releases in multiple languages. 'Treasure' is the last track on their first Japanese album Five Treasure Island. 
There are so many fantastic releases from F.T. Island, it's hard to pick and choose the best. Many of their fans prefer their hard rock style instead of the pop rock or ballad style. We've chosen another of these tracks to show you today, as we feel they are definitely some of the better ones. 'Pray', from their first fully self-composed album I Will, is a heavier track than some fans were used to – and some felt it was a risky move. The two million plus views on YouTube prove that it was indeed a good move for them though!
New Release!
Despite many problems with their label, F.T. Island's sixth Korean album 'Where's the Truth?' was released on July 18th. 'Take Me Now' was released the same day, as well as their 37th single 'Just Do It'. 'Take Me Now' is a gritty, intense hard rock track.
F.T. Island Special Mention
We're sorry not sorry to include this release that left a lot of fans in fits of giggles. 'Puppy' is fun song that had a few fans baffled watching the MV. In the video for this catchy pop rock track, Hongki goes searching for his puppy, and the other members are too preoccupied with their instruments and pizza to help him out. Make sure to watch to the end to see his adorable puppy!
What are your favourite F.T Island tracks? Let us know in the comments!