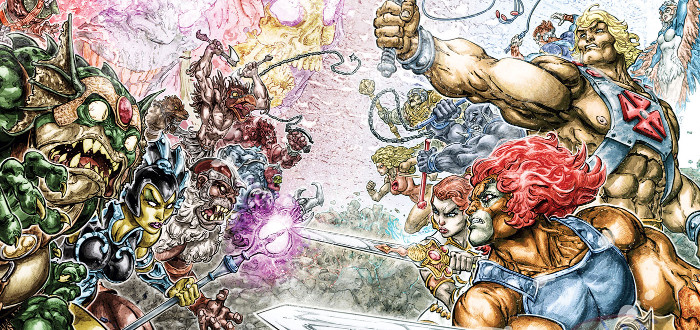 DC To Publish He-Man/Thundercats Crossover Comic
Two of the most iconic cartoons and toys from the '80s will appear in their own crossover title this October.
Written by TMNT alumni Lloyd Goldfine and Rob David and featuring artwork by Freddie Williams II (Batman/Teenage Mutant Ninja Turtles), Thundercats and He-Man will come together for a new comic mini-series.
The concept for the story revolves around Mumm-ra, the ancient spirit of evil, crossing dimensions in search of a weapon that can defeat the Sword of Omens, wielded by Thundercats leader Lion-O. His search leads him to Eternia where he discovers Prince Adam's Sword of Power, used to transform himself into He-Man, the most powerful man in the universe. Needless to say, the opportunity for colossal team ups is enormously exciting for both heroes and villains.
Freddie Williams II could barely contain his enthusiasm in this statement to CBR. "The Power of Grayskull and the Great Eye of Thundera have aligned to make me the luckiest guy on all the earths!" said Williams. "He-Man and ThunderCats were my life when I was in grade school—family and friends knew I loved both cartoons so much. I used to pause episodes and draw from them, since they were so awesome. The He-Man/ThunderCats crossover is the fulfillment of a lifelong goal and my fanboy dream come true! I'm having a blast!"
Rob David also spoke about the title's appeal and who the intended audience is. "For everyone out there who took different action figures and teamed them up to take on the world, this one's for you."
The first issue of He-Man/Thundercats goes on sale on October 5.