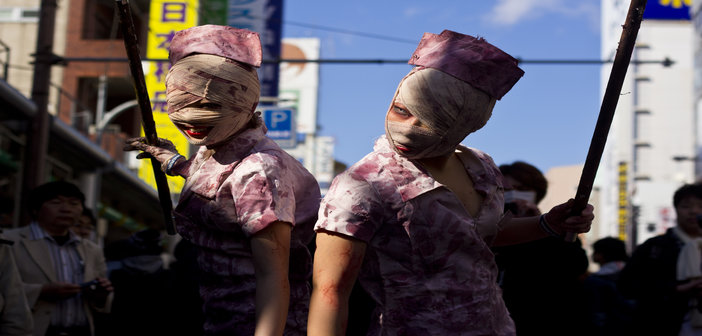 Cosplay Closet: Health and Safety
We've talked about a lot of topics in Cosplay Closet. From how to pose, to your make-up, to challenging your skills. However there's one thing that cosplayers can sometimes forget when it comes to making their costume. You have to take care of yourself! I've seen so many horror stories of people who come home from a con in bandages because of their costume. So where we're concerned, that stops today. Here are some of the most common oversights I've seen in recent years.
Pinpricks
Let's start with the smallest of offenses. Anyone who has tried their hand at sewing can attest to this. You are going to stab yourself and get blood on your cosplay. It's inevitable, particularly for beginners. An easy solution is a thimble and some simple common sense. Don't stick your hand too close to the needle when you're machining and be aware when something is wrong before you keep sewing. I learned the hard way after several stuck fingers and one projectile machine needle.
Can't Take The Heat
If you prefer to make armor over clothes, your hands are still at risk. Whether it be at the end of a hot glue gun or a heat gun, you're probably gonna burn your fingers… among other places. Sadly, however much I wish I had Targaryen blood in me, I'm still not fireproof. I've yelped many a time when I've been holding Worbla, touched hot glue or even forgotten where I put my heat gun down. I know, it sounds like it'd be hard to miss a giant heat gun, but you'd be surprised. Over the past week I've given myself 2 burns from nudging off the business end of the gun and melted a hole in the arm of my chair. Don't be a dumbass (that's my job!) always keep an eye on where you're putting hot things down.
I also recommend using something like cloth gardening gloves if you can. Something that will take some of the heat off without melting themselves.
Better in Hindsight
Have you ever heard a horror story about contact lenses? Those of you who have, I'm sorry for making you cringe. Those who haven't, listen up. While not everyone has problems with lenses, and not everyone will feel the same effects, it's important to know how they affect you. I've read stories about people who have tried contacts for the first time and misused them, as well as veterans who got ripped off by cheap brands. In most cases, poor contacts can cause minor damage to your eyesight if left in too long. In one case, I heard of a girl needing surgery after her cornea was damaged as she took her lenses out.
I'm not saying this to scare you away from lenses, but always talk to an optometrist and make sure they're okay for you. Pick out a pair from a reputable website (I've had Honey Color recommended to me) and show them to your doctor to find out if you can wear them. It's better safe than sorry, and in the end, you can always edit your eye color in photoshop.
Looks Awesome, Feels Awful
Any seasoned cosplayer will tell you that not every costume is comfortable. Some require massive armor pieces, or tails or wings and you end up wearing a crude sort of scaffolding just to put them on. Remember, at the end of the day, whether you're walking around a con floor or just attending a photoshoot, you have to be comfortable wearing your costume. A little bit of awkwardness is okay, but be careful! Treat your costume like a new pair of high heels. If it's too painful, just take them off! Better to wear half your costume than deal with the pain for weeks after.
Don't Breathe In
And behold, one of the most overlooked hazards in cosplay. It should be common knowledge that if you're working on armor, you might need to spray paint something, or carve some foam or heat up thermoplastic. For the most part, these things can be covered by something simple like a painters paper mask and a pair of goggles. However, in the case of foam, you'll want to take a little extra precaution.
EVA Foam, one of the most common materials used in cosplay can be heated up and shaped. This is a technique many cosplayers use for armor pieces. You can also cover it in thermoplastic. However, be aware that EVA foam releases toxic fumes (hydrogen bromide) at high temperatures. There are plenty of people who say it's never harmed them, but there are also cases like this wherein a cosplayer was working at home and found that the fumes produced from her foam had killed her birds. Remember, when working with foam, always make sure your environment is well ventilated and safe. For extra protection, get yourself a respirator and make sure you live long enough to wear your amazing cosplay!