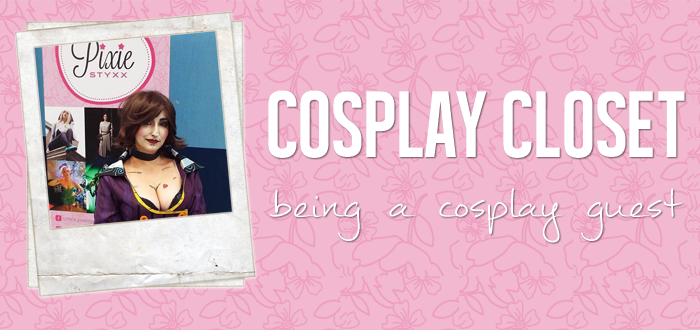 This week's Cosplay Closet is just that little bit different from normal as I thought I'd write about something I've recently had some practice in! It's something I always wondered about, it's something I always wanted to know more about and couldn't really find too much about online. Being a cosplay guest at a convention is something most cosplayers almost aspire to have at some point in their 'career' or whatever you wish to call it. Even if it's not your 'career', cosplaying is something quite a lot of us care an awful lot about and being asked to be a cosplay guest means you're doing something right when it comes down to it. When I was asked to be a cosplay guest down at Brocon in Limerick, well… I jumped around excitedly first, and then the panic set in. What do I do? What do I cosplay? Do I sell prints? Will people even want me there? After being down at Brocon over the weekend, well, I had every single worry put to rest and even walked away from it feeling better about my cosplays than ever before! So yes, this week's Cosplay Closet is going to be about my own experiences and I'm hoping that maybe they can help someone else out just a little bit if any of you reading this get to be a cosplay guest yourselves!
COSPLAYS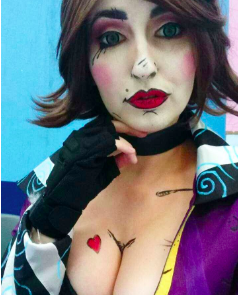 Choosing your cosplays for the convention can be a tough one, you want to make the best out of yourself for the weekend and you want your stuff to be the best. If you're the cosplay guest then you want something that is going to wow the attendees, you're going to want to choose something that people want to get pictures of. For me, that meant choosing two brand new cosplays and one that I was already quite proud of. Belle was my first choice because, well, she was and is a dream cosplay of mine and I never thought I'd actually get to be her and have people tell me I was the 'perfect' one. Choosing Belle was easy, I knew she'd be someone who people would recognise and would love to see and get pictures of, but even though she was an easy choice and a happy one, I decided to wear her on the Friday because she was the easiest one to wear after travelling on a bus all afternoon down to Limerick. My second choice, the one for the Saturday, was a brand new one, and one that I'd end up working on for weeks and weeks before the convention. Mad Moxxi is an eye-catching cosplay at best, she's one that requires makeup, it requires working on a new skill which is cel shading.

I knew this was going to be something I was proud of wearing, something I'd love to show off on the Saturday at the convention and I was right. I was more than right. My last one was Sunday and I decided on Harley Quinn, the Suicide Squad version. She was one I'd worn once before and since that time I'd put a lot of improvements on her and was more than happy wearing her on the Sunday. I also knew there'd be other Harley's there at the weekend and I wanted to get pictures as her with the others and just have fun as Harley on my very last day! To be honest, each and every cosplay went down a treat, more so than I thought they would. People were impressed by each and every one (maybe they were lying and just being nice, haha) and they wanted pictures of each and every one, it made all the work worth it all in the end, not to mention it made my worries and anxieties disappear. I'm not even sure why I worried in the first place!
PANELS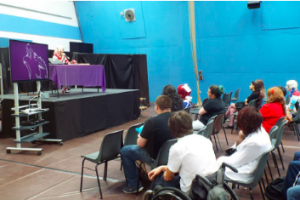 Now normally when you're asked to be a guest at a convention, you're going to have taken on a panel or two and while I'd done them before at other conventions, I had never done any panels by myself and the idea scared me to absolute death! For my first panel I decided to focus on something I wanted to talk about, something I felt strongly about, and that was about confidence in cosplay, about conquering anxieties and worries when it came to cosplay all in all. I knew I didn't want to do this one by myself and therefore asked a friend to stand in with me and help me out, and thankfully it was something that the con committee had no problem with, in fact they were more than happy to accommodate her and I cannot speak more highly of the committee to be honest. My second panel was about wigs, which I felt confident enough to speak about by myself and felt like I had improved on enough that I could give my own tips to other people and maybe even help someone out a little bit. When it comes to panels, stick to what you know and what you're able to speak about, don't fret if you lose what you're saying, or don't know the specific answer to a specific question. Just be you and have fun with the panel audience and speak about what you love; cosplay!
PRINTS

Now this one I was terrified about because I never thought people would want a picture of me on their wall or wherever people put their cosplay prints! Choose your favourites, choose your best cosplays, the ones that make you most proud and use those. I asked around for ages about different sizes and once all that was decided, well, it was time for printing. Now there are plenty of places online where you can get printing done, you can even go to a local photo printing shop and get it all done there. Now, I will warn you that this will cost money and it'll be more than what you probably thought at first. You have to remember that you are selling these and you will make your money back…. eventually. Not at first. Remember that as well. You won't sell everything right at the start, you'll have enough prints to bring back with you and you can set up your own shop online. Don't overcharge people, have variety and do deals! Trust me, that all works in your favour. Do not be afraid or worried like I was!
Have you ever been a cosplay guest at a convention? Would you like to be one? Let us know in the comments!