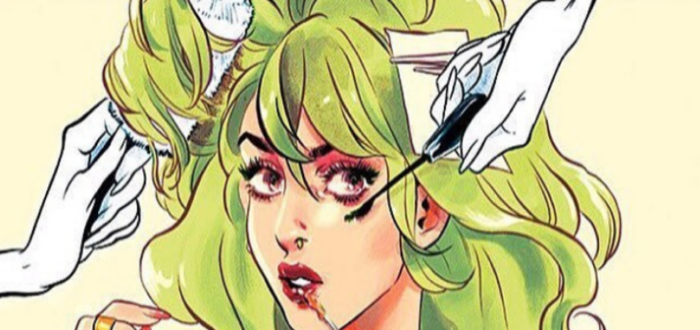 Cops Hunting Snotty Girls – Comicphiles
Looking for new comics to read? We're here to help! For this week's Comicphiles I decided to go with another scattershot approach. Judging only by the covers, I picked three comics I'd never heard of before at all. The feeling of picking up something totally unfamiliar and being sucked in – that was my goal. I mostly failed. How, you ask? Read on…uh, Reader!
Red Team: Double Tap, Centre Mass (Dynamite Comics)
When I saw the cover of this one, I was sold. It looks action-packed, which is exactly what I wanted; a bit of cop-shlock with cursing and occasional ultra-violence. I mean, it's written by Garth Ennis. The cover art from Dan Panosian looks cool, and on the inside the panels by Craig Cermack looked neat too.
The whole thing felt a little loose. I don't want to give too much away, but the story in the issue is thin. I was aware that this is a sequel, but the blurb at the beginning told me enough:  
'One year after the catastrophic events that ended the first series, Red Team survivors Eddie Mellinger and Trudy Giroux are in the doldrums. Considered a political liability, the two are kept busy on small-time cases by their suspicious NYPD commanders… but a chance encounter in the ghetto gives them a chance to get back in the game. Trouble is, it means going far beyond the law… which is what almost got them killed last time around.'
Sounds like lovely cop-shlock, right? It was okay. The two cops sort of have classic archetypes inverted. The lady is tough and closed-off and the man is chatty and in a meaningful relationship. They chat about that stuff and chase a perp and things escalate. Other issues would want to have more happen in them. Also, I felt a little robbed by a comic called Double Tap, Centre Mass. I don't think anyone shot anyone.
I don't think I'll stick with this one.  
The Hunt (Image Comics)
This was a great surprise. I had no idea what I was in for with this one, but it turned out to be surprisingly good. First of all, it's set in Ireland. Second of all, it's set in Bray, Co. Wicklow. Third of all, it's about ghosts or demons or something really bad. This comic is by Colin Lorimer, who created, wrote, and illustrated it. 
One of the best things about The Hunt is that it's written with Irish accents. At first I thought 'oh cool' and then the spelling got a little irritating. So then I thought 'actually, this is weird.' In the end, I loved having everyone say 'yeh' and 'cheeky fecker'. 
The main character, Orla Roache, is a sulky teenager but that's because her dad is gone and she sees… ghosts? Demons? It's not clear. However, it is very clear something's wrong and the whole thing is atmospheric and well-produced. The art in particular is great. It's dark and sketchy but complements the subject matter perfectly.
Sometimes homegrown stuff runs the risk of corrupting tropes with 'Irishness' or messing up the 'Irishness' with story. The Hunt manages to tread the line nicely. There is one scene set in a school (because Orla's in secondary school) where she gets bullied and the whole thing feels lifted from an American movie, but doesn't hobble the issue by any means.
I'll keep reading
The Hunt
 (but not because of nationalism.)
Snotgirl (Image Comics)
Snotgirl comes from Brian Lee O'Malley and Leslie Hung. I didn't know that until I bought the thing. The title and cover art were enough to entice me – all in the name of novelty for our audience. O'Malley is writing and Hung is on art but, despite being a lovely package on the outside, Snotgirl didn't stick with me at all.
In terms of art, the whole thing has a cutsey, post-hipster vibe that works, but I couldn't tell if it was a parody or not. Lottie Person is a popular fashion blogger in a big North American city and does well enough to live off it. She's only 25, has limited romantic experience and her boyfriend put their relationship on pause recently. She has friends, but feels a little disconnected from them because they're bloggers too and it's competitive.
There's an inner life thing and an outer life thing and it's played with such inhuman self-involvement on Lottie's part that I didn't know if O'Malley was trying to mock something. The biggest problem the main character has is allergies- her nose runs very badly. Really, it's a nervous thing, but it's described as allergies. There's a meet-cute over complicated coffee orders and a chilled out girl who will definitely turn out to have deep issues she bears stoically. I couldn't get into it.
I may be passing on the next Scott Pilgrim, but that is a mistake I'm willing to make. 
Not one I'll follow, but maybe others should. 
What are you reading this week? Let us know in the comments!