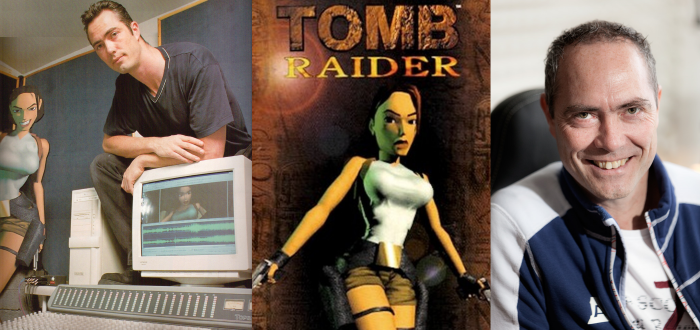 'Tomb Raider Main Theme' – Nathan McCree – Track Of The Day & Interview
Today's track of the day is the original Tomb Raider main theme by Nathan McCree. I have many great gaming memories over the years, be it gaming with friends, favourite levels, memorable stories, well written characters etc. but some memories involve music. Gaming music has a bigger factor in games these days, with bigger budgets and talented composers writing or producing award winning, Hollywood movie scale soundtracks, with massive orchestras or collaborating with well known acts/bands. But back in the early days of CD based gaming consoles, many games had generic 90's techno, synth style music. It was with the release of Tomb Raider in 1996 on PlayStation, when I realised gaming music can be of movie quality, have complex arrangements and stand the test of time.
Interview with Nathan McCree
Tomb Raider, which celebrates it's 20th Anniversary in October 2016, is one of my favourite game franchises. Despite having it's ups and downs over the years, one aspect always stood out for me in the franchise. It's soundtracks and the classical style of the original main theme is forever ingrained in my head. I was lucky enough to get to chat to Nathan McCree, creator of today's track of the day, about his work as composer of the original Tomb Raider and the main theme in particular.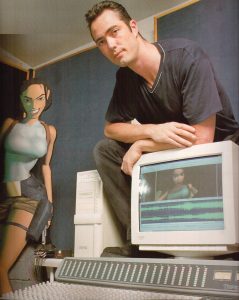 Question – Tomb Raider has one of the more iconic soundtracks in video game history. How did you originally come up with the main theme?
Nathan – I remember speaking with Toby Gard (Tomb Raider Designer) about the project and about the character of Lara Croft. What struck me immediately was how sophisticated the character of Lara Croft was. She was English, intelligent, classy, witty, sassy, tough and very beautiful. So it seemed appropriate to describe her character with English classical music. Other games of the time featured mostly bombastic battle or techno music and I felt there was room for more emotional content in computer game soundtracks. So when I started writing the music for Tomb Raider I tried to capture the beauty and emotions of Lara Croft and not just focus on battle music.
Question – Was it the first piece of music you created for the game, or did it come later in the games development?
Nathan – It was the first piece I wrote.
Question – The first game was based in Peru, Greece, Egypt and Atlantis. Did these influence the overall style of the main theme?
Nathan – No not really. Like I said earlier, for the Theme Tune, I was focusing on the character of Lara Croft rather than any locations in the game.
Question – The iconic 4 note intro from the original, has been integrated into almost every Tomb Raider game themes and even appeared on the silver screen, through the Tomb Raider movies. How does that feel to have created this, what must of seemed at the time, simple hook and to have other composers create their renditions of a Tomb Raider theme from it?
Nathan – It's really quite humbling, and it's great hearing other composer's interpretations of the Theme. I am always interested to hear how they orchestrate and develop it. It's a fascinating experience. And of course to have the likes of Alan Silvestri create a variation for [Lara Croft Tomb Raider: The Cradle of Life] was really amazing!
Question – The CD format based consoles, such as the PlayStation, was a major help in the evolution of how game sound effects and soundtracks were made, as it allowed for more complicated sounds to be created and stored. Did this factor into the types of sounds and arrangements you used in the theme?
Nathan – Sure, with the advent of the CD based consoles back in 1994 I think, games composers suddenly had to up their game as we were now competing with the production standards of the music and film industries. So it was possible to write a score for a game and have it recorded using a live orchestra. Unfortunately I was not given that kind of a budget for Tomb Raider, so I had to replicate an orchestra using just synthesizers of the time. We didn't even have orchestral sample libraries then so it was a tough job. There was a lot of keyboard programming required to make the instruments sound as real as possible. Development time was also short so I really had to make do with a minimal set of orchestral instruments. It resulted in an intimate texture of instruments which I think suited the character of Lara Croft and the loneliness of Tomb Raider.
Question – Although a live orchestra wasn't used until later Tomb Raider games, the original Tomb Raider felt epic in tone. What instrument/equipment was used to create the music of the original game?
Nathan – I used two Roland JV1080 synthesizers, both enhanced with the Orchestral 1 & 2 expansion sound boards.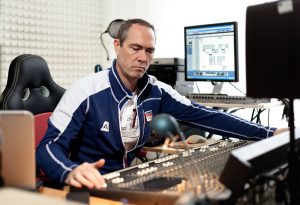 Question – You are currently working on The Tomb Raider Suite, an album which will feature new recordings of your music from the first three Tomb Raider games and is to be released in December. What should we expect from this album?
Nathan – The album will consist of all the main themes from Tomb Raider 1, 2 and 3. Some of these themes will be extended or embellished into longer standalone pieces – rather than the original, short game cue. There will also be some totally new tracks which I will be writing specifically for the album. Once the score is ready it will be played by the Royal Philharmonic Orchestra and recorded at Abbey Road Studios in London.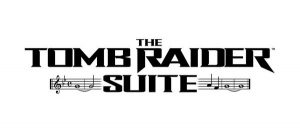 Question – Is there any other tidbits you would like to share about the TR theme or any words for The Arcade/Irish fans?
Nathan – Sure, if any of The Arcade/Irish fans would like to see and hear the Tomb Raider Theme performed by a live orchestra then please come to the live performance of The Tomb Raider Suite at the Hammersmith Apollo in London in December 2016. Tickets will be on sale soon and you can find out full details on the following social media sites: Twitter: @nrpmccree or Facebook: www.facebook.com/nathanmccreeofficial/
I would like to thank Nathan for his time in answering these questions, despite being very busy creating The Tomb Raider Suite album. It has been an absolute pleasure to have the opportunity to chat with him and discover more about this iconic piece of music. I'm sure there will be plenty more Tomb Raider goodness in the coming months on The Arcade, as the 20th Anniversary approaches.