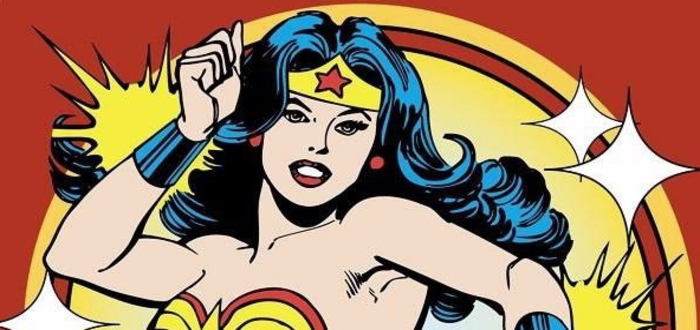 Summer Superheroes – Style Saturday
The weather has been surprisingly great for the past week or so and we can safely say that it finally feels like summer! Of course, for those of you doing the Leaving Certificate, you have a while to go, but once you're out that door and saying sayonara you're going to need some style inspo!
For this week's Style Saturday, I decided to use the iconic colours and style of two of the comic world's most well known characters – Wonder Woman and Harley Quinn!
Wonder Woman – Women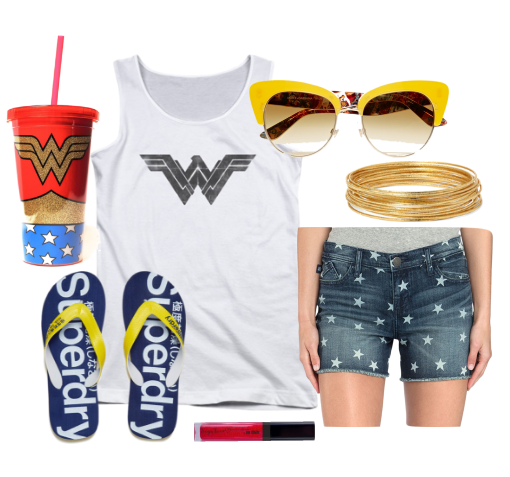 The key to a superhero inspired look is to choose subtle basics like shorts, t-shirt and shoes and then bring out the theme in your accessories. For this look, I chose a plain white tank top with a slightly faded Wonder Woman symbol and jean shorts featuring stars as an homage to the early WW costume. I picked Superdry flip flops with a splash of yellow and blue along with a pop of red lip gloss to add the other colours in the costume.
Pick up some gold bangles (or even better – gold cuffs – if you can find them!) and 60s style sunglasses with a pop of yellow. You can often pick up some quirky colours in Penneys so keep a look out! Overall, the look is casual and perfect for walking about town in the sunshine or for a trip to the beach.
Cup €22 | Flip Flops €20 | Lip Gloss €10 | Shorts €25 | Bracelet €14.78
Harley Quinn – Men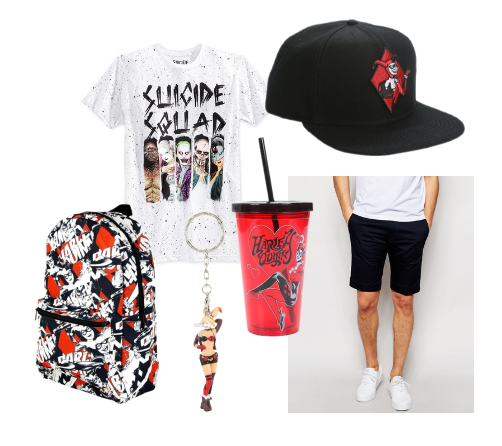 Harley Quinn style is usually reserved just for women, but you can carry off the look of DC's edgiest broad too! Keep it fairly subtle with plain black shorts and white sneakers and pair with a Suicide Squad shirt. Use a few different versions of Harley as inspiration (you could even get a blue earring and a pink earring as an homage to Harley's hair).
It's important to stay hydrated so pick up a Harley Quinn cup and bring it with you and once you're finished you can pop it in your matching back pack. It's red, white and black so it'll go with pretty much everything, making this look really flexible.
If you feel like it, pick up a Bombshells keyring – as long as you're okay with knowing your keys probably aren't that safe!
Bag €71 | Keyring €5 | T-shirt €22.52 | Cup €6 | Hat €11 
What do you think of these looks? Would you wear these? Let us know your thoughts in the comments!