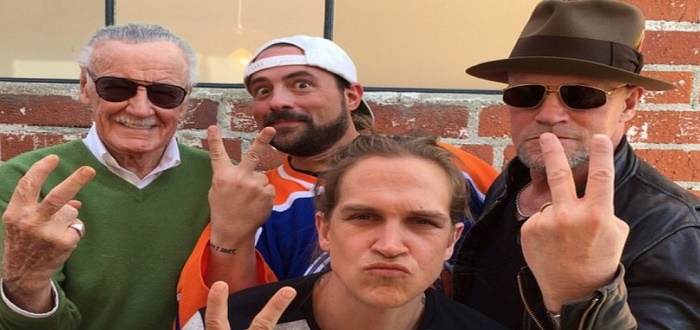 Mallrats 2 Will Now Be A TV Series
In March of 2015, Kevin Smith announced that he was going back to the well and making a sequel to the 1995 comedy, Mallrats. From there, he went on a trend of announcing many of the actors who would be returning to film the sequel from the original cast. In May of last year, he revealed that the sequel would actually be titled MallBrats, and that he had completed the script. The question then became when and where the filming would take place. Initially, the film was to go into production in January of this year but due to conflicts with the filming location, production had to be delayed. Now Smith has gone on record to state that the movie will now become a 10-episode TV series.
He went on Philadelphia's WMMR radio morning show to promote an upcoming Hollywood Babble-On show and was asked about Mallbrats. It was there that he revealed the transformation from a movie to a television series. He did assure the radio hosts and listeners that even though they were switching from film to series, he would still be shooting at the Exton Square Mall in Philadelphia. As the interview went on, it was revealed that the real reason for the switch from film to series came down to the studio. It had initially been believed that Universal was going to let the rights go and allow Kevin Smith to proceed with the sequel on his own. This was not the case, however, as Universal has never released the rights to any part of its catalog before. One of the things that Kevin does best is talk, so here is what he had to say on the topic:
"It is happening, it's just taking us a longer time to build it. What we did is reconfigured it. Mallrats is a 20-year-old movie, and the idea of sequelizing a 20-year-old movie, to some people, they're like, 'Well, why would you bother? It wasn't successful the first time.' However, I went and directed an episode of The Flash this past season. I loved doing it. I get to go back in August and I get to do another one. When I went up there, that was a big game-changer for my career. Apparently, that was some of the best work I had done in a long time, not just the Internet, but the press, in terms of directing. I felt at home, in the medium. Because I did the episode of The Flash, MGM reached out about Buckaroo Banzai, and suddenly that came together. We went out and pitched yesterday, and found a home for it. I can't say who it is, because the deal isn't final, but yesterday, we sold Buckaroo Banzai as a TV series. Now that I'm in that world and space, a couple of months ago, we started reconfiguring the idea of doing Mallrats, not as a film, but as a series. Universal and I are just about to close our deal to do Mallrats the series, then we take it out and find a home for it. So, instead of doing a Mallrats movie, I'm going to do 10 episodes of a Mallrats series instead."
There is going to be a lot of work for Kevin Smith going forward. It appears his success with his one episode of The Flash has translated into a busy slate. In previous podcasts he had stated he never really had that feeling of having the next project ready when another was completed. Now it appears that he has his fingers in as many pies as possible. With projects like Clerks 3, Moose Jaws, the Hit Somebody TV series, Buckaroo Bonzai series, Comic Book Men series, his Podcast empire and now the Mallrats series, it truly appears that he has achieved another goal. The big question now is, will his fans get to see all the projects completed?